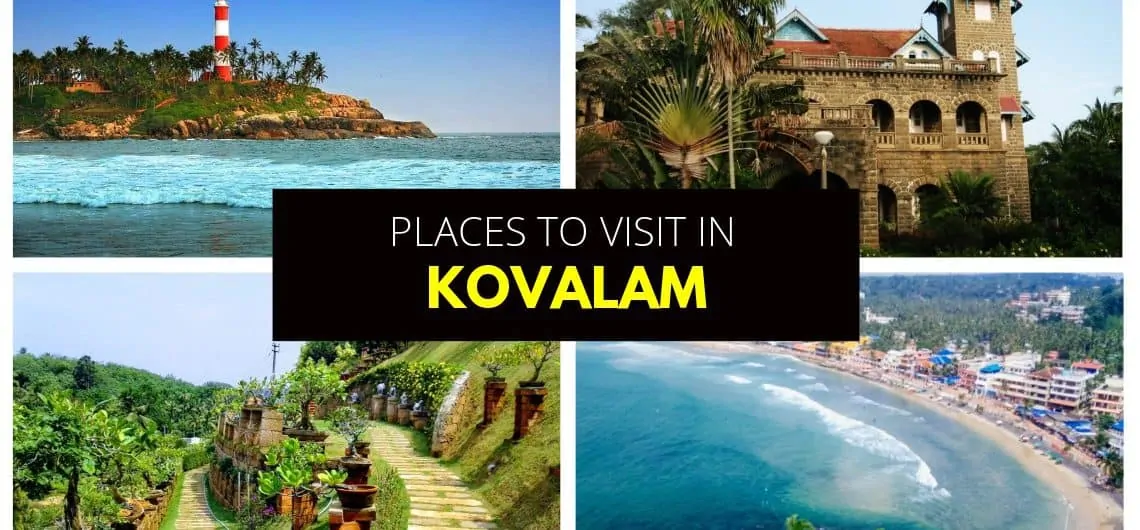 Rock your holidays with a beach vacation at Kovalam! Three adjacent crescent beaches having massive rocky promontories make Kovalam an international beach destination in South Kerala! Lying near Trivandrum, Kovalam has been a favourite haunt of tourists since the 1930s. 
The three beaches – Lighthouse beach, Samudra Beach and Hawa beach/Eve's Beach are the main tourist attractions of Kovalam. Kovalam means 'grove of coconut trees'. An all-seasons destination, Kovalam Beach, Kerala is also famous worldwide for Ayurvedic treatments and massages as well as Yoga & meditation. The Kovalam Art Gallery, Sagarika Marine Museum, lighthouse, Kanyakumari temple etc. are major Kovalam tourist attractions. It is also a shopping destination for aromatic spices, wooden statues and handicrafts. 
The beaches of Kovalam have many leisure options which include sunbathing, swimming, herbal body toning massages, special cultural programmes and catamaran cruising.
Why Visit Kovalam?
If you a beach bum, Kovalam is the place to be!  Kovalam is a fabulous, one of the most visited beach destinations in Kerala. The three crescent beaches lined with Coconut palms makes it a fascinating place to visit. As there is a rocky premonitory, the beaches have a calm sea best fit slightly for swimming, sunbathing and other water activities.
Do not miss the fantastic photographic opportunity to capture the magnificent beauty of the sunset & sunrise at Kovalam! The best thing to do in Kovalam is watching the sky being painted in different hues at sunsets from the beaches. An enjoyable experience not to be missed! 
Apart from that, there are the famous temples to visit like the Kanyakumari temple, Rock-cut Cave temple and more. There are many other tourist attractions in Trivandrum city which lie close by. Visits to the Padmanabhapuram Palace, Trivandrum Zoo, Vizhinjam Marine Aquarium etc. could be fit in while you are at Kovalam. 
Kovalam is also famous worldwide as an Ayurveda destination. There are many resorts and other centres for Ayurveda Treatments here. Kovalam is also a place where exquisite seafood is also available. Stalls are lining the shore where freshly caught fish is prepared on your choice. At the Samudra beach, set off for sunset & sunrise cruises with the local fishers on their catamarans for a change! 
Just plan your family vacation to Kovalam and get so many beautiful memories that last a lifetime!
For free travel consultation through WhatsApp. Contact us now.
Options: Swift DZire, Innova, Tempo Traveller (12 to 19 Seater), Coaches.
Where is Kovalam?
Kovalam is a coastal town which lies near the Arabian Sea at the southernmost tip of India close to Trivandrum.
How to reach Kovalam?
Air: Trivandrum International Airport about 10 km away from Kovalam is the nearest airport to Kovalam.
Rail: Kovalam can be reached by the Thiruvananthapuram Central Station which lies about 16 km away. 
Road:  Kovalam is well-connected to Trivandrum and other significant towns close to it by city bus services. There are many luxury tourist bus services to Kovalam available from many nearby cities like Bangalore, Chennai, Madurai and Nagercoil.
What is the best time to visit Kovalam?
Kovalam is an all-seasons beachside holiday destination which can be visited all year round. Plan your trip better with this month wise break-up of the weather in Kovalam:
Winter
The winter season from November to February happens to be the best season to visit Kovalam due to the moderate temperature, which is good for sightseeing & relaxing by the beach. The temperatures range from 160C – 340C during this time of the year. 
Summer
There is a sharp drop in tourists during the summer beginning from March to May. The summer season is scorching in Kovalam with temperatures rising to 370C, but this is a great time to get great deals on room rates in hotels. You can enjoy the beach town of Kovalam in a less hurried pace as it is less crowded during the summer. Ensure to carry light cotton clothes and lots of sunscreens along with you to avoid sunburn.
Monsoon
The Monsoon season from June to August is the time to experience Kovalam in its rain-washed glory. It is the perfect weather to go sightseeing and enjoy the abundant greenery and animal life of the region. Make sure to carry an umbrella or raincoat as rain showers are frequent.
Kovalam is an all-seasons beachside holiday destination which can be visited all year round. Plan your trip better with this month wise break-up of the weather in Kovalam.
For free travel consultation through WhatsApp. Contact us now.
Options: Swift DZire, Innova, Tempo Traveller (12 to 19 Seater), Coaches.
What are the best places to see in Kovalam?
Beaches
Lighthouse Beach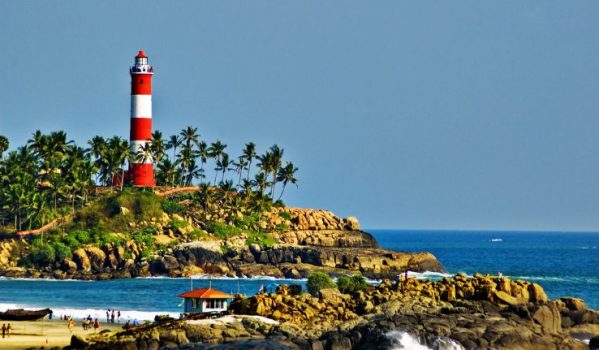 A visit to the Lighthouse Beach, Kovalam, is a must-have on your visit to Kovalam. The most famous beach in Kovalam, the Light House Beach got its name from the towering old Vizhinjam lighthouse, which stands on rocky terrain at the beach. The beach is a heady mix of swaying palm trees, golden sands, rocking waves of blue aquamarine waters. 
Taking a long walk on the stunning coastline of the Lighthouse Beach, sunbathing, surfing, beach volleyball, and swimming – you have umpteen choices. Apart from that, many shacks around the beach serve delicious seafood. You can also try out an Ayurveda massage or a Yoga session on the seashore. A fantastic place to enjoy! 
Samudra Beach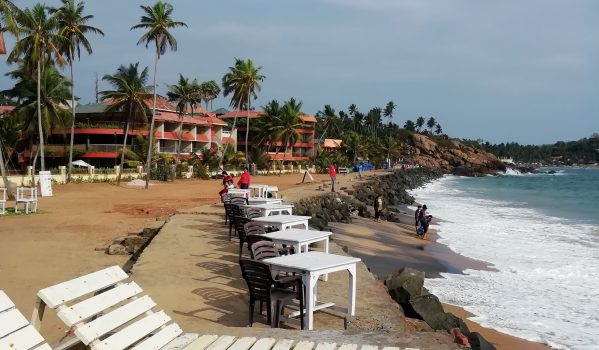 Rough waves crashing on the rocks await you at Samudra beach at Kovalam! The beach has a secluded vibe with a fabulous coastline and a wide range of eating options. Lying north to the famous Ashoka Beach in Kovalam, Samudra beach offers a perfect vantage point to view the magnificent shore come to life with local fishermen going for fishing.
Hawa Beach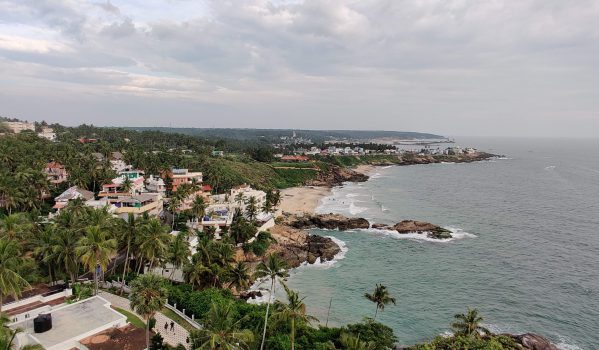 Enjoy the peace & tranquillity of Hawa Beach, one of the best beaches at Kovalam! Also known as Eve's Beach, it is the perfect place to be for peace and relaxation away from the hustle and bustle of city life.
The coconut trees lining the shore and the Arabian Sea look fabulous on a walk by the shoreline. It is also best for swimming or just lazing around sunbathing. Apart from that, there are several eating joints here offering local delicacies. Also, at times you can go for sunrise and sunset cruises in small fishing boats here. 
For free travel consultation through WhatsApp. Contact us now.
Options: Swift DZire, Innova, Tempo Traveller (12 to 19 Seater), Coaches.
Kovalam Beach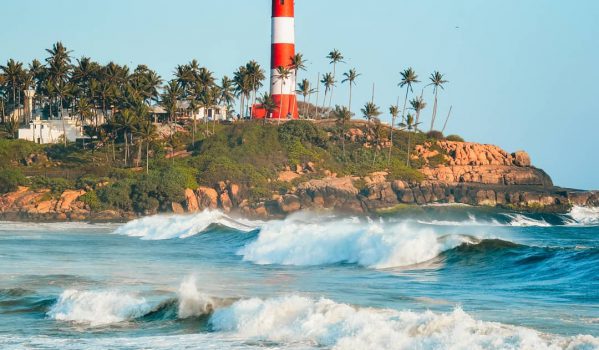 Kovalam has a coastline spread across a 17 km reach made up of three superb, crescent-shaped beaches – Hawa Beach, Lighthouse Beach and Samudra Beach. Palm groves line the white shores. The Kovalam beach is bustling with fishing activities, and there are restaurants here that offer mouth-watering local cuisine.
You can relax on the beach with friends and family or indulge in any of the water sports activities like swimming, beach Volleyball, surfing & more. Just enjoy!
Adimalathura Beach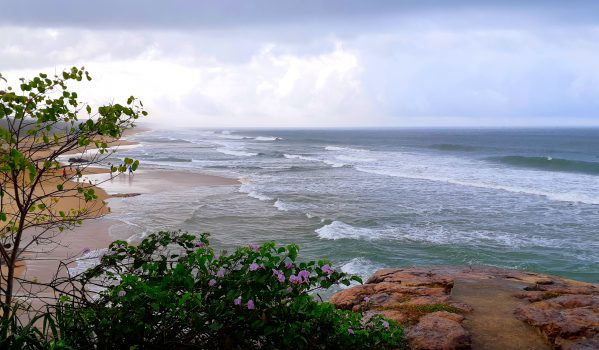 Getaway from the hectic tourist crowd in Kovalam to the Adimalathura Beach! An amazingly clean beach, the Adimalathura beach is a quiet beach known as an Ayurveda destination. The place is so beautiful with the palms and greenery fringing the beach. It is a great experience to see the fishermen take out their boats in the evening for night fishing.
Places of Worship
Aazhimala Temple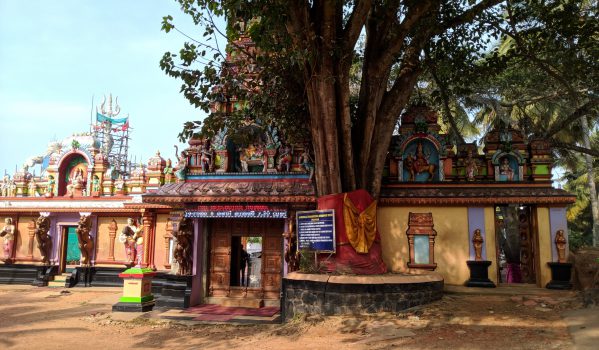 Seek solace at the Aazhimala Temple set on one of the best rocky beaches in Kerala. Not just the religious significance of being one of the oldest Shiva temples in Kerala, the magnificent backdrop of the turbulent sea and golden beach make it one of the most visited tourist destinations near Kovalam. The Aazhimala temple derives its name from 'Aazhi' meaning Sea and 'Mala' the Hill. The temple is frequented by Shiva devotees and tourists, especially on Tuesdays. 
The breathtaking view of the Arabian Sea lashing out on the rocks by the  Aazhimala Siva Temple makes you wonder on the exquisite creation of God – Mother Nature!
For free travel consultation through WhatsApp. Contact us now.
Options: Swift DZire, Innova, Tempo Traveller (12 to 19 Seater), Coaches.
Rock cut cave temple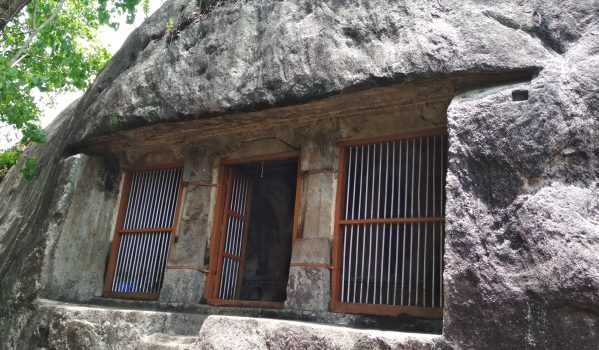 A highly ornate model of 8th-century art! The Vizhinjam Rock cut cave temple is considered to be the smallest rock-cut shrine in southern India. It houses a one-celled shrine of Vinandhara Dakshinamurthi with the outer wall depicting an unfinished statue of Lord Shiva holding a bow and Parvathi on either side. The  Vizhinjam Rock cut cave temple is currently under the control of Archaeological Survey of India.
Kovalam Avaduthura Devi Temple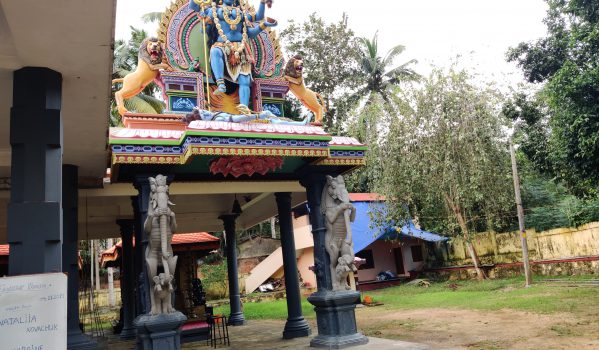 A temple which is famous as the venue for an increasing number of foreigner weddings! The Avaduthura Devi temple stands as a symbol of religious harmony. It dates back to the Ay dynasty and is located at the Kovalam beach near Vizhinjam International Seaport. People of different religions visit the Avaduthara temple. Many Russian, Danish, French, Italian, British and German couples have married in this temple.
Lakes
Vellayani Lake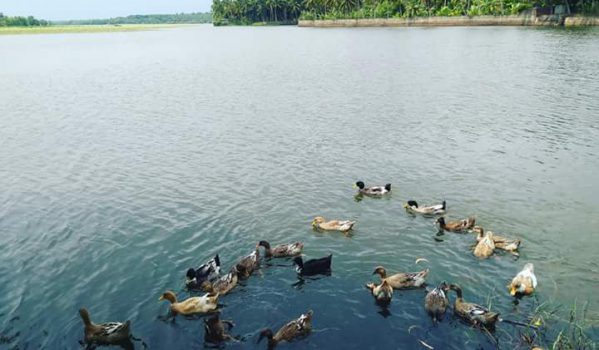 Enjoy the beauty of the beautiful Vellayani Lake located about 7 km away from Kovalam.  One of the most popular freshwater lakes in Kerala, the Vellayani Lake and its surroundings look enchanting during moon-lit nights. Locally known as 'Vellayani Kayal', the rain-fed Vellayani lake is used for irrigation purposes. 
The lake is home to a variety of flora and fauna. Here tourists can go on a boat ride to experience the beauty of the lake and get an insight into the local village life. The Vellayani Lake is also the venue for the world-famous annual boat race organised during the Onam festival.
For free travel consultation through WhatsApp. Contact us now.
Options: Swift DZire, Innova, Tempo Traveller (12 to 19 Seater), Coaches.
Vavamoola Lake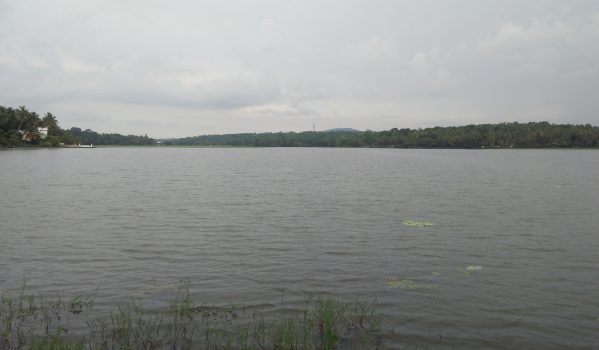 A photographer's paradise and a lesser-known destination in Kovalam with immense scenic beauty! Vavamoola Lake at Venganoor, one of the quiet corners of the city! A few years ago, it was an unknown part of Kovalam. Still, the local panchayat started a tourist boating venture here, and it became recognised as a tourist destination in itself. Adjacent to Vellayani lake, Vavamoola Lake has become the perfect place to chill out.
"Kayalile Kalakaran" is a local festival organised for a day every week which has blossomed organically into a social space, ideal for meet-ups. It has been showcasing and promoting local talent with myriad paintings, old lamps, painted vases, African drums, knick-knacks, birdhouses and bottle aquariums.
Landmarks and other Attractions
Sagarika Marine Research Aquarium
Check out the Sagarika Marine Research Aquarium, Vizhinjam to get a close look at exotic marine life at Kovalam! Located about 2 km from Kovalam, the Marine Aquarium is one of the most-visited Kovalam tourist places. It houses a variety of marine species like the Angelfish, Clownfish, Seahorses, Boxfish, Cowfish, Eels, giant Turtles, Lionfish, Piranhas, Moon Wrasse, Triggerfish, Sharks, Surgeonfish and more. 
The Sagarika Aquarium is well known for its Image Pearl Production. In this process, a mould made of shell cement is embedded into a Pearl Oyster which after 2-3 months produces a pearl in the shape of the pattern.
A Coral reef tank with a treasure trove of colourful corals is yet another attraction here. The aquarium is managed and administered by the Central Marine Fisheries Institute.
Art Gallery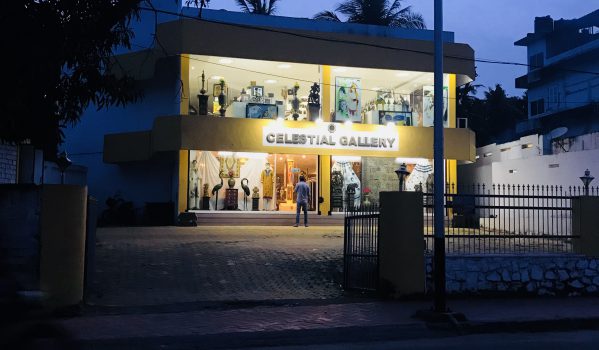 For free travel consultation through WhatsApp. Contact us now.
Options: Swift DZire, Innova, Tempo Traveller (12 to 19 Seater), Coaches.
If you are an art lover, the Kovalam Art Gallery is the place to be! One of the favourite tourist spots in Kovalam, the Kovalam Art Gallery houses many fabulous paintings, artefacts and sculptures done by renowned artists and sculptors like Raja Ravi Varma, Nicolas Roerich and Svetlova & also some rare, ancient collection of Indian fresco artworks.
Intricate paintings done by some of the renowned artists in Kerala are also on display at the Kovalam Art Gallery. You can explore beautiful work depicting heritage culture and traditions from the Mughal and Rajput era here. Some of the artefacts on display were excavated in China, Japan and Tibet.  A feast for the art lovers and artists alike!
Vellar Tourist Village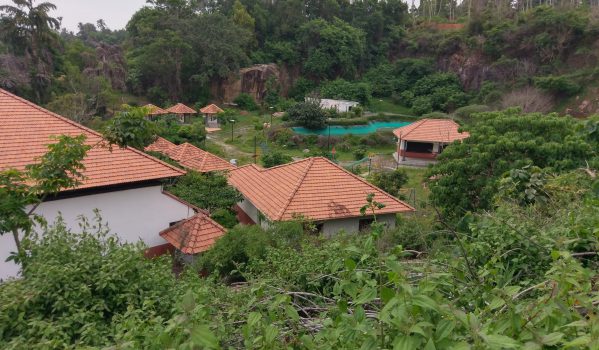 An ethnic hangout in Kovalam which amazes you with its sheer talent! The Vellar tourist Village is a joint venture of Kerala Tourism and Kudumbashree units modelled on the lines of Dilli Haat, the renowned Crafts centre in the country. It is all set to get a facelift with the addition of an Amphitheatre, Food court & Gallery.  Jewellery, Bags, handicrafts etc. can be bought from here. 
Kuzhipallam Botanical Garden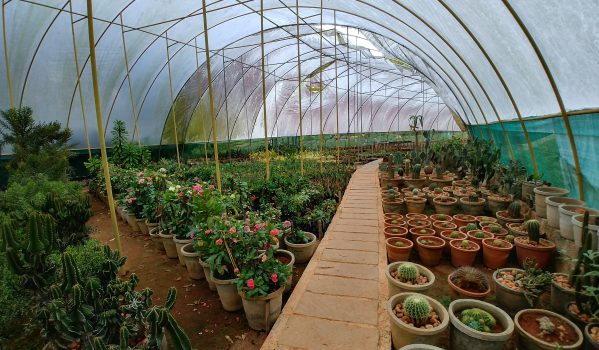 A nature lover's paradise! Kuzhipallam Botanical Garden and Research Centre are one of the most significant pioneers  Botanical Gardens in Kovalam spread over 40 acres. Located between Kovalam and Vizhinjam port, the botanical garden houses an extensive collection of plants, trees and herbs. This  botanical garden has a variety of biological diversity & it is a great learning experience to visit this place and spend some time here. The garden is spread over a vast area, and it is a must-visit place in Kovalam.
Places to Visit near Kovalam
Vizhinjam Beach
Have beach fun at Vizhinjam Beach in a peaceful village near Kovalam! You can go for boat trips, have a relaxing ayurvedic treatment or chill out at this attractive beach. It is a tranquil less-frequented beach, and you can be at peace here.
As you wander along the beachfront, you can see fishers hauling traditional wooden boats into the water. The sea is a bit rough here and not fit for swimming, but you can get magnificent views of the sunrise and sunset from here.
Get to learn about marine life and Corals at the Sagarika Marine Aquarium at the Vizhinjam beach. The aquarium has several species of fish like the Lionfish, Surgeonfish and Clownfish, Piranha etc. You can also get a close look at the pearls being farmed from local clam species. Vizhinjam Rock Cave is a most visited attraction at Vizhinjam beach.
Vizhinjam Beach is approximately 3 km from Kovalam. It is a great place to get stress relief. The seascape has a calming effect & there are also numerous ayurvedic treatment centres dotted around the region. 
Trivandrum
The sights of Trivandrum, the capital city of Kerala, fascinate you with a seamless blend of culture, history and the beauty of nature. As a world-famous tourist place in India, Trivandrum is also known as Thiruvananthapuram which is a place with many sacred temples and churches like Padmanabhaswamy Temple, Attukal Bhagavathy Temple, Pazhavangadi Ganapathy Temple,  Aazhimala Siva Temple, Beema Palli, fantastic museums, magnificent palaces, Zoo, Dam and golden beaches. 
For free travel consultation through WhatsApp. Contact us now.
Options: Swift DZire, Innova, Tempo Traveller (12 to 19 Seater), Coaches.
Poovar 
Poovar – A breathtakingly beautiful backwaters destination near Kovalam. Situated at the converging point of Neyyar River with the Arabian Sea, Poovar offers a marvellous view of the backwaters. A significant number of migratory birds visit here. The golden beach is a favourite picnic spot of tourists and local people. Boating trips can be arranged at nominal rates. Located at a distance of 12 km, Poovar is a popular tourist place near Kovalam.
Padmanabhapuram Palace
A palace that offers an insight into the life of the Travancore ruling dynasty! The ancient Padmanabhapuram Palace built in the 16th century is located at the foothills of Veli Hills at Thuckalay.  As a typical example of superior art and craftsmanship of Kerala, the Wooden Palace is famous for its murals, floral carvings and black granite floor. Many paintings are dating back to the 17th and 18th centuries. The Palace also has a Mahogany musical bow, carved royal chairs & coloured mica windows. The 'Thaikkottaram' or the Queen Mother's Palace has painted ceilings that add to the grandeur of the Palace.
The Durbar Hall has a shiny black floor made of a combination of egg white, jaggery, lime, burnt coconut, charcoal and river sand. It is considered a rare architectural feat. Many secret underground passages mark the Palace, which has the famous medicinal bed in the King's bedroom. The Palace is adorned with mural paintings & pictures of Lord Krishna. There is a temple dedicated to Goddess Saraswati inside the Palace. Many open-air swimming baths, fish carvings and hanging brass lanterns that have been continuously lit since the 18th century also make the Padmanabhapuram palace worth a visit! 
Kanyakumari
The vibrant sunsets and sunrises at Kanyakumari mesmerise you with their wild beauty! Mountains and golden seashores surround Kanyakumari, a coastal town in Tamil Nadu near Kovalam. The beauty of Kanyakumari lies in its green paddy fields, coconut groves, breathtaking valleys and plains. Kovalam to Kanyakumari distance is 90 km, and Kanyakumari can be reached by hiring a cab from Kovalam. 
Temples and churches dot the landscape of Kanyakumari & the Bhagavathy Amman Temple at Kanyakumari are one of the significant places of worship across India. Kanyakumari is well known for the Vivekananda Rock Memorial built to commemorate Swami Vivekananda. It takes a boat/ferry ride to reach there as the Laccadive Sea surrounds it.
10

Interesting Questions on Kovalam
Which is better, Kumarakom or Alleppey?
Both Alleppey & Kumarakom are beautiful backwater destinations in Kerala. As much as Alleppey is a town-based tourist destination, Kumarakom is the collection of various islands known for its houseboats.
How to reach Kumarakom from Kochi?
You can either go by direct bus or take a taxi from Kochi itself. Another option is to take a train to Kottayam from Ernakulam station and take a prepaid taxi, auto or bus to Kumarakom.
How many days are needed to explore Kumarakom?
Three days are needed to explore all places in Kumarakom and watch the gorgeous backwaters sunrise and sunsets.
How far is Kumarakom from Trivandrum?
The distance from Kumarakom to Trivandrum is 158 km, and it needs a 3hr 40 m journey to reach there by car
How far is Kumarakom from Munnar?
Kumarakom is a distance of 146 km from Munnar, a 4 h 23 min via SH42 and NH85 will take you to Munnar from Kumarakom.
How far is Kumarakom from Kottayam?
Kumarakom lies 15 km away from Kottayam and can be reached in a 30 m journey by renting a taxi.
How far is Kumarakom from Kochi airport?
As Kochi Airport is 74 km away from Kumarakom, it takes 1hr 50m drive if you hire a taxi.
How far is Kumarakom from Alleppey?
Kumarakom to Alleppey by road is 33 km, and it takes a 55m ride to reach there.
How far is Kumarakom from Cochin?
Kumarakom to Cochin distance is 50 km, and it takes a 1 hour 30m ride to reach there if you rent a car.
For free travel consultation through WhatsApp. Contact us now.
Options: Swift DZire, Innova, Tempo Traveller (12 to 19 Seater), Coaches.