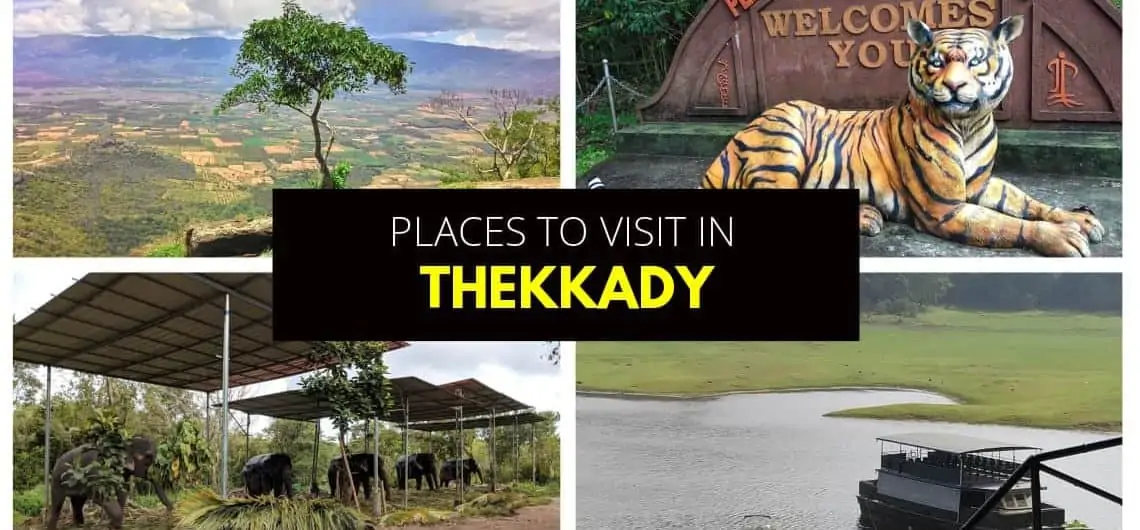 Get set to enjoy an excellent jungle vacation at Thekkady, on the banks of the River Periyar. Home to the globally acclaimed Periyar Wildlife Sanctuary and Tiger Reserve, Thekkady is a great place to be one with Nature.  Nestled in the mountain ranges of the Western Ghats, Thekkady is the place to go if you are a Nature lover as picturesque waterfalls & dense forests are found in abundance at  Thekkady. 
You can travel to Thekkady from the Cochin International Airport or getting off at the Kottayam Railway Station & Thekkady is also well connected by road. The Periyar National Park is known the world over and is one of the prime attractions of Thekkady. You can enjoy boating and Bamboo rafting in the Mullaperiyar Dam as well! Going on the hiking trails, exploring the vast stretches of spice gardens, Coffee & Tea plantations, Shopping for folk art, trying out various adventure sports like a night jungle safari – there are more things to do in Thekkady than you can think of! Thekkady is also famous for its good eating joints.
Why visit Thekkady?
Thekaddy, a beautiful green paradise abundantly blessed by Nature, welcomes visitors with its spice-laden breeze wafting down from its misty green-clad hills. The all seasons cool climate, panoramic vistas, lush greenery and wildlife sanctuary abounding with exotic flora and fauna attracts tourists from far and wide.  The genuinely exciting destinations and the blissful ambience of Thekkady have made it the most-liked holidaying destination in Kerala, India.  
When you're here there are lots of things to do in Thekkady like hitting the Periyar Tiger Trail, and Nature walks, Bamboo Rafting, etc. or an early morning boat ride in Periyar Lake. The spice plantation visits in Thekkady are a great way to experience spice cultivation, take part in it and buy exotic spices. Prime Thekkady attractions are the sprawling tea estates which blanket the slopes of Thekkady which are also dotted by plantations of Rubber, Cardamom, Vanilla & Coffee.
Check out the wild beauty of Anakarra & Murikkady & watch sunsets at Chellarcovil, the best sightseeing places in Thekkady. As you walk through the beautiful environs of Thekkady, you can hear the murmuring sounds of rippling streams and the thunder of the waterfalls. Thekkady is famous for its enthralling waterfalls & the Mangala Devi temple. Listen to the calls of the wild going for Nature walks, bird watching treks & have a taste of the various spices. You can also shop a few packets of the tea and spices grown here.
You can experience the rich folk art tradition of Kerala at Thekkady where you get to watch Kathakali shows, Tribal dances, Martial arts & Magic. It is a real pleasure to watch the light and sound show at the Musical Fountain.
 You can drink in the beauty of Thekkady while going on the elephant safari and interact with the elephant to know more about the life of these mighty animals. Indulge in an Ayurveda massage as well while you are at Thekkady.
Where is Thekkady?
Thekkady is situated in Idukki district, Kerala, 170 km from Cochin and is a 5 hours ride by Taxi to reach there. Snug in the Western Ghats, the hill station is 700 m above sea level and is a hot favourite of tourists from across the globe. Munnar lies 110 km, and Alleppey is 140 km away from Thekkady.
How to reach Thekkady?
Air: Madurai Airport 140 km away is the nearest Airport to Thekkady. Kochi Airport is at a distance of 185 km. You can hire a taxi from Kochi Airport to reach Thekkady. 
Rail: If you are planning to go to Thekkady by train, then Kumarakom is the nearest railway station which is 114 km from Thekkady.
Road: Thekkady has an excellent network of roadways connecting it to the nearby towns of Kerala and other states. Kumily is the nearest town to Thekkady.
The best time to visit Thekkady?
Summer Season (March-May)
Thekkady is hot and humid during the Summer season with temperatures ranging from 26°C to 36°C. Generally, Monsoon is not considered a good time to visit, but those who can bear the summer heat & wish to see the animals at the Periyar Wildlife Sanctuary can visit at this time as thirsty animals come down to drink at the lake.
Monsoons (June- September)
Monsoons bring with them heavy rainfall in Thekkady right from the beginning of June till September. Landslides due to the heavy rain is a regular occurrence making it impossible to conduct all outdoor activities like trekking and sightseeing in the Monsoons. 
Winter (October- February)
The winter season is one of the best times to visit Thekkady. The weather is mild and pleasant during this season and is perfect for sightseeing and adventure activities. At this time, explore the best places to visit in Thekkady at your pace, indulge in activities like trekking, night safaris, bamboo rafting & more.
What are the best places to see in Thekkady?
Tourist Attractions
Periyar Tiger Reserve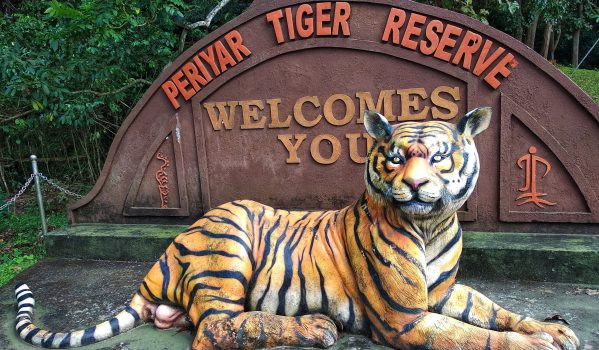 Are you a wildlife enthusiast? Here's a golden chance to see exotic animals roaming free! The Periyar Tiger Reserve in Thekkady is one of the 27 tiger reserves in India. The forests of Periyar has the presence of many endangered species of animals including White Tigers, Elephants, Bisons, Wild Boars, Deer, migratory birds and more. 
The reserve spreads across the dense forest, picturesque plantations and hill towns. You can explore the wilderness of the Tiger Reserve by boating, trekking or Bamboo Rafting. It is one of the oldest tiger reserves in the country. 
Thekkady Boating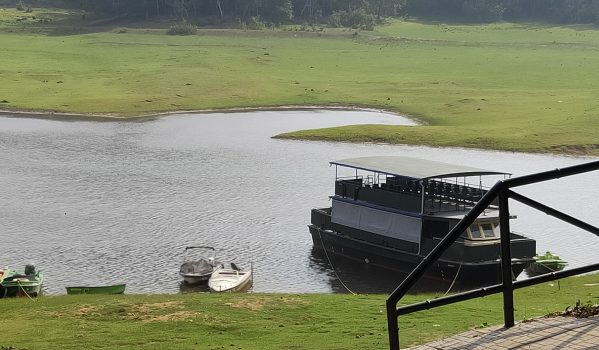 Tourist places to visit in Thekkady in 1 day include the Periyar Tiger Reserve & Lake. While visiting Thekkady, you will not want to miss out on boating in the most scenic Periyar Lake! One of the best places to visit in Thekkady, the Periyar Lake is a human-made lake in Thekkady winding through the Periyar Tiger Reserve. A most visited tourist hotspot, a boat ride or cruise in this bewitching lake will take you deep into the wilderness of Periyar National Park. While on this ride or cruise, be not surprised to see the predators and other animals of the jungle roaming freely beside the lake in search of water and prey!
Chellarkovil ViewPoint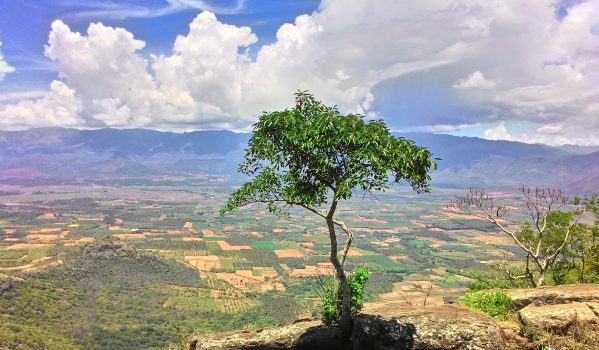 Take time off to visit the unspoilt lush beauty of the sleepy, quaint village Chellarkovil situated 15km from Thekkady. As one of the most picturesque places to visit in Thekkady, it offers beautiful views of Nature in all its glory. And while you are here do not miss to enjoy the gorgeous sunrise or sunset views from the steep mountain ridges blanketed by mist. It's fascinating to catch a glimpse of colourful human settlements, ploughed fields and dense green forests. You can emerge refreshed from activities like trekking, village walks, visit waterfalls, spice plantation visits, and others.  
Elephant Camp Thekkady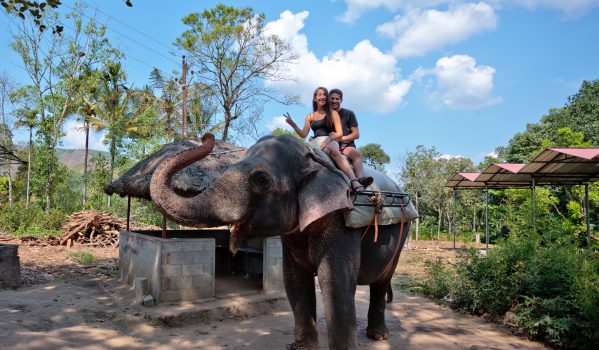 The elephant camp in Kumily is a beautiful experience in Thekkady. The camp offers excellent fun rides on the elephant's back. You can closely interact with the mighty pachyderms feeding them, giving them a bath scrubbing them and in return, getting a shower from the elephant as it sprays a wall of water on you! It's all about getting extraordinary memories to last a lifetime!
Thekkady Rose Park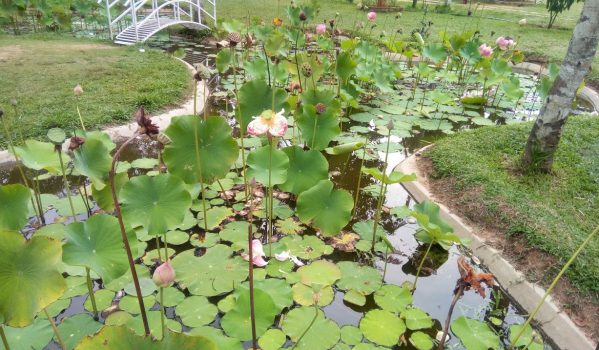 An amazing amusement park & garden set in the green environs of Thekkady. It is one of the places to visit in Thekkady if you have two days to spend there. You can switch on your thrillometer and celebrate with family & friends and share fun experiences! Check out the 30+ exciting rides the park and the green landscapes. A fun park good to visit for all ages with excellent service and given for Safety in all rides. Rifle shooting, Bungee jumping, Valley crossing,  Archery, Sky Cycle, Zipline, Kayaking, Multi Vine climbing, Spice park. All under one roof! An excellent place to visit & it should be non-stop fun!
Persian Paradise Elephant Ride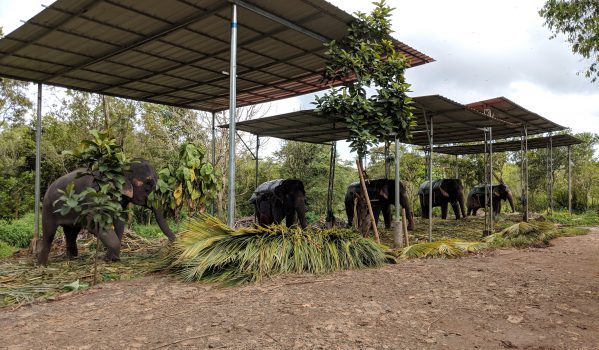 When you have come to Thekkady, an elephant ride is a must! Persian Paradise in Kumily a few Kms before Thekkady is where you get exciting elephant rides. Different packages are here for the ride. A basic package includes a jeep ride to the Tamil Nadu border and then 10 mins of elephant ride. The elephant ride is safe for both children and adults & the caretaker will help you to take photographs while you are riding the elephant.
Musical Fountain Thekkady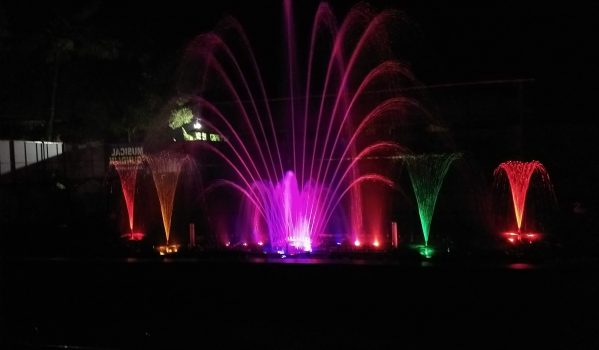 Ever seen water dancing? The musical water fountain at Thekkady is one of the most advanced dancing fountains in Kerala based on multimedia technology. The water jets dance to the popular hits of music and light, and it gives a magical effect. A beautiful sight indeed to watch! 
Cultural Tour
Yodha Cultural Village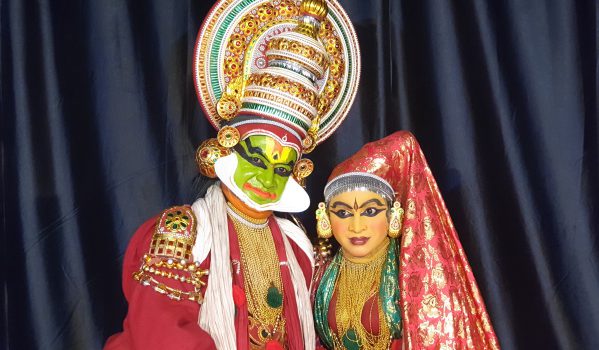 Here's a golden opportunity for a unique experience of traditional arts and martial art of Kerala at the Yodha Cultural Village.  Kerala's traditional art form Kathakali, Kalaripayattu and Magic show is not to be missed in your itinerary of Thekkady!
Ayurveda
Angadipetty Kerala Ayurveda Museum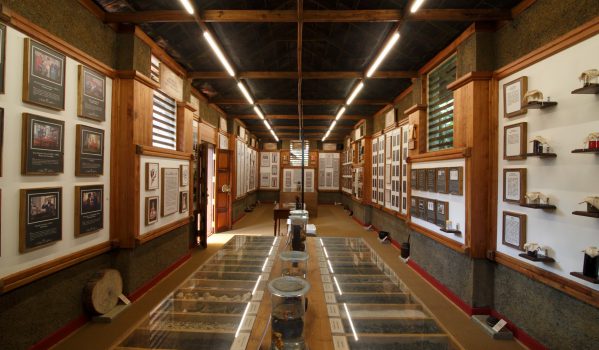 The Ayurveda museum is situated at Kumily near Thekkady & provides factual and scientific information about Ayurveda and its practices from its early days. The Angadipetty Kerala Ayurveda Museum has a museum building with attractive displays with description, categorized into 18 sections depicting different forms of Ayurveda. The museum also houses models, visuals and a herbarium.
Plantation Tour
Abraham's Spice Garden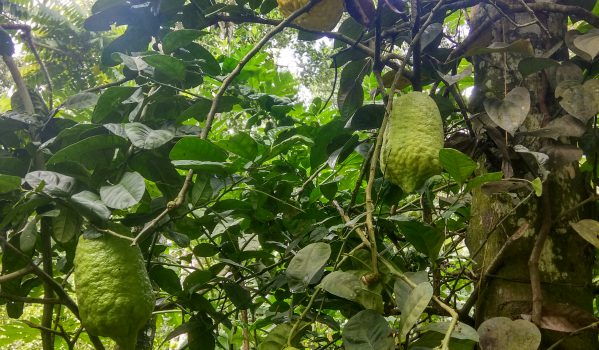 Located at Spring Valley, Kumily, Abraham's Spice Garden is a haven for Botany enthusiasts. It is one of the most exciting places to visit in Thekkady. Spread across 2 acres, the gardens offer hands-on experience on cultivation and processing of various spices. Diverse species of fruits and spices like Banana, Cardamom, Cinnamon, Pepper, Cloves, Vanilla, Ginger, Turmeric, Old spices are grown here.
Spice Walk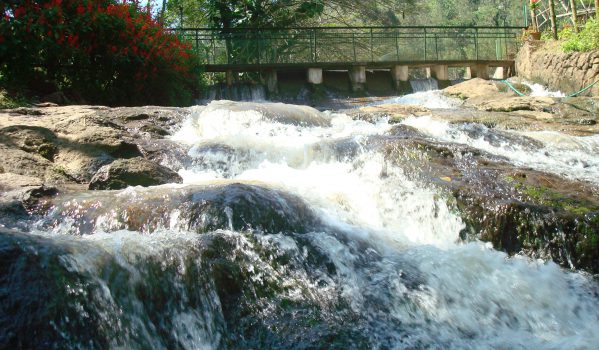 Inhale the aroma of fresh-ground coffee and spices at the Spice walk, a 200-acre coffee plantation, one of the fabulous places to see in Kumily, Kerala! In the farm Coffee, Cardamom, Pepper and other spices are grown extensively. You can study Coffee and Cardamom cultivation in-depth at the farm tour, which is led by a guide and lasts an hour. Spice walk also arranges boating, small treks and fishing expeditions and you can buy fresh farm spices at the spices shop at the farm.
The Spice Route Ayurvedic & Spices Garden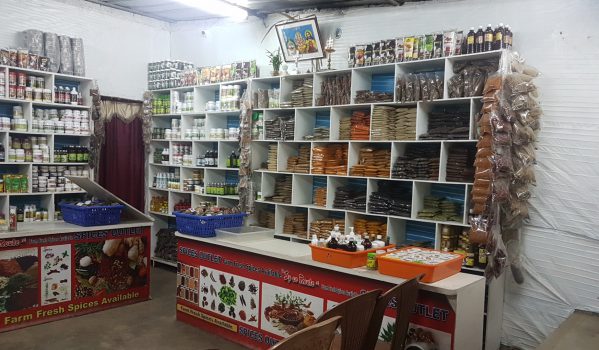 A great place to be one with Nature is the Spice Route Ayurvedic & Spices garden in Kumily, Thekkady. Located in the Amaravathy village, two km away from Kumily town, the Spice route plantation is rich in spices and plants and Ayurvedic plants. The plantation hosts hundreds of visitors from India and abroad and has played a significant role in the development of farm tourism in Thekkady. Multilingual guides explain to you the mystery of the roots of spice and Ayurvedic plants; moreover, you can watch, listen & have the first-hand experience of cultivation of herbs and spices.
Deepa Spice World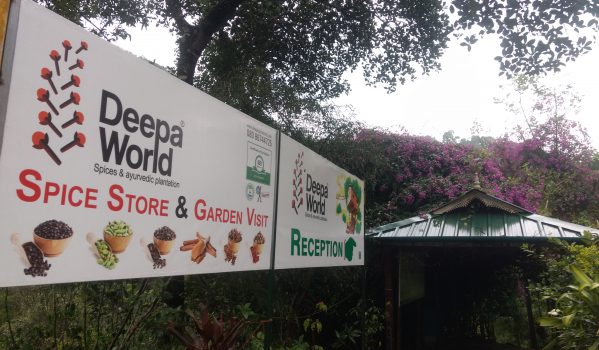 If you are a Nature lover, Deepa world spice and Ayurveda plantation should be your favourite place. Deepa World opens up vistas to offer you an educational and entertainment experience. Guides fluent in various languages take visitors on a tour of the plantations providing knowledge through visual treats along with smell and taste of raw spices and herbal plants. A cup of coffee on a Treehouse amid the plantations is a highlight of the tour and a memorable experience. Visitors can buy spices from the outlet in the plantation while visiting. 
Green Valley Ayurvedic & Spice Garden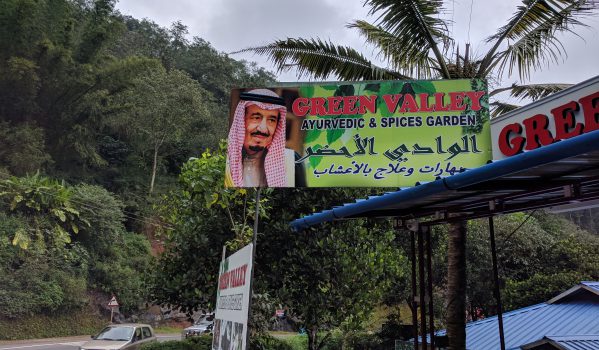 Here's a chance to sync with Nature! The Green Valley Ayurvedic and Spices Plantation in Kumily is where you can relax in peace and solitude. The Green Park has a 100% eco-friendly environment and includes a farm, Honey bee colony, natural Fish aquarium, Artificial paddy field, Suspension bridge, Cardamom processing unit, Fruit plantation, Greenhouse for vegetables, etc.
The Spice Farm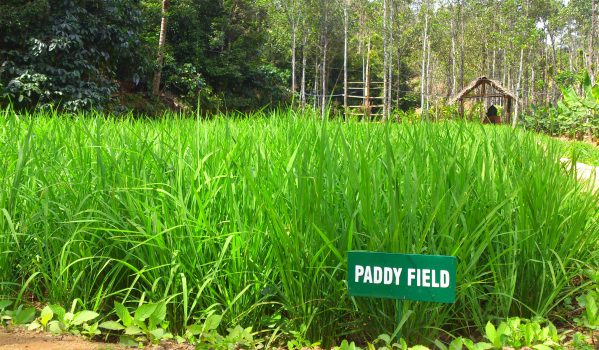 There are various kinds of spices cultivated at the Spice Farm, Thekkady of which Pepper is the most abundantly found spice. The Spice Farm also grows a diverse variety of spices like Clove, Giner, Turmeric, Nutmeg, Cinnamon & Curry leaves here in Thekkady.
Shopping
Kerala Crafts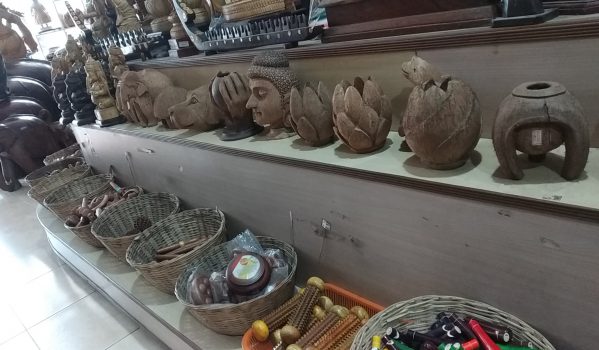 Shop for crafts from the God's own country Kerala at Kerala Crafts, a reputed shop located at Kumily. You can choose from a range of products made by master craftsmen in Kerala. There is also the facility of making crafts as per the customers' design here. Kerala Crafts offers you traditional crafts of Kerala, viz. Wooden crafts, Coconut crafts, Hey crafts, ornaments etc.
Hindustan Spices & Herbals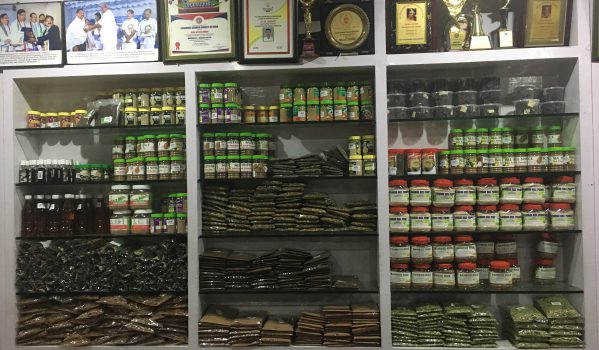 Hindustan Spices and herbals located 10 km away from Thekkady is an initiative to make the availability of all spices and herbals of Kerala worldwide. Various medicinal plants and spices are introduced to the people of different parts of India and abroad. Multiple varieties of spices and herbs like Ginger, Garlic, Cardamom, Vanilla, Pepper, Cinnamon, Coffee, Tea, Clove, Nutmeg, Betel Nut, Cadbury, Allspices (Sarvasuganthi), Lemon Grass, Curry Leaf, Hibiscus are grown here. Fruit trees of Papaya, Mosambi, Orange, Mango, varieties of Jack Fruit, Water cherry, Various type of Guava Trees, Coconut Trees, Arbi, Insulin Plant, Pathimukam plant, Gooseberry, Tulsi, variety of flowers are also available here.
Green Park Spices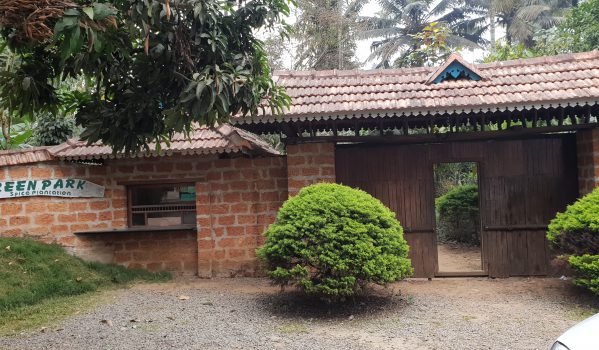 Shop for fresh spices & herbs in Thekkady at Green park Spices, Thekkady.  It is absolute to walk through the lush spice garden, getting a taste, smell and feel of almost every spice plant. Fresh spices can be sourced from the outlet in Green Park.
Places to Visit near Thekkady
Aruvikkuzhi Waterfalls
Aruvikkuzhi Waterfalls is definitely for the water lover! Located amid Rubber Plantations, the Aruvikkuzhi Waterfalls is a much-loved picnic spot in Kottayam. The lush green beauty that surrounds the waterfalls and water falling from over 100 ft attract many visitors. Many families seek out this spot for family picnics. You get entranced by the beautiful beauty of  Nature as you stand here. The St. Mary's Church at the top of the falls is another reason to visit the Aruvikkuzhi Waterfalls.
Munnar
A hill station which is one of the most beautiful locations in the world is a fantastic tourist place near Thekkady. Home to acres of green, green tea plantations, hill ranges, and a wide variety of rare flora and fauna Munnar has amazed tourists for centuries with its spectacular beauty. The hill station is famed for the Neelakurinji flowers which bloom once in 12 years on its slopes and also for the endangered Nilgiri Tahr, a rare species of the mountain goat. 
Kumarakom
Go on a backwater holiday at Kumarakom, one of the most scenic tourist places near Thekkady! Part of the Kuttanad region, Kumarakom is a cluster of many small human-made islands reclaimed from the lake & one of the most famous tourist centres of Kerala. The Kumarakom bird sanctuary here, spread across 14 acres, is a favourite haunt of migratory birds and is a bird-lovers' paradise. Visitors can have backwater cruises and fishing activities at Kumarakom. 
Alleppey
Alleppey or Alappuzha is famed world over for its extensive network of interlinking, palm-fringed canals and rejuvenating Ayurvedic resorts. A visit to Alleppey can be arranged along with Thekkady sightseeing as it lies near Thekkady. On the Houseboat cruises that take you through the serene backwaters, you can catch glimpses of green paddy fields, migratory birds, Coir making activities and the village life in Kerala. Alleppey beach fringed by Coconut palms is an excellent example of the golden beaches you'd find along the Malabar Coast. If you visit during August and September, you will be able to watch a traditional snake boat race, which is a fascinating and memorable event in Kerala.
Vagamon
For a quiet vacation away from the hustle and bustle of the city is Vagamon lying 1100 meters above sea level! Great for offbeat holidays, Vagamon has miles and miles of greenery all around and is a place you can visit along with the Thekkady tourist spots. The Vagamon Pine forest is a significant tourist attraction of this place and a highly popular spot for movie shootings. The human-made forest was created during the British era and overlooked the entire Vagamon valley. Vagamon is just the place where you can go for long walks, watch spectacular sunsets and breathe in the fresh mountain air. Marmala Waterfall & Vagamon lake are major tourist attractions of Vagamon. Trekking, rock climbing and paragliding are popular adventure activities at Vagamon.
10 Interesting Questions on Thekkady
How to reach Thekkady from Madurai?
As Thekkady lies 170 km away from Madurai, you can hire a taxi or travel by bus, Thekkady has no railway connectivity, the nearest station being Kottayam.
How to reach Thekkady from Bangalore?
For travelling from Bangalore to Thekkady, better catch a train to Kottayam (12 hrs) or a plane to Kochi International Airport (1 hr) and then hire a cab or take a bus from there to Thekkady.
How far is Thekkady from Munnar?
Munnar to Thekkady distance is 93 km, and it is a 3 hr journey by car via NH 19.
How far is Thekkady from Kumarakom?
Thekkady lies 122 km away from Kumarakom, and it is a 3 hr 15m journey by NH183.
Which is better among Munnar, Thekkady and Alleppey?
All three places have their attractions and natural beauty, and it is best to visit all these places to have a great travel experience.
What are the best sightseeing places in Thekkady?
 Abraham's Spice Garden, Murikkady, Kadathanadan Kalari Center, Vandiperiyar and Vandanmedu comprise some of the best sightseeing places in Thekkady
Is one day enough to spend in Periyar National Park, Kerala?
Yes, one day is enough to spend in the Periyar National Park, Kerala if you intend to go only for boating but if Night trekking, Jeep Safari is there, plan for two days.
How many days are sufficient for sightseeing in Thekkady?
2-3 days are enough if you plan for trekking, boating or jeep safari to explore all the best places to visit in Thekkady
What is Thekkady famous for?
Thekkady is known the world over for the Periyar Tiger Reserve with its dense deciduous forests and grasslands which is the natural habitat to herds of Elephants, Sambar, Tigers, Gaur, Lion-tailed Macaques and Nilgiri langurs.
What are some of the facts about Periyar?
The Periyar River is the longest river in Kerala, and it flows through the dense forests of the Periyar Tiger Reserve & National Park & the Idukki hydro-electric project, the largest power project in Kerala is built on Periyar River.