We are hiring!  We invite Tourist Taxi Drivers to join our team at Kochi
Call /WhatsApp if you have
✔ Sedan Car Driving Experience
✔ Package Tour Experience
✔ Know routes to tourist places in Kerala and Tamil Nadu
Call now: ☎ 9847035999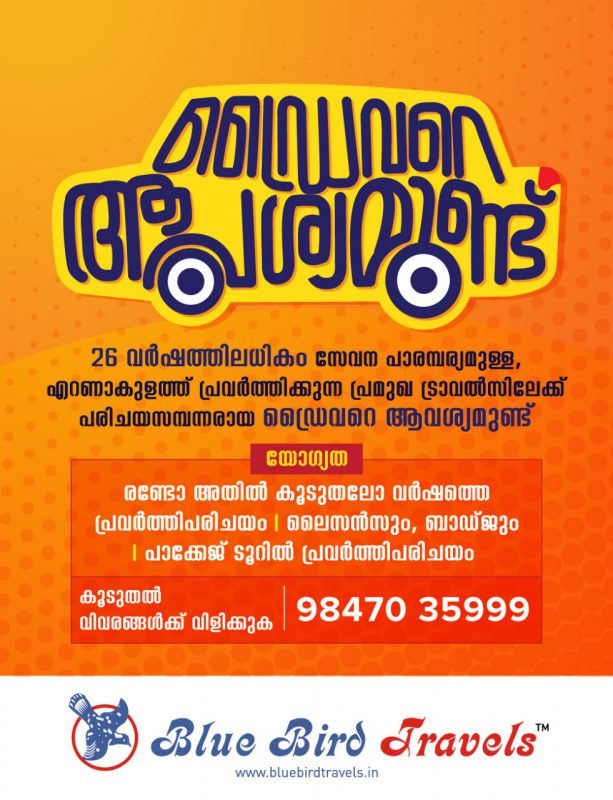 We are seeking a reliable and experienced driver to join our team.
Responsibilities:
Drive Tourist Taxi vehicles to transport passengers to specified destinations in a timely and safe manner
Adhere to all traffic laws and regulations while driving
Inspect and maintain vehicles, including fueling and checking fluid levels, tire pressure, and general maintenance
Complete trips and pick-up logs, trip reports, and other paperwork as needed
Maintain a professional relationship and communicate effectively with customers and colleagues
Requirements:
Valid commercial driver's license
At least 2 years of experience driving Tourist cabs or similar vehicles
Good communication skills and a customer-focused attitude
Ability to work independently and as part of a team
If you have a passion for driving and a commitment to delivering outstanding service, we encourage you to apply for this exciting opportunity.
To apply, please submit your resume and driving license at our office or Call / WhatsApp on 9847035999.