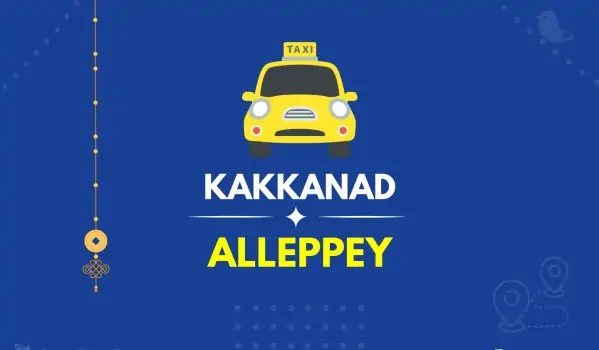 Your benefits of booking with us
✔️ Transparent fares
✔️ Guaranteed reservations
✔️ On-time Pickups - zero wait times
✔️ Well maintained cabs
✔️ Professional chauffeurs who can communicate in Tamil, Hindi, English, Malayalam
✔️ Experienced chauffeurs who are well aware of the routes and sightseeings
✔️ 24x7 Customer Service over WhatsApp
✔️ Easy Online Booking with cashless payments
✔️ Free Cancellation up to 72 hrs before pickup date
✔️ Quality – No Compromises
✔️ Proudly serving customers across the world since 1992
Going to Kakkanad, Kochi for a business trip? Try to club a visit the Venice of the East Alleppey lying close to Kakkanad with your Kakkanad trip. 
Book your Taxi through WhatsApp. Contact us now.
Options: Swift DZire, Innova, Tempo Traveller (12 to 19 Seater), Coaches.
Kakkanad 
The centre of the ever-growing IT industry in Cochin Kakkanad is also the administrative centre of Ernakulam. The Kochi Info Park is part of the most prominent up and coming industrial park in Kerala. Nodes of international submarine cable systems that come ashore in Cochin are installed in Kakkanad. It lies close to Veegaland, the entertainment park & the Chottanikkara temple, and the historic town of Kochi are also at reachable distances.
Alleppey
The beautiful backwaters of Alleppey welcome you to a fantastic holiday in Kerala! Alleppey is known for its vast interlinking network, palm-fringed canals called backwaters, houseboat cruises & Ayurvedic resorts. 
Blue Bird Travels, the biggest taxi hire operators in Cochin, provides Kakkanad to Alleppey taxi for your Alleppey sightseeing trip.
Kakkanad to Alleppey Taxi
A Kerala holiday will not be complete without visiting the spectacular backwaters and beaches of Alleppey! The mesmerising backwaters, magnificent Boat races and pilgrimage destinations all make Alleppey a most sought-after destination. 
A leisurely houseboat cruise through the Alleppey backwaters is just what you need for a holiday to remember for a lifetime! The greenery of the palm-fringed backwaters is a fabulous feast to the eyes! When you are cruising through the serene backwaters, you can catch glimpses of green paddy fields, coir making activities and see Kerala's village life.
Visiting the golden beaches of Alleppey like the Marari beach and Alleppey beach is a fantastic experience! The sunsets out there are just spectacular, and it's interesting to watch the local fishermen hauling in their day's catch! 
Before you start on your journey to Alleppey, you can also visit places in and around Kakkanad on your Blue Bird Travels' taxi. You can check out the historical sites in Fort Kochi like the Jewish Synagogue, Dutch Palace etc. The beautiful Pathiramanal Island, Ambalapuzha Sree Krishna Temple and more such appealing places are there to see on your way. Blue Bird Travels' Kakkanad to Alleppey Taxis covers all your transport needs with excellent services at the best prices. Give us a call today!
Kakkanad to Alleppey Taxi Fare 
| Cab Type | Passenger Capacity | Fare |
| --- | --- | --- |
| Swift DZire or similar | 4 | ₹2,870 |
| Toyota Innova | 6 | ₹3,770 |
| Innova Crysta | 7 | ₹4,890 |
| Tempo Traveller | 12 to 20+ | WhatsApp or Call us for the best deal on 94476 23456 |
What's Included in the Fare?
Fuel, Toll, Parking, Driver Allowances and a distance coverage of 140 km (Kochi garage to Kochi garage).
Book your Taxi through WhatsApp. Contact us now.
Options: Swift DZire, Innova, Tempo Traveller (12 to 19 Seater), Coaches.
Hotels in Kakkanad
| Hotel Name | Address |
| --- | --- |
| Novotel Kochi Infopark | Kakkanad, Kochi, Kerala 682030 |
| Four Points by Sheraton Kochi Infopark | Infopark Kochi Phase 1 Campus Infopark P.O, Kakkanad, Kochi, Kerala 682042 |
| The Blooms Cochin | Infopark road Near Kusumugiri Hospital Kusumagiri Kakkanad, Kochi, Kerala 682030 |
| Hotel Park Residency | Seaport - Airport Road Near Civil Station, Echamuku, Kakkanad, Kerala 682030 |
| Hotel Olive Eva | Edachira Road, opp. Inforpark Kakkanad, Kochi, Kerala 682030 |
Novotel Kochi Infopark
Step into luxury at the first international hotel in Kakkanad – the Novotel Kochi Infopark! Located near Infopark, the Novotel Kochi hotel with 128 rooms and suites, an infinity pool, and a gym offers a relaxing stay in pristine environs. You can unwind at the infinity pool, gym or spa in between your busy schedule. An unmatched dining experience awaits you at The Square restaurant, which serves a perfect blend of local and international cuisine. Catch up with your friends or colleagues over a drink and snacks at 'The Bar'. If you would like to unwind by the pool, 'The Sun Deck Bar' is your perfect destination.
The ideal location of Novotel Kochi near the Infopark, which is the hub for corporates, makes it a perfect venue for your team lunch, dinner outings and banqueting and events.
Four Points by Sheraton Kochi Infopark
Enjoy a luxurious stay & superior comfort at Four Points by Sheraton, Kakkanad! The upmarket hotel is located inside the Infopark & offers easy access to the airport. The most popular attractions of Cochin, like Fort Kochi, Lulu Mall and Wonderla, are also near to the hotel. 
Unwind in peace after busy meetings with a relaxing swim in our rooftop infinity pool or the rejuvenating spa. Get refreshed and energised as you exercise in the fully-equipped fitness centre! Dine-in style at the hotel restaurants or meet up with friends at the funky bar and cafe. You can plan your next business meeting in one of the fully equipped six event venues and make use of the event planning and catering services. The hotel's spacious rooms or suites with all luxury amenities look over stunning views of the Kakkanad cityscape. All these features make Four Points by Sheraton Kochi at Infopark – a home away from home!
The Blooms Cochin
The stylish premium luxury hotel, the Blooms Cochin, is centrally located close to the Infopark Cochin. It is the ideal choice to look for an innovative and hi-tech hotel near Smart City. Blooms present the highest standards of luxury living and personalised hospitality in Cochin with spacious accommodation, luxury cuisine, entertainment and in-house facilities. 
Apart from that, you can enjoy an on-site restaurant or check out the Bloomsbury's Boutique Cafe and Artisan Bakery, Navya Bakers or Chai Nation for refreshment options. The Blooms Cochin brings you a relaxed and enjoyable stay with the best of Kochi (Cochin) at your fingertips.
Divine Dream Hotels
The Divine Dream Hotels is a 4-star hotel located near the Pathadipalam metro Edappally, Cochin. It lies 8.2 km from the centre of the city and is 4.1 km from Aster Medicity. Divine Dream Hotels is situated at a short distance from attractions like Kerala Museum. With spacious accommodation & free WiFi, the Divine Dream Hotels is the perfect place to base your stay at Kakkanad.
Hotel Park Residency
Nestled in the lush green environs near Cochin's IT corridor, Hotel Park Residency is the perfect destination for a business traveller. A classified 4-star business hotel dedicated exclusively to customer satisfaction, Hotel Park Residency is a centrally air-conditioned luxury business hotel in Kerala's IT and industrial hub, Kakkanad. The hotel is situated near the IT hub (Infopark), CSEZ, BPCL, HPCL and Smart City. 
The hotel features spacious accommodation with a restaurant, free private parking, a fitness centre and a bar. The Conference rooms with good connectivity are suitable for hosting business meetings and get-togethers. The self-sufficient business and leisure ambience is ideal not just for business travellers & for their families as well.
Olive Eva Hotel
The 4 Star Olive Eva hotel offers a calm and peaceful oasis for business and leisure travellers. The hotel is located just a minute away from Infopark and the Smart City in Kakkanad.  With well-appointed rooms and suites made to perfection and our best-in-class facilities, all travellers are cared for. All hotel banquet halls are structured with all upgraded amenities to smooth business meetings, conferences, and formal gatherings. The restaurant provides a delicious range of Kerala, North Indian, and Chinese delicacies.
Hotels in Alleppey
| Hotel Name | Address |
| --- | --- |
| Tree of Life Marari Sands Beach Resort, Marari | Pollathai PO, Mararikulam, Alappuzha, Kerala 686522 |
| Azure Tides Marari | Omanapuzha Beach, PO, Pathirappally, South Marari, Mararikulam, Kerala 688521 |
| Marari Beach Resort | Marari Beach P.O, S.L.Puram, Mararikulam, Kerala 688549 |
| Time Square Boutique Hotel | PitchuIyer Jn, Cullen Rd, Alappuzha, Kerala 688001 |
| Lake Canopy | P.O, Komalapuram Aspinwall Road, North, Aaryad, Alappuzha, Kerala 688538 |
| Deshadan Backwater Resort | Kayipuram,Muhamma.P.O, Alappuzha, Kerala 688525 |
| Warmth Lake Haven Island Resort | Chempumpuram P.O, near Pulikkal Kavu Temple, Kerala 688505 |
| Uday Backwater Resort | Punnamada, Kottankulangara, Alappuzha, Kerala 688006 |
| Hotel Vasundhara Sarovar Premiere | VP II/123F, Vayalar, Cherthala, Kerala 688536 |
| Ramada by Wyndham Alleppey | Nehru Trophy Boat Race Finishing Point Stadium, Punnamada, Finishing Point, Alappuzha, Kerala 688013 |
| Oxygen Resorts Alleppey | Finishing Point Road, Thathampally, Alappuzha, Kerala 688013 |
| Paloma Backwater Resorts | Kainakary, Alappuzha, Kerala 688501 |
Book your Taxi through WhatsApp. Contact us now.
Options: Swift DZire, Innova, Tempo Traveller (12 to 19 Seater), Coaches.
Popular Questions
What is the distance from Kakkanad to Alleppey?
The distance from Kakkanad to Alleppey is 62.8 km via Panvel – Kochi – Kanyakumari Hwy. It takes 1 hr 30 min to reach with a Blue Bird Travels' Taxi.
Are the cabs airconditioned?
All our cabs are air-conditioned. Do note that AC will not be operational in hill areas or stopped/parked vehicle.
Can we get an English, Hindi and Tamil speaking driver?
Our chauffeurs can communicate in English, Hindi, Tamil and Malayalam. You can WhatsApp your request on 94476 23456.
Can I get an Invoice for the trip?
The invoice can be emailed or WhatsApp'ed after the trip. Taxes as applicable will be extra.
How can I cancel or reschedule my reservation?
WhatsApp us on 9447623456 and we can help you out.
What is your Cancellation And Refund Policy?
Our cancellation policy is published here.
Book your Taxi through WhatsApp. Contact us now.
Options: Swift DZire, Innova, Tempo Traveller (12 to 19 Seater), Coaches.
Additional information
| | |
| --- | --- |
| Cab type | Crysta (7 pax), Swift DZire / Etios (4 pax), Toyota Innova (6 pax) |