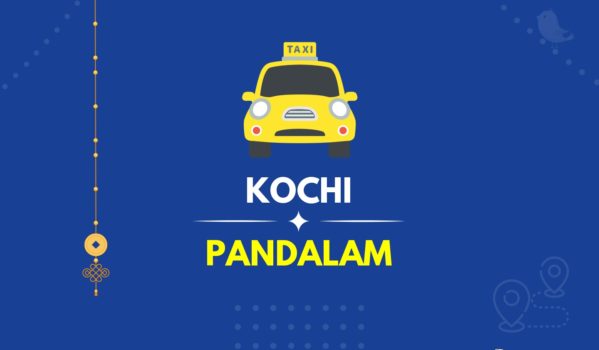 Your benefits of booking with us
✔️ Transparent fares
✔️ Guaranteed reservations
✔️ On-time Pickups - zero wait times
✔️ Well maintained cabs
✔️ Professional chauffeurs who can communicate in Tamil, Hindi, English, Malayalam
✔️ Experienced chauffeurs who are well aware of the routes and sightseeings
✔️ 24x7 Customer Service over WhatsApp
✔️ Easy Online Booking with cashless payments
✔️ Free Cancellation up to 72 hrs before pickup date
✔️ Quality – No Compromises
✔️ Proudly serving customers across the world since 1992
Cochin to Pandalam
Are you planning a tour to Pandalam from Cochin? Here is everything you need to know before making your plans for Pandalam. Pandalam maybe second only to Sabarimala as a holy place. Sree Ayyappa, Sabarimala's presiding deity had his human sojourn here as the Pandalam Raja's wife. The Valiyakoikal Temple was modeled on the Sabarimala shrine near the palace on the banks of the river Achenkovil. Pilgrims normally stop in here before going to Sabarimala to worship.
Listed by National Geographic Traveler Magazine as one of the '50 Best Places to Visit in a Lifetime,' Kochi is truly a melting point of history and culture.
Kochi to Pandalam Taxi
Book a taxi from Kochi to Pandalam by Blue Bird Travels and ride in comfort! While Looking for Pandalam to Cochin, Taxi makes it easy to visit places at your own pace, such as the Kochi Fort, Vasco Home, Santa Cruz Basilica, Dutch Palace, etc. You can always go to the entertainment parks like Bolghatty Palace, Hill Palace, and Mangalavanam Bird Sanctuary with family in the Cochin to the Pandalam cabin for a leisure ride. There are many temples located in and around Pandalam, and visiting all of these is worth going on a Kochi to Pandalam Taxi for a pilgrimage tour.
If you're looking to go on a one-way trip, it's best to hire a Kochi powered chauffeur from Blue Bird Travels. For your Kochi trip to Pandalam, you can rent a car driven by our courteous chauffeur and if you need a short break you can stop anytime, anywhere. Hiring us from Kochi to Pandalam is always the best choice because our professional driver can take care of the heavy traffic driving. 
Throughout the road you should sit back and relax. If you're on a budget trip there are plenty of options for booking a shared taxi. It can be cheaper to carpool from Cochin to Pandalam than to go by bus or train. When booking a Cochin to Pandalam car, it is possible to get the most affordable rates you will book at least 5-10 days ahead of time. This helps us to get you a taxi best suited for your travel plans at Blue Bird Travels.
For free travel consultation through WhatsApp. Contact us now.
Options: Swift DZire, Innova, Tempo Traveller (12 to 19 Seater), Coaches.
Kochi to Pandalam Taxi Fare 
The easiest way to get from kochi to pandalam is to take a taxi. Book Blue Bird Travels cab carrier from Kochi to Pandalam and relaxation assured that you will provide nice and dependable offerings for your car rental. Book taxi from Cochin to Pandalam, compares taxi fares, search online reductions and offers on Cochin to lease a vehicle from us. Car rental services for all AC & Non-AC cab styles such as Swift Desire, Toyota Innova, Innova Crista, and Tempo Travelers are available. We provide seamless online car booking procedure with multiple payment options and transparent bills, well experienced drivers with 24*7 dedicated support team to help you to enjoy your journey and the most possible economic fares as well as special deals for weekend bookings.  The best choice for Kochi to Pandalam taxi fares are listed as below.
| Cab Type | Passenger Capacity | Fare |
| --- | --- | --- |
| Swift DZire or similar | 4 | ₹ 4,040 |
| Toyota Innova | 6 | ₹ 4,980 |
| Innova Crysta | 7 | ₹ 6,000 |
| Tempo Traveller | 12 to 20+ | WhatsApp or Call us for the best deal on 94476 23456 |
What's included in the fare?
Fuel, Toll, Parking, Driver Allowances and a distance coverage of 240km (Kochi garage to Kochi garage).
For free travel consultation through WhatsApp. Contact us now.
Options: Swift DZire, Innova, Tempo Traveller (12 to 19 Seater), Coaches.
Taxi from Cochin Airport to Pandalam
The easiest way to get to Pandalam from Kochi Airport (COK) is to take a taxi that takes about 2hours journeys. Cruising from Cochin Airport to Pandalam takes 2 hours, 52 minutes. Blue Bird Travels offers Taxi from Cochin Airport to Pandalam for your convenience. Even before your flight lands, do not hesitate to book our Kochi airport to Pandalam cabs online, and you can reach your destination on time.
For free travel consultation through WhatsApp. Contact us now.
Options: Swift DZire, Innova, Tempo Traveller (12 to 19 Seater), Coaches.
Popular Questions
What is the distance between Kochi to Pandalam? 
Well to answer that the distance is only 108 km and it takes around 2hrs 15mins. We at Blue Bird Travels are always ready to book your tour. The fare is calculated as per the distance travelled. So why wait. Hop into your trip suits and book the tickets with us and book taxi from the app, insert the pickup place and time and voila!! We will reach you in no time.
How far is Pandalam from Kochi?
The distance between Kochi to Pandalam comes to around 108 km. 
What is the distance from Kochi Airport to Pandalam?
The estimated driving distance between Pandalam and Cochin Airport is 144 km.
Are the cabs airconditioned?
All our cabs are air-conditioned. Do note that AC will not be operational in hill areas or stopped/parked vehicle.
Can we get an English, Hindi and Tamil speaking driver?
Our chauffeurs can communicate in English, Hindi, Tamil and Malayalam. You can WhatsApp your request on 94476 23456.
Can I get an Invoice for the trip?
The invoice can be emailed or WhatsApp'ed after the trip. Taxes as applicable will be extra.
How can I cancel or reschedule my reservation?
WhatsApp us on 9447623456 and we can help you out.
Additional information
| | |
| --- | --- |
| Cab type | Crysta (7 pax), Swift DZire / Etios (4 pax), Toyota Innova (6 pax) |