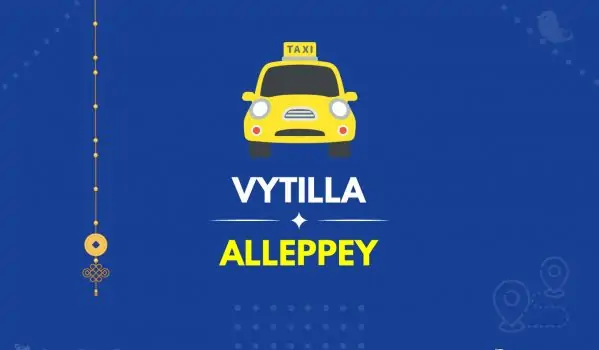 Your benefits of booking with us
✔️ Transparent fares
✔️ Guaranteed reservations
✔️ On-time Pickups - zero wait times
✔️ Well maintained cabs
✔️ Professional chauffeurs who can communicate in Tamil, Hindi, English, Malayalam
✔️ Experienced chauffeurs who are well aware of the routes and sightseeings
✔️ 24x7 Customer Service over WhatsApp
✔️ Easy Online Booking with cashless payments
✔️ Free Cancellation up to 72 hrs before pickup date
✔️ Quality – No Compromises
✔️ Proudly serving customers across the world since 1992
Book your Taxi through WhatsApp. Contact us now.
Options: Swift DZire, Innova, Tempo Traveller (12 to 19 Seater), Coaches.
Vyttila to Alleppey 
The backwaters of Alleppey welcome you to a fabulous holiday in Kerala!  If you are staying in Vyttila and plan to visit this beautiful green destination, Alleppey just book a Vyttila to Alleppey taxi from Blue Bird Travels, the best tourist taxi provider in Kerala.
Vyttila
A busy locality in Ernakulam, Vyttila is a major intersection in Kerala, which is also home to a major transit hub of the city. Vyttila is the best place to stay in Ernakulam. It lies near the Infopark and major industrial parks in Kochi and shopping destinations like the Lulu Shopping Mall. As it is located near Kochi, the beautiful port city in Kerala and the Kochi backwaters, you can visit the sights of Kochi in your Blue Bird Travels' cab on hire.
Alleppey
Known worldwide as the Venice of the East, Alleppey is the most top-rated backwater destination of Kerala. Alleppey backwaters are made up of a vast expanse of interlinking, palm-fringed canals & lagoons. Alleppey is renowned for its resorts dedicated to authentic Ayurvedic treatments, beaches & leisurely houseboat cruises.
Vyttila to Alleppey Taxi
Book online the best Vyttila to Alleppey taxis from Blue Bird Travels and have a comfortable journey. Blue Bird Travels has an exclusive range of vehicles for your Vyttila to Alleppey Taxi options fit for individual car hire & group travel.
When you book your taxi from Vyttila to Alleppey with Blue Bird Travels, you can be assured of quality and reliable services. You can leisurely visit the prime attractions of Alleppey like palaces, beaches & forts using the Taxi from Vyttila to Alleppey. 
Alleppey has several interesting places like the Ambalapuzha Krishna Temple, Mullakkal Rajarajeshwari Temple, Arthunkal Church etc. You can also visit Alleppey & Marari Beach, Pathiramanal Island, Driftwood Museum etc., in your Vyttila to Alleppey taxi. When you hire a Vyttila to Alleppey taxi from Blue Bird Travels, our courteous drivers can also act as your guides as they are highly knowledgeable about the tourist attractions of Alleppey. 
Blue Bird Travels also makes arrangements for houseboat cruises in Alleppey. When you pass through the backwaters, you can catch glimpses of green paddy fields and the village life of Kerala.
Plan a weekend trip with family & friends or a corporate trip with your colleagues to Alleppey. But always book your taxi with Blue Bird Travels as we have the right vehicle to suit you best!
Book your Taxi through WhatsApp. Contact us now.
Options: Swift DZire, Innova, Tempo Traveller (12 to 19 Seater), Coaches.
Vytilla to Alleppey Taxi Fare
| Cab Type | Passenger Capacity | Fare |
| --- | --- | --- |
| Swift DZire or similar | 4 | ₹2,785 |
| Toyota Innova | 6 | ₹3,660 |
| Innova Crysta | 7 | ₹4,770 |
| Tempo Traveller | 12 to 20+ | WhatsApp or Call us for the best deal on 94476 23456 |
What's Included in the Fare?
Fuel, Toll, Parking, Driver Allowances and a distance coverage of 135 km (Kochi garage to Kochi garage).
Hotels in Vyttila
Vyttila has many options to stay, ranging from affordable to luxurious hotels & resorts. Just check them out.
| Hotel Name | Address |
| --- | --- |
| Leisure Inn VKL Kochi | No.II/333/B VKL Leisure Inn Road, Kannadikkadu, Kochi, Kerala 682304 |
| Abaam Hotel | Mobility Hub, Kaniyampuzha Rd, Opposite, Vyttila, Kochi, Kerala 682019 |
| Punarnava Bamboo Lagoon Ayurveda Village | Kunnara PO, Eroor, Eroor South, Eroor, Ernakulam, Kerala 682306 |
Leisure Inn Koch
i
Leisure Inn Kochi welcomes you to a luxurious stay in Vyttila. Being at the heart of Kochi city, Leisure Inn Kochi is at reachable distances from tourist attractions like the Kochi backwaters, Wonderla amusement park, Lulu Shopping Mall, Fort Kochi and more. 
The hotel has 54 spacious guest rooms, a rooftop pool, spa, fitness centre, bar, conference and banquet spaces and good dining options.
Kochi airport lies within a 30-minute drive from the hotel.
Abaam Hotel
A stay in Hotel Abaam Kochi is synonymous with luxury! Situated right opposite the Vyttila transit hub, Hotel Abaam, Kochi is a boutique luxury hotel positioned at reachable distances from famous eateries & business centres. Tourist attractions like Mattancherry Palace, Hill Palace Museum also lie near the hotel. The spaciou, well-appointed rooms at Abaam, Kochi are the best place to rewind after a hectic day in Kochi. The hotel has modern amenities like an in-house restaurant, a banquet hall and a boardroom. Have a relaxed stay at Hotel Abaam, Kochi, and submit yourself to affordable luxury!
Punarnava Bamboo Lagoon Ayurveda Village
Base your stay at Punarnava Bamboo Lagoon Ayurveda Village to relax & rejuvenate! Located just 31 km from the airport and 7 km from the city centre, Punarnava lies close to some of the most famous landmarks in Kochi. The Kadavum Bagam Synagogue, Mattancherry Palace, Chinese Fishing Nets, Koonan Kurishu Church, Jewish Synagogue etc., can be visited staying here.
There are 17 spacious guest rooms equipped with great amenities at the resort. Health spa, business centre, swimming pool and library are the other amenities for a comfortable stay.
Hotels in Alleppey
| Hotel Name | Address |
| --- | --- |
| Tree of Life Marari Sands Beach Resort, Marari | Pollathai PO, Mararikulam, Alappuzha, Kerala 686522 |
| Azure Tides Marari | Omanapuzha Beach, PO, Pathirappally, South Marari, Mararikulam, Kerala 688521 |
| Marari Beach Resort | Marari Beach P.O, S.L.Puram, Mararikulam, Kerala 688549 |
| Time Square Boutique Hotel | PitchuIyer Jn, Cullen Rd, Alappuzha, Kerala 688001 |
| Lake Canopy | P.O, Komalapuram Aspinwall Road, North, Aaryad, Alappuzha, Kerala 688538 |
| Deshadan Backwater Resort | Kayipuram,Muhamma.P.O, Alappuzha, Kerala 688525 |
| Warmth Lake Haven Island Resort | Chempumpuram P.O, near Pulikkal Kavu Temple, Kerala 688505 |
| Uday Backwater Resort | Punnamada, Kottankulangara, Alappuzha, Kerala 688006 |
| Hotel Vasundhara Sarovar Premiere | VP II/123F, Vayalar, Cherthala, Kerala 688536 |
| Ramada by Wyndham Alleppey | Nehru Trophy Boat Race Finishing Point Stadium, Punnamada, Finishing Point, Alappuzha, Kerala 688013 |
| Oxygen Resorts Alleppey | Finishing Point Road, Thathampally, Alappuzha, Kerala 688013 |
| Paloma Backwater Resorts | Kainakary, Alappuzha, Kerala 688501 |
Popular Questions
What is the distance between Vyttila to Alleppey?
The distance between Vyttila and Alleppey is 56 km. The fastest way to travel is by hiring a cab from Blue Bird Travels.
Are the cabs airconditioned?
All our cabs are air-conditioned. Do note that AC will not be operational in hill areas or stopped/parked vehicle.
Can we get an English, Hindi and Tamil speaking driver?
Our chauffeurs can communicate in English, Hindi, Tamil and Malayalam. You can WhatsApp your request on 94476 23456.
Can I get an Invoice for the trip?
The invoice can be emailed or WhatsApp'ed after the trip. Taxes as applicable will be extra.
How can I cancel or reschedule my reservation?
WhatsApp us on 9447623456 and we can help you out.
What is your Cancellation And Refund Policy?
Our cancellation policy is published here.
Book your Taxi through WhatsApp. Contact us now.
Options: Swift DZire, Innova, Tempo Traveller (12 to 19 Seater), Coaches.
Additional information
| | |
| --- | --- |
| Cab type | Crysta (7 pax), Swift DZire / Etios (4 pax), Toyota Innova (6 pax) |