Mannarasala Sree Nagaraja Temple is an age-vintage temple situated amidst the woodland of Alleppey also known as Alappuzha. This temple is dedicated to the serpent gods or the Nagaraja. It is located in a calm and quiet place. Also, it is surrounded all over with trees. Specific offerings to the Nagaraja can fulfil all the wishes of the devotees revering the temple.
Legend and History behind the Appearance of Kerala
Mannarasala Temple is a benign, awe-inspiring and legendary temple associated with Lord Parasurama's blessing. He is also known as the creator of Kerala. Parasurama was suggested to gift a land of his own to the Brahmins. As it needs to release himself from the sin of killing the Kshatriyas. Lord Varuna gifted him the land which emerged by throwing an axe into the sea. As a result, a piece of land was raised and appeared, which came to be known as Kerala.
Parshuram gifted the land to the brahmins but was not habitable due to a high concentration of salt. He performed severe austerities and as a result, was ordered to worship Nagaraja by Shiva. Finally, Lord Nagaraja appeared, desalinated the land and granted his eternal presence. Mannarasala Sree Nagaraja Temple is one amongst all the snake temples.
WhatsApp for free assistance or taxi booking 
now.
Legend says that once a childless Brahmin couple named Vasudeva and Sreedevi were worshipping resolutely for the child, and an unexpected fire broke out in the forest where Nagaraja resided. The couple saved the snakes and constructed new pits under the banyan tree. They comforted them with sandalwood paste. They offered puja and pleased Nagaraja. As a result, he appeared and blessed them by saying he would incarnate as their son and reside there permanently.
Sreedevi got pregnant and gave birth to two children. One was a five-hooded serpent-like child and another a human child. They grew together, and as time went by, Nagaraja ordered his brother to get married. He obeyed the perpetual preservation of the family. Nagaraja then went to take shelter in the cellar and vanished. Before leaving, he instructed that only his mother can offer the worship, and after her, the senior-most lady of the family can take-over.
Once appointed, Amma lives a strict and renunciate life of a celibate, Brahmacharini. She has to remain alone in the nilavara until her Samadhi. Amma performs pooja in all the temples in the Nagaraja premises. She gives darshan every evening from the nilavara. Devotees queue up to discuss their grievances and listen to her solutions. She offers vibhooti to the devotees, which are considered very auspicious. The present Amma is Remadevi (85).
The Installation of Deities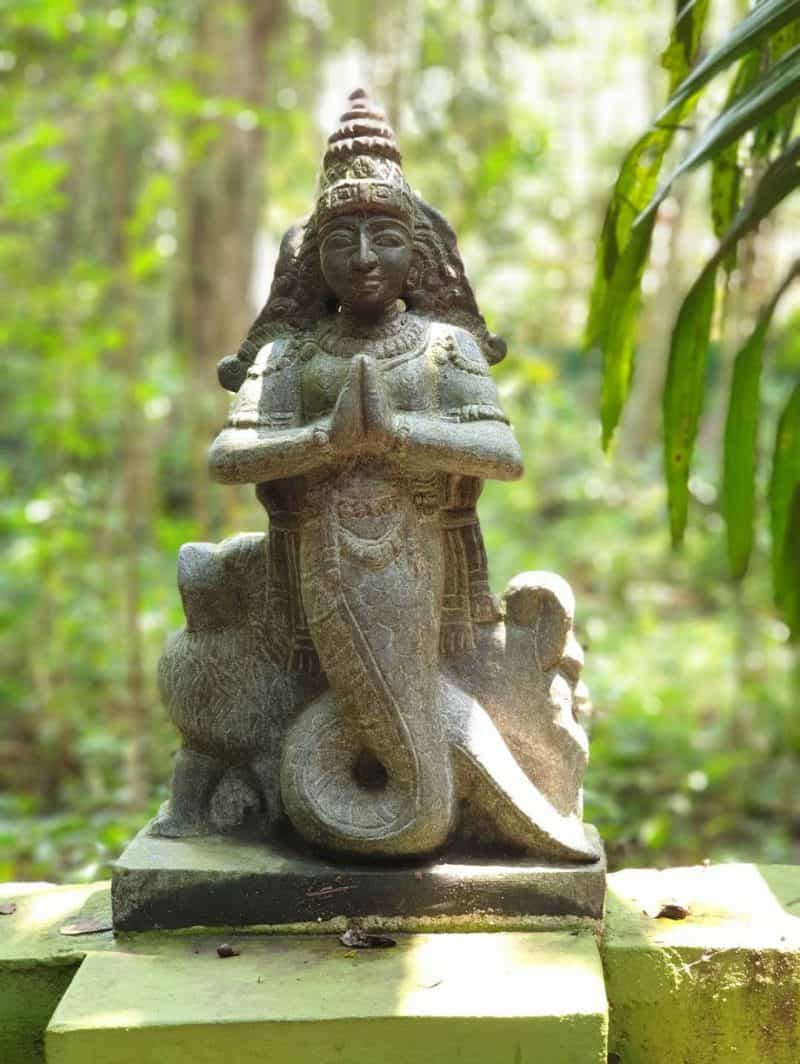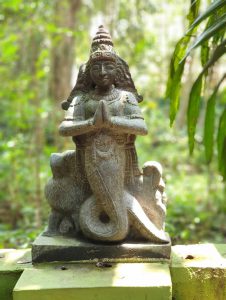 The installation ceremonies have been carried out as in step with the Vedic rites, and Nagaraja began dwelling in the Mandara bushes in Mandarasala, which later got here to be known as Mannarasala. Parasurama appointed some Brahmins with tantric information to perform the poojas. The deity in this pilgrimage centre has a form of Vishnu with the spirit of Lord Shiva. There are over 30,000 idols of the snake. The presiding Pratishtha is that of Nagaraja the serpent God, and the upadevathas are Shiva, Devi Durga, Ganesha, Subramanya Swamy or Murugan, Idumban and Dwarapalaka. Sarpa Yakshi and Naga Yakshiare are also installed as the consorts of Nagaraja. The Mannarasala Temple covers an area about 16 acres of forest land. The premise comprises two separate sanctum sanctorum. A miraculous turmeric paste is distributed which is credited with curative powers. Barren women seeking fertility come to worship the deities.
WhatsApp for free assistance or taxi booking 
now.
Festivals Celebrated With Fervour
The main festival of the temple is Kanni Ayilyam which is celebrated in the month of October-November where the deity is taken out for a ceremonial procession. Other festivals are Thulam, Kumbham, and the day of Maha Shivratri. Various cultural programmes are organized to mark the special occasion. The offerings are quite prominent and unique in the temple. Noorumpalum, Nilavara, Payasam, Archana's, Nivedyams are offered. Urulikamazthu is another popular and unique offering prepared at Mannarasala Sree Nagaraja Temple. The Pooyam festival is celebrated as the conclusion of the 12-day pooja, conducted by the priestess of the temple Mannarasala Amma.
Deeparadhana is a light festival, which is held in Maha Shivaratri evening. A large no. of devotees come to enjoy this. Sarpam Pattu is very pleasing to the serpents. It draws massive attention because this puja is held every 41 years. The pooja is performed until the Nagaraja is satisfied. This pooja continues for days and nights.
The Velan tribe holds Pallippana and Gandharva songs. They draw the figures of Kalam and Valia Amma, which is also known as Gandharva Pattu. The major pooja in Pulakkavu is Noorum Palum. Another festival is Kavumattam and Sarpabali. It is a festival where the serpents are shifted to the higher location which they deserve. There is a pooja held in a unique style.
WhatsApp for free assistance or taxi booking 
now.
Offerings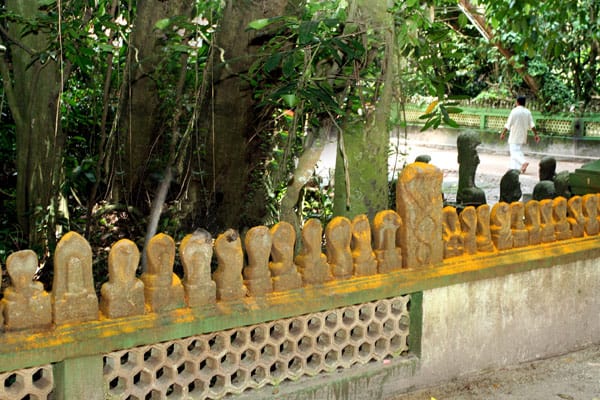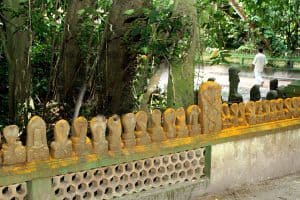 The main offerings are aimed for wealth and prosperity. The offerings include effigies of gold, silver and copper, coins, all kinds of grains, tender coconuts, sandalwood, plantains, pepper and melons.
For education, fame and prosperity- Divine ornaments, grains and silk
Recovering from disease- Salt
Protection from poison- Turmeric
Curing the diseases- Green peas, mustard and pepper
Protection from damage- Images of serpents, eggs, trees, earth, and a serpent cave made of gold
For longer life- Melted butter (Ghee)
For getting the desired thing- Nilavarapayasam, milk, ripe kadalai fruit
For having a child- Brass or bronze Uruli (vessel)
WhatsApp for free assistance or taxi booking 
now.
Mannarasala Temple Timings for Divya Darshan
The darshan is opened all days of the week
Morning hours- 5:00 am- 12:00 pm (Till 1.00 pm on Sundays)
Evening hours- 5.30 pm- 7.30 pm
Visit duration is 1-2 hours. Mornings and evenings are crowded, and devotees in huge numbers throng in. Afternoons of any weekday are recommended for a peaceful Darshan. Since Kerala is located in the coastal region, the temperature remains moderate all through the year. October-November is the months when the sacred place witnesses the highest number of devotees from all over the country. The place is escaped from the extremities of the climate. Hence, it allows the devotees to flock all year through.
Dress Code and Entry Rules
Since it is a religious affair, men and women have to wear traditional attire which is mandatory. Men are to be worn Mundu and women, saree. Children are allowed to wear anything that covers them entirely. This is how you can maintain the spirit and observe the sanctity. There is no fee for darshan, but if anybody wishes to perform any special pooja based on birth star and astrological requirements, the extra cost has to pay.
If any woman is going with the desire to get fertile, she has to meet Amma sitting inside the temple. Visiting and getting blessings from her is considered auspicious. These are some of the norms that everybody should be aware of. Stepping inside the Mannarasala Temple without these rules is regarded as an offence.
Way to the Enchanting Mannarasala Temple
Mannarasala Sree Nagaraja Temple in Haripad is situated around 30 kilometres from Alleppey. The nearest bus stop is Haripad (KSRTC) bus stop which is 3 kilometres away from the temple. Auto rickshaw and cabs are readily available, which can take you to the temple at subsidiary rates. Accessibility may not be a problem for the devotees, as the temple is well-renowned and proper signboards are available to guide you.
By Air- The closest airport is Cochin International Airport is 115 kilometres away, and Thiruvananthapuram International Airport, 120 kilometres away.
By Train- The closest railway station is at Haripad, 3 kilometres away, Mavelikkara is 10 kilometres, and Kayamkulam is 11 kilometres.
By Road- Once reached Haripad, direct bus/taxi service is available.
Kochi is 103 kilometres away from The Historical Mannarasala Sree Nagaraja Temple. It is well-connected with Haripad. The number of trains running between Kochi and Haripad makes the connectivity even more efficient. Four trains are running daily and seven every week. Some of the trains that connect these two cities are Chennai Egmore Guruvayur Express, Maveli Express, Raptisagar Express and Shalimar Express. The duration is almost 2.30 hours. If you are in a jiffy and want to get a seamless and quick experience, you can book tickets online and explore at utmost. Vehicles are allowed until the temple compound, and ample parking slots are available.
WhatsApp for free assistance or taxi booking 
now.
Get In Touch
MannarasalaSree Nagaraja temple
Mannarasala Devaswom
Mannarasala P.O. Haripad, Kerala 690514
Tel +91-479-2413214/ 0479 2160300
Email: info@mannarasala.org
Nearby Temples
Subramanya Swamy Temple
This temple in Haripad town is an ancient temple with a little architectural beauty. No words are required for its glorification. It is believed that this temple existed even before the advent of Kaliyuga. The idol that this temple enshrines is that of Subhramanya which Parasurama worshipped.
Kavarattu Sree Mahadev Temple
This temple is located at Kumarapuram in Alappuzha district Kerala. This temple attracts all the focus in the month of Kumbham, and the streets are decorated with the plantain leaf-stalk and tender coconut frond.
Ambalapuzha Sree Krishna Temple
This temple is located 14 kilometres south of Alappuzha in Kerala. It was built during 15th-17th AD.
Chengannur Temple
This is a very significant temple of Lord Shiva and Goddess Bhagavathy. Lord Shiva is facing east and Goddess Bhagavathy in the west in the temple. It is believed that when Lord Shiva cut his wife Sati's body into pieces, the middle part of the body fell here. It is believed that Goddess goes through the monthly cycle and because of this, the Shiva Linga is on a triangular pedestal.
Panachikkad Saraswathi Temple
It is in Panachikkadu village, 11 kilometres from Kottayam in Kerala. The presiding deities are Lord Shiva, Lord Ganesha, Nagaraja, Sree Dharma Sastha, Brahmrakshasu and Yakshi.
Ettumanoor Mahadeva Temple
This particular temple has some fantastic murals, the painting of Nataraja in the gopuram and ezharaponnana. The deities are offered lamps.
WhatsApp for free assistance or taxi booking 
now.
Places to Visit in Haripad
To get a perfect tropical getaway experience, Haripad allows several places to explore and rejuvenate your mind, body and soul. Apart from various temples all around, you can opt for
serene lakes like Vembanad and Kayamkulam
vibrant beaches like Mararikulam and Alleppey
churches like Edathua, St. Xavier's, St. Sebastian's, St. Andrews, and Champakulam
 Pathiramannal island which has much to offer.
You get some top-rated and plush hotels for a halt after a tiring trip. Cuisines and local food are delectable and relishing. Shopping in local markets are always rejuvenating.
Kerala, also known as the 'God's own country', is adorned with innumerable and exotic places with a pleasing environment. Each one of these places will enchant you unlimitedly. Let your eyes and camera capture the picturesque beauty to hold your breath and cherish the moments later. The trip to Mannarasala Sree Nagaraja Temple Kerala leaves you awestruck. It is suitable for experience seekers, Nirvana seekers, and God lovers.
WhatsApp for free assistance or taxi booking 
now.