Feel at home at Radisson Blu, Kochi – one of the most stylish elegant five-star hotels in central Kochi! Being a premier upscale hotel, Radisson Blu has classic interiors & gracious service to make your stay a thing to remember!.
Location
The Radisson Blu Kochi stands proud in the city centre of Elamkulam, Cochin, a stone's throw away from access to prominent businesses, transport stops, and prime shopping destinations like LuLu Mall and MG Road.
Accommodation
Rejuvenate yourself with a good night's sleep at the spacious,                                                                                                                                                                                                                                    well-appointed rooms of the Radisson Blu Hotel Kochi! With 150 rooms and suites and some beautiful offering views of Kochi or the mesmerising backwaters. The rooms feature amenities like free Wi-Fi, modern, sleek decor, nature-based bath products and soundproofing to ensure a good night's sleep. Hotel Radisson Blu remains a hot favourite for elite travellers to Kochi!
Dining & Entertainment
Be it for a rooftop barbecue or international cuisine, experience elegant dining at our four on-site restaurants and chic bars. You can try out the traditional local fare at Keshia, the all-day restaurant & authentic Chinese food at the upscale restaurant Mainland China.  The elegant open-air rooftop venue, High Bar offers you a grand view of Elamkulam, Kochi, while sipping cocktails and nibbling on tasty barbecue dishes. The Wellington library lounge, with its warm and inviting ambience, offers a convenient spot in the lobby to unwind with a drink or snack. The chic bar, Ava Lounge at Radisson Blu is the perfect place to experience the nightlife of Kochi.
Facilities & Amenities
Hotel Radisson Blu offers amenities like a well-equipped fitness centre, on-site spa and business centre to make your stay all the more comfortable.
Conferences & Events
Make your conferences & events in Kochi a grand affair at our spacious five-star facilities spanning nearly 15,000 square feet. Their spacious meeting & conference facilities can accommodate up to 1,000 guests for weddings & cocktail events. The banquet halls at Radisson Blu, Cochin are big enough to seat 600 guests for conferences and wedding receptions. The four flexible meeting facilities at Radisson Blu include the convention centre, banquet hall, conference hall, and the boardroom which can be adapted for different layouts to suit your event requirements. You can also avail access to the business centre at Radisson Blu as you rent your convention space there. Radisson Blu, Kochi offers special packages for conferences and events which include audio-visual equipment and customised catering.
For free travel consultation through WhatsApp. Contact us now.
Options: Swift DZire, Innova, Tempo Traveller (12 to 19 Seater), Coaches.
Popular attractions under five hours drive from Radisson Blu Kochi
Paniyeli Poru Waterfalls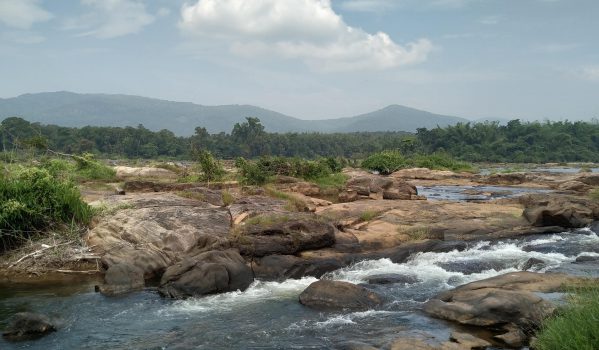 The amazing cascade of the Paniyeli Poru waterfalls is a place to enjoy nature at its best! A beautiful not so crowded eco-friendly place with unspoilt beauty nourished by the river Periyar! Located near Perumbavoor, Cochin, 38 km from hotel Radisson Blu, the tourism eco spot Paniyeli Poru can be reached by hiring a cab. The tourism hotspot is famous for a natural bottleneck in the flow of the Periyar River due to rock formations and the strong water currents. The name Poru was born as a result of the routine fight; the raftsmen had with the wild waves of the river Periyar when bringing cut Bamboo and other products from the forest. The Paniyeli Poru waterfalls, viewpoint and the hanging bridge, are the main attractions here. The nearby attractions to Paniyeli Poru are the Athirapally Falls, Bhoothathankettu Dam and Reserve Forest & Adi Shankaracharya Temple.
The verdant greenery and the milky white waterfall is a real crowd-puller in Paniyeli Poru. The lush green environs of Paniyeli Poru is home to numerous species of birds and animals. It is well known as a travel & nature photography destination as well. The majestic Periyar river, dense forests with the distant green hills of Malayattoor create a fantastic backdrop which makes Paniyeli Poru, a nature lover's paradise! 
Alleppey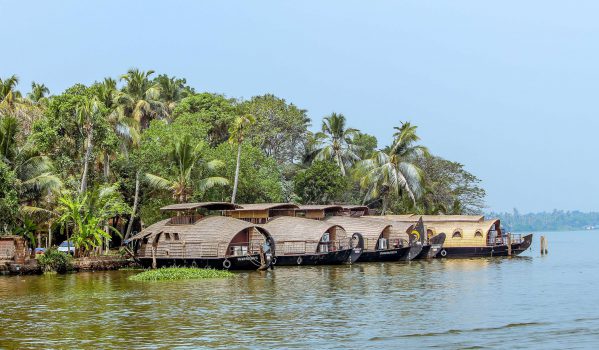 Visit Alleppey the world-famous land of backwaters! Alleppey or Alappuzha is known worldwide for its mesmerising backwaters, green paddy fields, rivers, lagoons and lakes. It is a great experience cruising through the Vembanad Lake on converted traditional Rice boats called Kettuvallams. You can view glimpses of the village life in Kerala along with green paddy fields, Coir making activities and more. A great variety of Avifauna can be found here at the lake. A visit to the Pallippuram island, a small scenic island in the middle of the lake is a must-have on this cruise.
Alleppey is also famous for its historical monuments like the 137-year old lighthouse and the pier which juts out into the sea.  The most popular Andhakaranazhi Beach in Alleppey is the perfect place to watch gorgeous sunsets. Alleppey also boasts of many places of worship like the  Sree Krishna Swamy Temple,  Mannarasala Temple, St. Mary's Forane Church, Mullakkal temple and more. 
In the cruise through the backwaters, you'll be able to visit many temples and churches. The months of August to September is also the season for several boat races like Nehru trophy, Champakulam & Payippad. 
Alleppey is 56 km away from Radisson Blu, Kochi and you can hire a taxi to reach there.
You may also be interested: Places to see in Alleppey
Kumarakom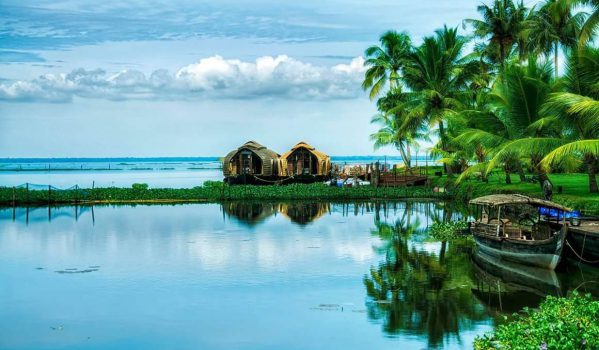 The beautiful backwaters destination of Kumarakom beckons you to the fabulous natural beauty of Kerala! The Kumarakom backwaters near Alleppey brings you the verdant stretches of paddy fields, canals and mangroves which cools your tired eyes. The Kumarakom Bird Sanctuary at the backwaters is a bird lover's paradise! Thousands of migratory birds come to nest there. Leisurely houseboat cruises through the backwaters give you a golden opportunity to drink in the beauty of Kumarakom. 
Kumarakom is also a honeymooners' paradise as well! The silent backwaters and an overnight stay on a houseboat give you absolute privacy to enjoy your honeymoon in peace and tranquillity. Kumarakom is your ideal place for relaxation, Ayurvedic rejuvenation, or a remarkable honeymoon trip!
It takes 1hr & 22m to reach Kumarakom from Hotel Radisson Blu, and you can hire a cab to go there.
You may also be interested: Places to visit in Kumarakom
For free travel consultation through WhatsApp. Contact us now.
Options: Swift DZire, Innova, Tempo Traveller (12 to 19 Seater), Coaches.
Athirapally  Waterfalls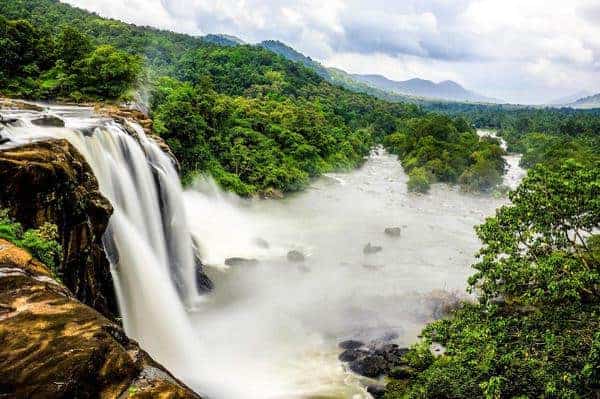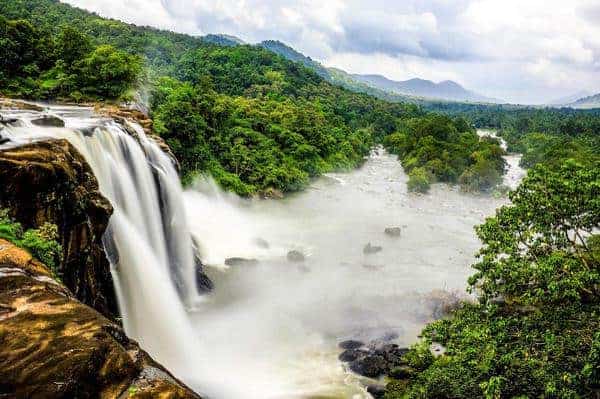 The breathtaking beauty of waterfalls never fails to amaze you! The super-steep Athirapally waterfalls near Aluva, 71 km from Hotel Radisson Blu, leaves you dumbstruck with its roaring cascade of frothy waters that wind down the Sholayar ranges of the Western Ghats. It has been nicknamed the "Niagara Falls of India. The 80 ft high and 330 ft wide largest waterfall in Kerala, Athirapally falls joins the Chalakudy river & the waters flow through the Vazhachal Forest toward the Arabian Sea.
The wild beauty of the Athirapally Waterfalls has made it a tourism hotspot and many South Indian & North Indian films have been shot in this location as well! The forest area near Athirapally waterfalls is home to a wide variety of flora and fauna. 
You may also be interested: Athirappilly Vazhachal Waterfalls
Vazhachal Waterfalls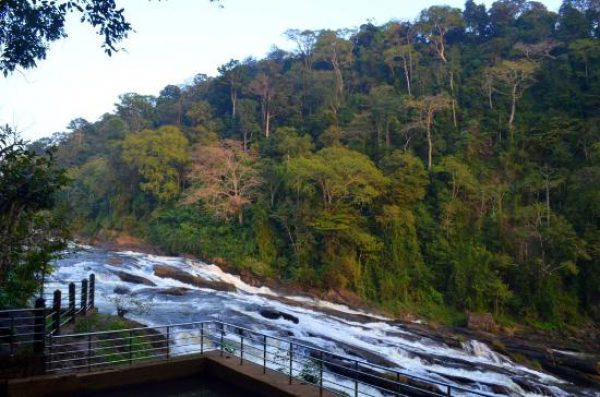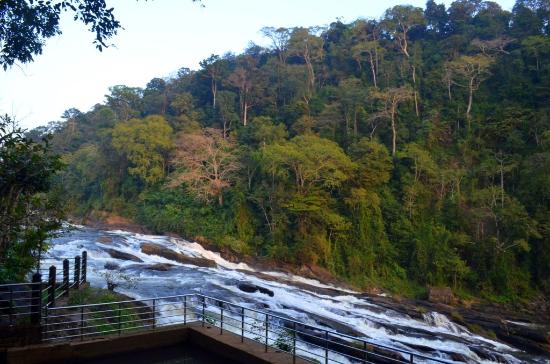 The ethereal beauty of Vazhachal waterfalls lying near the Athirapally waterfalls bewitches you on first sight! An excellent photography destination it is also the favourite of wildlife enthusiasts & nature lovers.  Vazhachal waterfalls are located 83 km from Hotel Radisson Blu and can be reached by hiring a car. 
You may also be interested: Athirappilly Vazhachal Waterfalls
Thrissur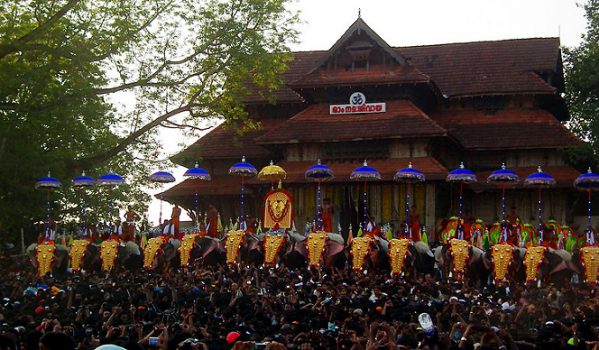 The land of Poorams, the cultural capital of Kerala, Thrissur tops the list of popular tourism hotspots near Hotel Radisson Blu, Kochi. Lying at a distance of 78 km from Kochi, Thrissur is reachable by hiring a cab. 
Thrissur is famous for its numerous historical temples, churches, waterfalls, beaches and backwaters. The Guruvayur Sree Krishna Temple, Vadakkunnathan Temple, Paramekkavu Bhagavathy Temple, Thrissur Zoo, Shakthan Thampuran Palace, Basilica of Our Lady of Dolours, Vilangankunnu, Chettuva Backwaters, Punnathur Kotta, Kerala Kalamandalam, Vazhachal Falls, Athirampally waterfalls are top attractions in and around Thrissur. 
Thrissur is also famous for its colourful festivals like Thrissur Pooram. The festival is at the Vadakkumnathan temple grounds, in April or May. 
Guruvayur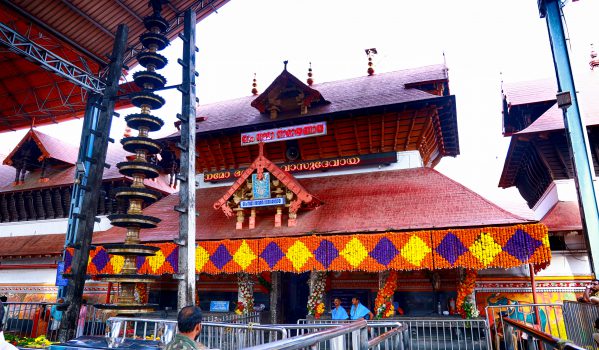 Invoke the blessings of Lord Krishna at Guruvayur, the temple city of Thrissur! It is a 3 hr journey to Guruvayur from Radisson Blu Kochi and can be reached by hiring a Taxi. As one of the most popular pilgrimage sites in Kerala, Guruvayur needs special mention. Built-in a typical Kerala temple architecture style, the original Guruvayur temple is believed to have been built by Vishwakarma, the divine architect. 
Hordes of Lord Krishna devotees visit the temple. The deity of Lord Sri Krishna can be seen in standing posture with four hands carrying Sankhu, Sudarshana Chakram, Lotus and Mace. The gold-plated, 33- meter tall Dwajasthambam is a unique attraction. The 7 meter high 'Deepasthambham' with thirteen circular containers, is a spectacular sight to watch when lit fully.
Beautiful Mural paintings and carvings adorn the walls of the sanctum sanctorum. The temple has a collection of 65 elephants stationed at Anakotta, 3 Kms from the temple.
For free travel consultation through WhatsApp. Contact us now.
Options: Swift DZire, Innova, Tempo Traveller (12 to 19 Seater), Coaches.
Munnar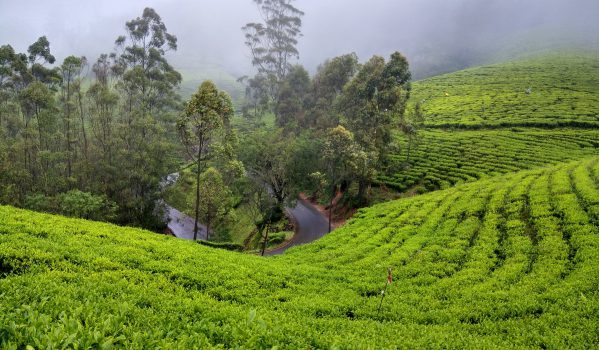 Here's a chance to enjoy one of the most beautiful locations in the world! The hill station town of Munnar is an idyllic destination to enjoy your holidays. Munnar is a 4-hour journey from Hotel Radisson Blu by Car. You can hire a car to reach there. With endless stretches of greenery, Munnar is visited by travellers from all over the world. The verdant tea plantations, misty hills, spice-laden breeze from the plantations and an incredible variety of rare flora and fauna make Munnar a tourism hotspot! 
The Neelakurinji flowers which bloom once in 12 years on its slopes make the beauty of Munnar even more spectacular.  The Echo Point, Pothanmedu View Point, Eravikulam National Park and Atukad Falls are significant attractions of Munnar one should not fail to visit!
You may also be interested: Places to visit in Munnar
Nelliyampathy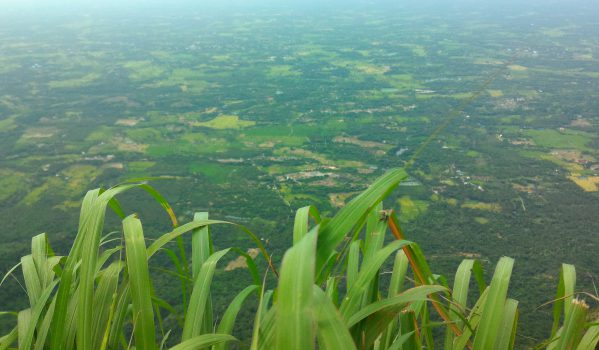 Known as the poor man's Ooty, Nelliyampathy brings to you nature at its very best! Nelliyampathy hill ranges are a 4-hour drive from Hotel Radisson Blu and can be reached by hiring a car. The journey has a few hairpins bends on the roads passing through the coffee estates and tea plantations, 
As one of the most spectacular hill stations of Kerala, Nelliyampathy has a cold climate and is a nature lover's paradise. With huge trees & large honeycombs, beautiful landscapes, small gurgling mountain streams and many tourist places to explore like Parambikulam Wildlife Sanctuary, Seethargundu Viewpoint, Kesavanpara, Palghat Gap,  Nemmara village, Pothundy Dam and reservoir etc. Nelliyampathy is truly a winner!
From the top of summits of Nelliyampathy, you can get panoramic views of the thick teak wood forest, the Pothundi dam, Orange farms, Tea and Coffee plantations as well as the green paddy fields in the valley.
You may also be interested: Places to see in Nelliyampathy
For free travel consultation through WhatsApp. Contact us now.
Options: Swift DZire, Innova, Tempo Traveller (12 to 19 Seater), Coaches.