Are you planning your honeymoon and wondering where to spend the most important and transformational days of your life? You and your partner will be embarking upon a new journey, and every couple wants to kick start this journey by having a memorable time, preferably at a breathtakingly beautiful honeymoon destination.
There are two reasons why Kerala is known as God's own country: a mythological reason and an exotic/touristy reason.
According to Hindu mythology, Lord Parasurama threw his axe (the parasu) from Kanyakumari, towards the north, and where the axe fell, Kerala came to be. Hence, Kerala is also known as Parasurama Kshetram.
Now the more worldly reasons: some tourism company came up with this brilliant tagline "God's own country", and it has made the state famous internationally.
Kerala is a favourite honeymoon destination because it is replete with an unmatched beauty. Whether you like mountains, lakes and coasts, forests, or rain-soaked grasslands, Kerala gives you every possible holiday and honeymoon experience. Whether you're looking for crowded places with lots of party scenes or you want the serenity of nature whispering sweet nothings into your ears, there is no shortage of honeymoon options for you.
Love the touch of sand beneath your feet? There are many beaches in the proximity, for example, Varkala Beach, Lighthouse Beach Kovalam, and Andhakaranazhi Beach in Kochi.
We understand that in a honeymoon destination you will be looking for a mix of privacy, fun, comfort and sightseeing.
Free Kerala Tour Consultation over WhatsApp. Contact us now.
In this post, we are throwing some light on the top 5 honeymoon destinations in Kerala. Pick up your destination, let us know, and we can chart out the perfect itinerary for you and your better half.
The list of top 5 honeymoon destinations in Kerala
Munnar as a honeymoon destination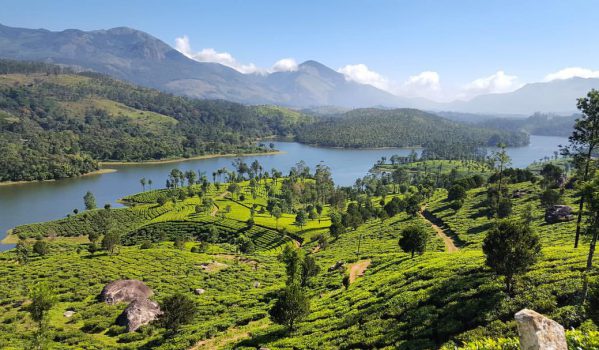 Laden with sloping tea gardens and glimmering water bodies, Munnar can immediately transport you into the romance of the 19th century. It has waterfalls like Lakkam Waterfall, Naimakkadu Waterfall and Atukkad Waterfall. 
If you want a mix of wildlife in your honeymoon, it boasts of Chinnar Wildlife Sanctuary. The Pampadum Shola National Park facilitates an enchanting natural trail that you can enjoy as a couple who loves the outdoors. Talking about outdoors, there is a wide selection of adventure activities like gliding, trekking and boat rowing.
Read more: Best Places to Visit in Munnar in 2 days
Being one of the most famous tourist destinations, finding an appropriate lodging in Munnar is not a difficult task. Though, in peak season, it may be a bit difficult. Fortunately, sometimes marriages are not tallied with seasonal holidays so by any chance, if you are getting married when the peak season is not around, Munnar might be the perfect honeymoon destination for you.
You may also like: Best time to visit Munnar
We can arrange our taxi service to pick you from Kochi airport and drive to Munnar directly.
Free Kerala Tour Consultation over WhatsApp. Contact us now.
Kumarakom as a honeymoon destination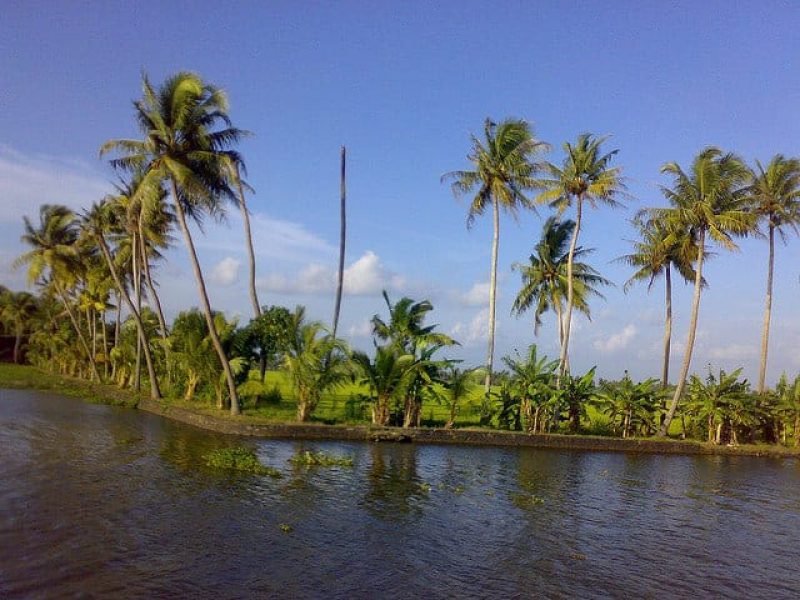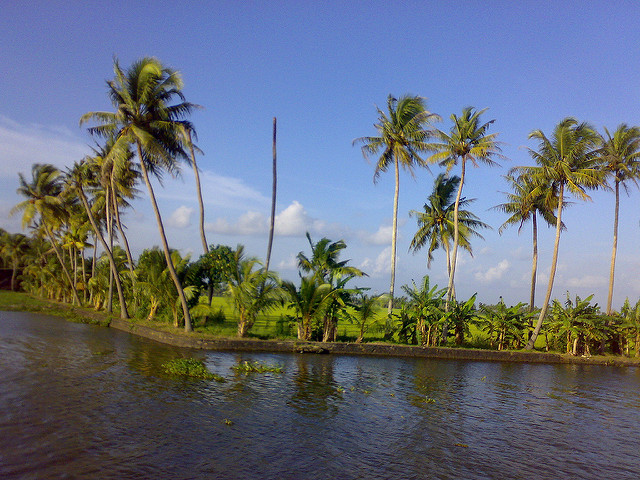 Kumarakom is a village on the Vembanad Lake. Sprawling over an area of almost 200 km², this is one of Asia's largest freshwater lakes and the largest in Kerala. With so much water and space, the lake quickly offers opportunities for yachting, boating and angling.
It is a cluster of little islands inside the lake. The place is networked with a multitude of canals, and people travel and live in houseboats. The lake is flanked by rich vegetation and paddy fields. 
It is a birdwatcher's paradise, but its tranquillity and natural resonance also attract honeymooners.
Kumarakom is a backwater honeymoon destination. It offers you boating and fishing facilities. Nearby there is the Taj Garden Retreat that is a bungalow-turned-resort. It would be best if you tried getting a reservation there. Instead, if you would like to spend your honeymoon on a floating houseboat, that can be easily arranged. A good thing about these houseboats is that many of them are furnished with king-sized beds made of high-quality wood.
Being one of the primary tourist and honeymoon destinations, the place is ridden with hotels and resorts, and you can quickly get a room according to your budget.
During your stay, you can also seek blessings from Shiva Temple in Thalikotta and Vaikom Mahadeva Temple.
Free Kerala Tour Consultation over WhatsApp. Contact us now.
Alleppey as a honeymoon destination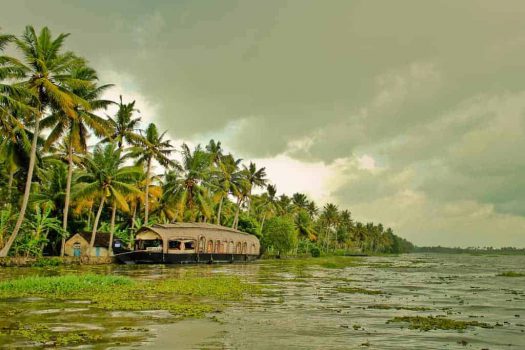 Alleppey is also known as Alappuzha, and it is best known for houseboat cruises on its backwaters. There is an extensive network of calm and tranquil canals and lagoons upon which you can have a memorable honeymoon. With multiple water channels permeating through the life and history of the place, Alleppey is aptly known as the "Venice of the East".
Just like many other backwater tourist destinations in Kerala, you can spend your honeymoon in a houseboat, wafting over the calm but lively waves. 
Just because you decide to spend your honeymoon in a houseboat doesn't mean you will have to make good with the last century's lifestyle. Even in a houseboat, you'll get all the modern facilities like air-conditioning, comfortable furnishing, modern kitchen and toilets, multimedia entertainment, and even Wi-Fi.
You can let your houseboat cruise towards the beach if you'd like to say a Hello you the waves of the Arabian sea, or in any other direction towards punted canoes, toddy shops and serene hamlets.
The monsoon season is Alleppey is particularly romantic for honeymooning couples with the raindrops playing perpetual symphonies over the playful waters.
Free Kerala Tour Consultation over WhatsApp. Contact us now.
Kovalam as a honeymoon destination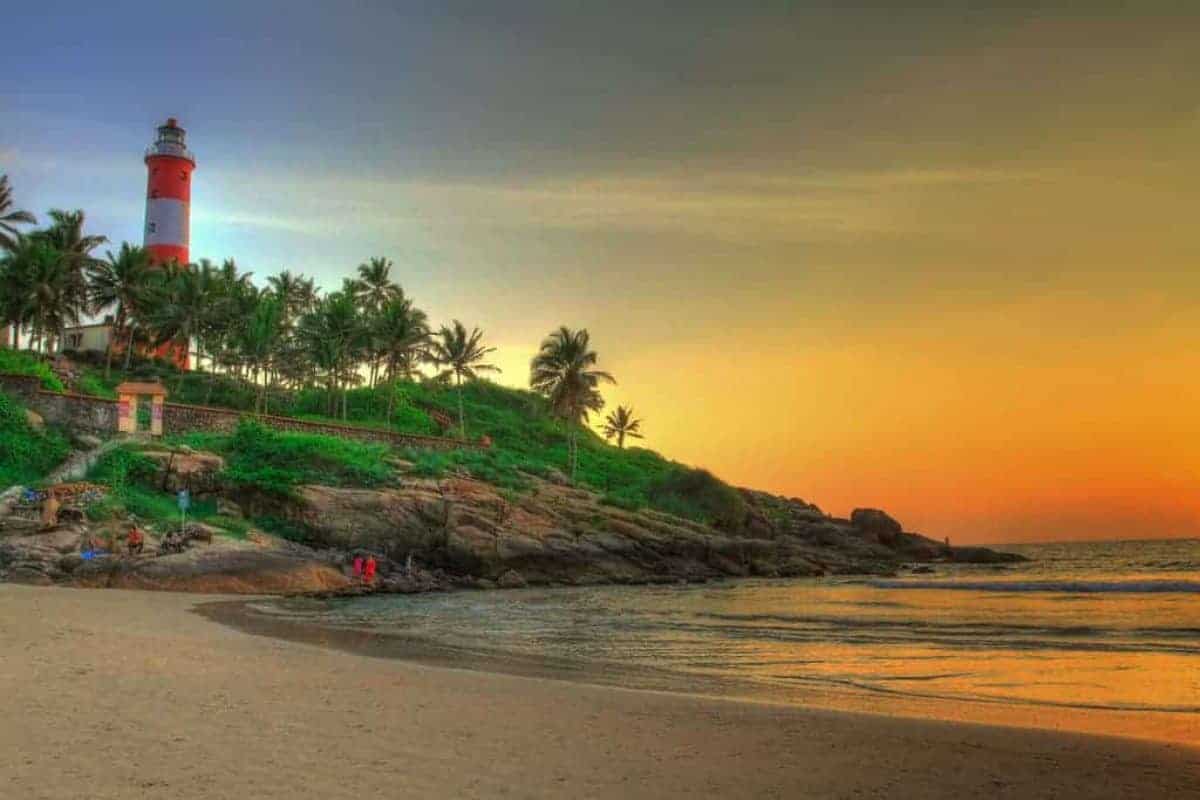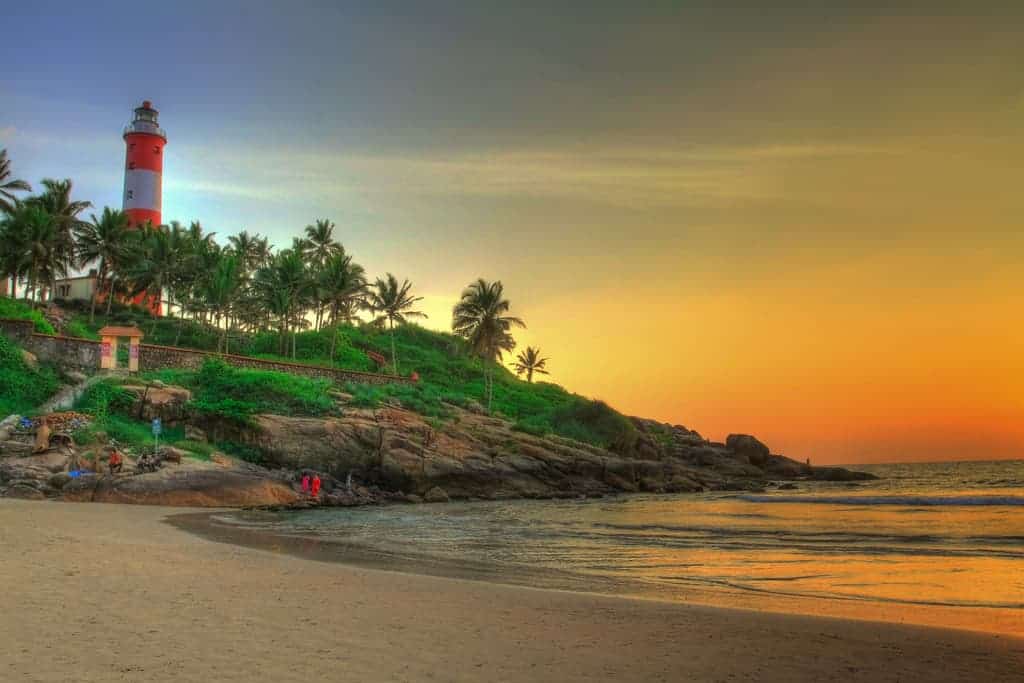 The best beaches are found in Kovalam, and hence, if you want a honeymoon soaked in sun, sand and beach, then you should choose Kovalam as your favourite honeymoon destination. Due to shallow waters and low tidal waves, the beaches in Kovalam are quite safe.
Before the 70s it was a small fishing village but then with the onslaught of tourists (especially hippies) during the early 70s, it turned into a major tourist and honeymoon attraction. There is this famous Halcyon Cassel where one of the local Queens spent her honeymoon in 1936.
The famous beaches in Kovalam include the Samudra Beach, Hawa Beach and Lighthouse Beach. The most prominent among these beaches is the Lighthouse Beach not just because of the Lighthouse that it has but also a litany of hotels, restaurants and lodges over there. These are all beautiful, crescent-shaped beaches.
The beaches have an active nightlife as the tropical sun can be harsh sometimes. As a couple, you can enjoy swimming, herbal body toning massages and catamaran cruising. Foods of all varieties are available on the beaches themselves. There are Ayurvedic health resorts, shopping zones, swimming pools and yoga centres on all the beaches. Accommodation is available for all budgets.
Kerala's capital, Thiruvananthapuram, is just 16 km away so if you miss the city life, you can easily reach within a few minutes.
Free Kerala Tour Consultation over WhatsApp. Contact us now.
Fort Kochi as a honeymoon destination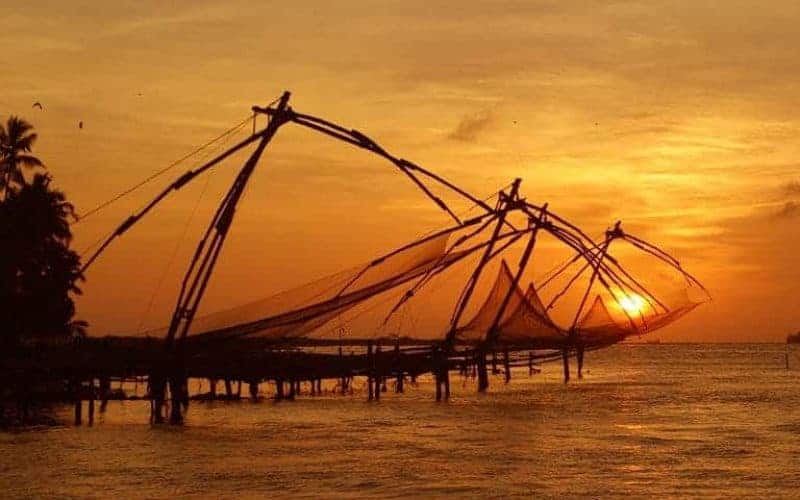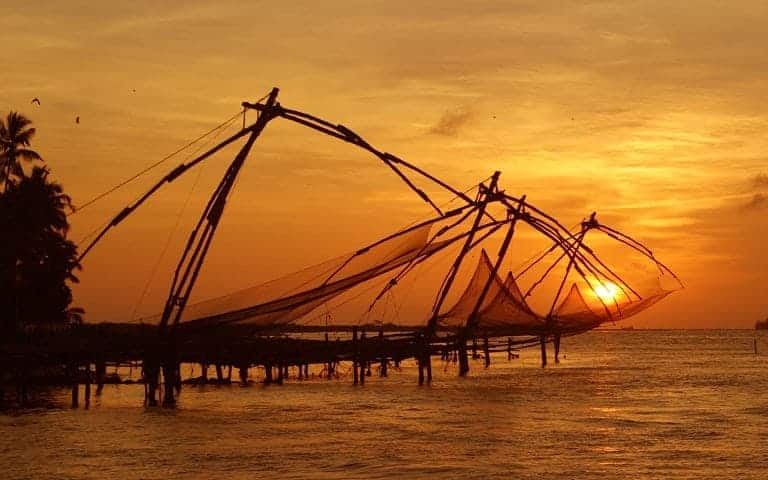 In Fort Kochi, the entire area is not a fort per se. Hence, it is not a walled city, as the name may connote to some. The name is derived from the fact that the Dutch built a fort there that was later destroyed. Ever since then the place is called "Fort Kochi". The place is popularly known as "the Queen of Arabian Sea". It was the centre of the world's spice trade for many centuries.
The entire experience blends the feel of the Malabar Coast along with the historical influence of the Portuguese, the Dutch and the French. With a lot of European predominances, the place is dotted with churches and cathedrals.
In and around Fort Kochi, you can enjoy a backwater country boat cruise with your spouse. There are beautiful cycling tours along the coast that you can enjoy. You may also like to get a taste of the local cuisine. There is a famous fishing village that uses the Chinese nets – perhaps the only place where Chinese nets are used outside of China. You can explore the laid-back streets and alleys that are reminiscent of the city's colonial past.
You may also like: One day Sightseeing tour of Kochi
Free Kerala Tour Consultation over WhatsApp. Contact us now.
Plan your honeymoon in Kerala with our taxi service
You can plan your honeymoon in Kerala with our taxi service. Our customers love us for our service, that is impeccable and contributory. All our drivers are well-versed with the various itineraries. When you are driving with us, you are never at a loss. You can easily say that our drivers are also adept travel guides. They are professionally trained drivers who have been working with us for many years. We will never send a novice driver for your honeymoon tour. All our drivers are well aware of major tourist hotspots and the ways to them.
We have been providing taxi and cab services in these parts of Kerala for more than 26 years, and most of our business comes through word-of-mouth recommendations. We can create original itineraries and authentic experiences for honeymoon couples.
We provide superior customer service 24 x 7, year-round. Our support staff is available to you on the telephone and WhatsApp. Your safety is our highest priority.
Different dimensions of vehicles are available with us for a unique and memorable honeymoon experience in Kerala.
Best deals guaranteed once you contact us and let us know your requirement.
Free Kerala Tour Consultation over WhatsApp. Contact us now.