Are you new to Kanyakumari!? Are you looking for help in planning your trip? Wondering, What are the…
Places to visit in Kanyakumari?

Best tourist spot in Kanyakumari?

Must seen incredible Places in Kanyakumari?

Travel tips to the visitors to Kanyakumari?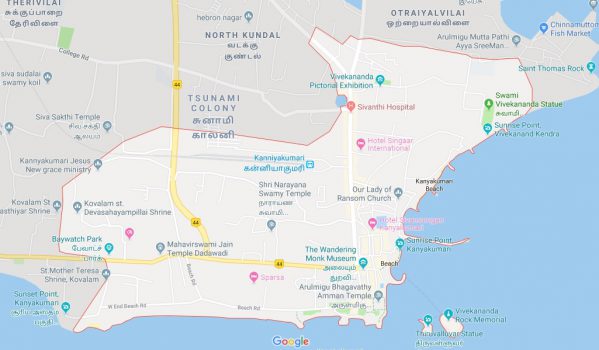 All right! Well, We Blue Bird Travels are always here to answer all your questions to help you with your safe and secure journey.  Please read the blog as we share some tips which you should aware before your Kanyakumari trip.
We welcome you to know about the allure charming town in Tamil Nadu attracts hordes of tourists all the year round. Kanyakumari one of the best place to see sunrise and sunset – Southernmost city of Indian Peninsula. Kanyakumari is one of the coastal towns in Tamil Nadu. A place where Arabian sea, Indian Ocean, Bay of Bengal unite together. The people who love travel and passionate to explore new places will find Kanyakumari as their favorite spot.
10 MUST See Places in Kanyakumari
---
Vivekananda Rock Memorial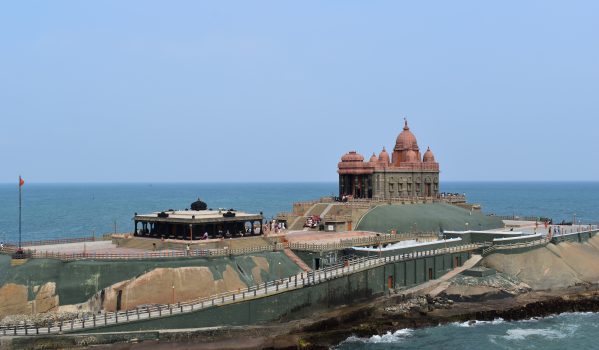 Feeling mesmerizing at the last point of India…! Situated at the Sangam of three oceans. The Indian Ocean, Arabian Sea, and the Bay of Bengal meet here. Can feel the mighty waves and the sea wind. The Ferry ride takes you to the spot. It is a small island having Swami Vivekananda statue – a famous saint born and brought up in  India who attained enlightenment in 1892. You get blissful experience while you sit and meditate in the  Dhyana Mandapam (meditation hall). It is just magnificent. The ocean view is incredible, and you can see the water bodies from all sides. It is Rare feeling, far from the shore. With calmness surrounded by the roaring sea. Can't explain, but one should feel!
Opening Hours:  8 AM to 4 PM on all days.
Entry Ticket: 10 per head.
---
Thiruvalluvar Statue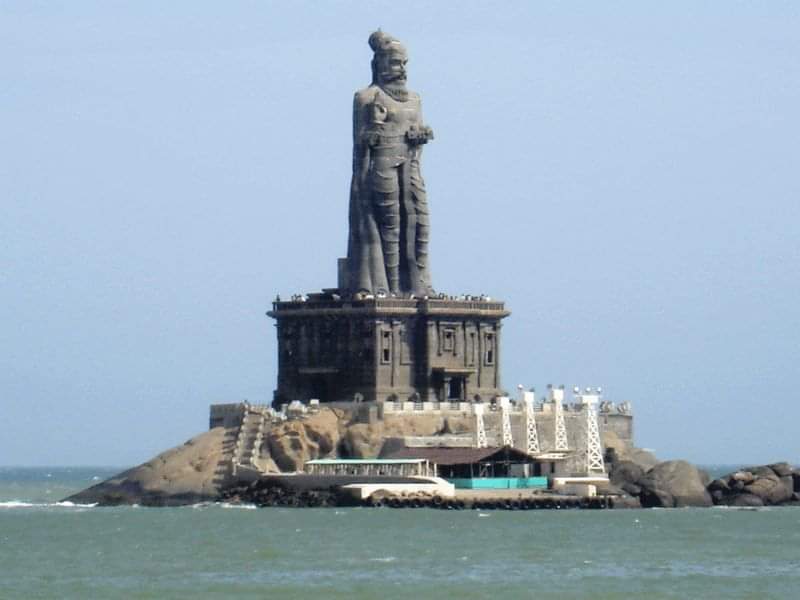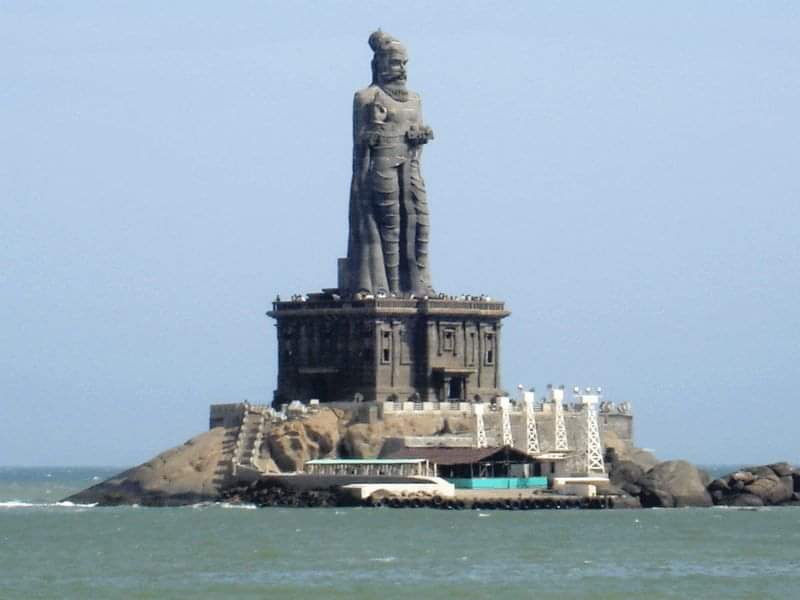 Magnificent and most beautiful structures statue of Thiruvalluvar – Tamil philosopher, poet author of Thirukkural. It is Very near to Vivekananda Memorial Rock. The same ferry carries you with no extra cost. A beautiful iconic place of Kanyakumari and you will be at the tip of India. Remarkably captured the beauty of Tirukkural. This statue was built in 2000, and it is 133 feet tall – This 133 feet resemblance of Thirukural 133 chapters.
Opening Hours: 8 AM to 4 PM on all days
Ticket Cost: A single ticket includes a round trip to both the rock memorial and this statue.
---
Bhagavathy Amman Temple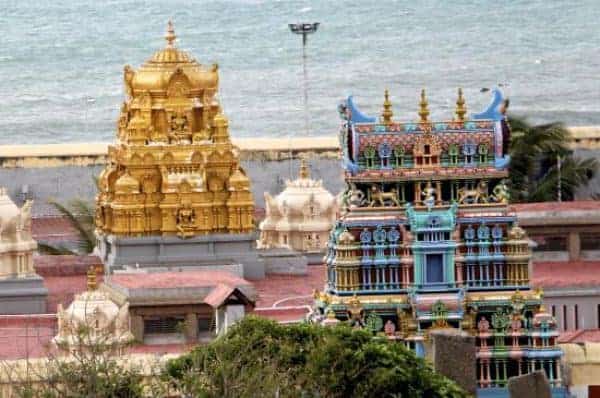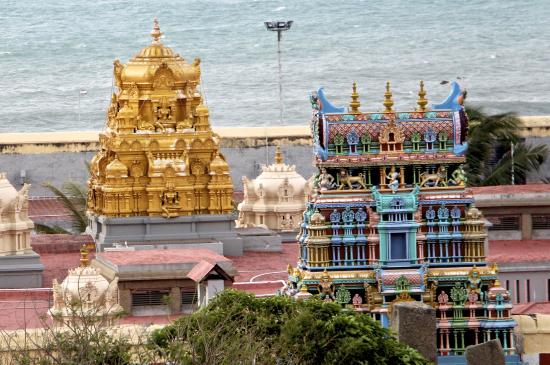 Goddess Devi Kanyakumari is an incarnation of Lord Parvathi in the form of an adolescent girl child more than 2500 years old. It is 51 Shakti Peetam amongst 108 Shakti peethas in India. Devi is adorned with two real diamonds nose pin which shines too bright is the most remarkable feature of this temple. In earlier days when there were no lighthouse sailors reach safely with that nose pin shines. The temple is a full rock structure. Stone carvings are wonderful here.  No artificial electric light was surrounding the goddess, only oil candles which increases the beauty of the place.
Dress Code: Men not allowed to wear Shirts or banians inside the temple.
Opening Hours: 4:30 AM to 12:30 PM; 4 PM to 8 PM on all days.
Entry Fee: No Entry fee, however for fast darshan ticket is INR 20 / 50.
---
Our Lady of Ransom Church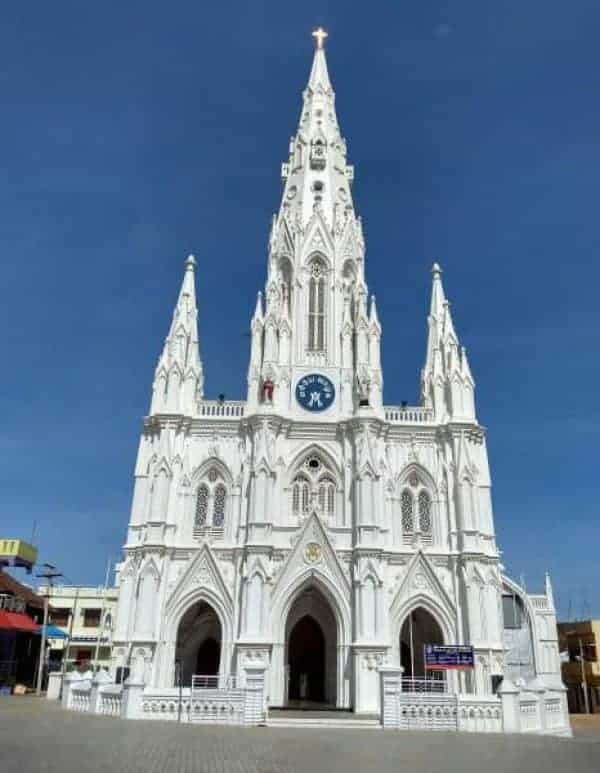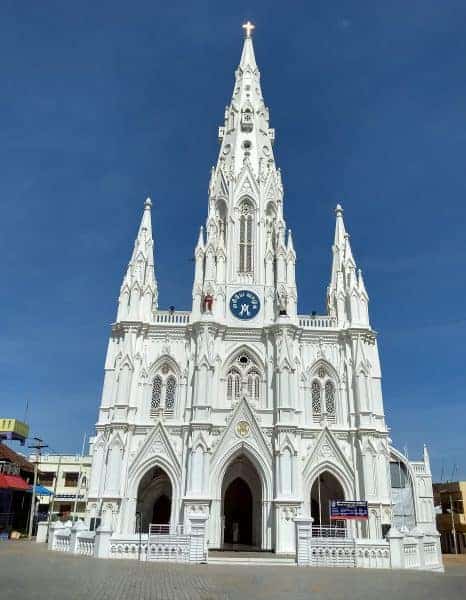 The gothic style of architecture more than 100-year-old Church When entering the church one can see a beautiful statue of Mother Mary got from Italy and clad in a saree like in most churches and a little Cross on the altar. The Mother Mary statue situated in the old Church and is from Rome and is the main attraction of this church. It is 153 feet high and is crowned with a cross of pure gold. At present, the church is being renovated.
Opening Hours:  (office hours ) 9:30 AM to 8:30 PM.
Entry Fee: No Entry Fee.
---
Kanyakumari Beach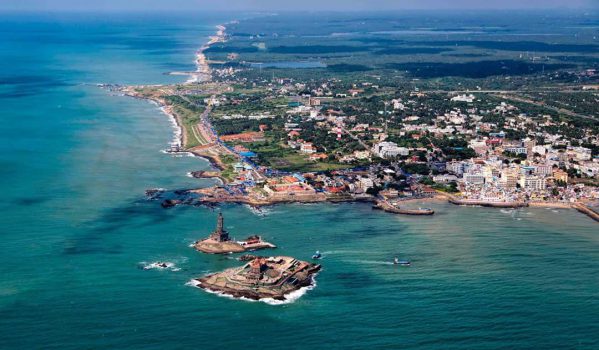 Located at the confluence of the Indian Ocean, the Bay of Bengal and the Arabian Sea this picturesque beach features amongst the favorite places to visit in Kanyakumari. The differently colored sand, stunning sunrise and sunset views at this beach, the lighthouse and Vivekananda memorial in the backdrop makes for some superb picture-perfect moments. The sea here is roaring with big and strong waves, and the beach is always windy, a cool gale wind keeps on passing you.
Opening Hours: 9 AM to 6 PM on all days.
Book your journey through WhatsApp. Contact us now.
---
Mayapuri Wonder Wax Museum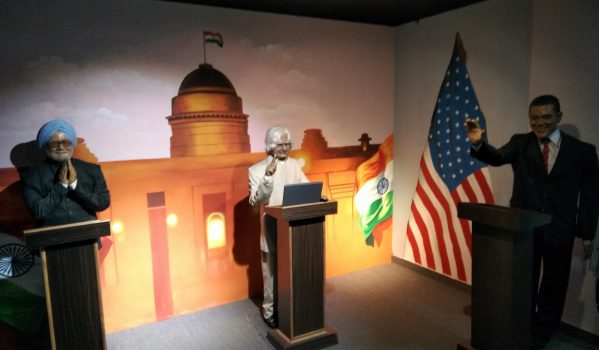 The wax sculptures of the famous personalities around the world. This is first wax museum opened in Dec 2005. The Statues of Hollywood characters are awed fantastic one here. Then there is a room full of 3D painting. Have some picture clicking fun in the gallery and room
Opening Hours: 8 AM to 8 PM on all day.
Entry Ticket: 200 per head.
---
Swami Vivekananda Statue, Eknathji Samadhi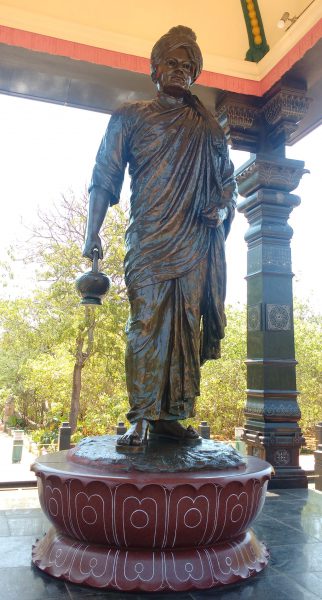 This place is so serene and peaceful, during the rainy season peacocks are roaming freely around. The architecture and design of this place of so beautiful and well built. You will get a mesmerizing experience. This is a must visit site if you go to Kanyakumari 'Swami Vivekananda Statue at Vivekanandapuram Beach Road. Nice garden and water surrounding the Statue Mandapam. Opposite to Swamiji Statue, Ma. Eknathji, Founder of Vivekananda Rock Memorial & Vivekananda Kendra Samadhi. Very Peaceful place.'
Opening Hours: up to 7 PM on all days.
---
Gandhi Mandapam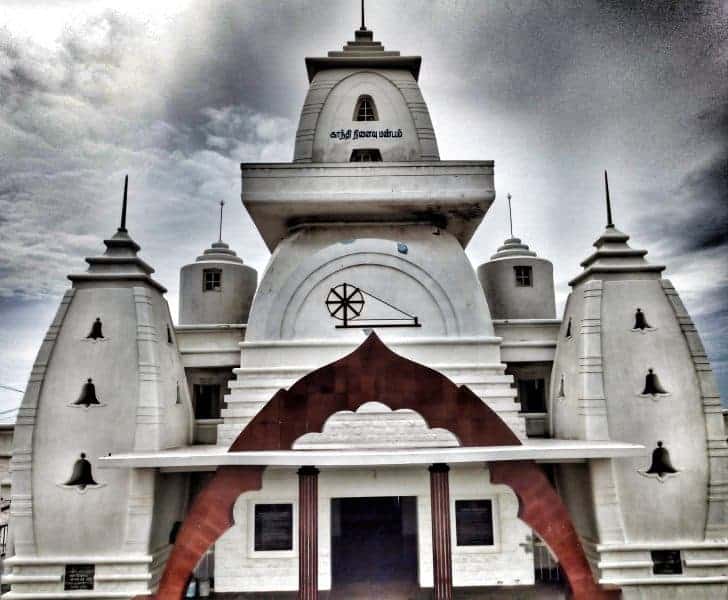 Build in Orissa Style of Architecture. Displays photography exhibition of the entire life history of Mahatma Gandhi and has a very rare picture of Gandhi Ji along with famous personalities. The rooftop of Gandhi Mandapam is a fantastic place to see Thiruvalluvar statue, Vivekananda Memorial Rock. The Oceanview is much more pleasant from Gandhi Mandapam. Sunlight falls precisely on Gandhi's ashes sat spot in every anniversary of Gandhi's birthday – October 2nd.
Opening Hours: 7 AM to 7 PM on all days.
Entry Fee: No entry fee.
---
Vattakottai Fort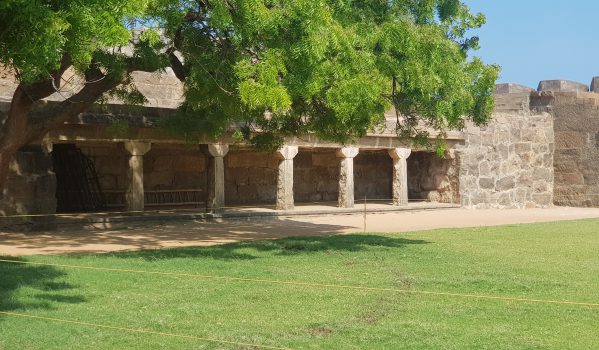 It was built to defend its territory from naval attacks. Old era fort has a water body in the center resembling a pool. Otherwise provides views of the Indian Ocean at all sides. One needs to climb and walk around to explore all four sides. A garden is maintained.
Opening Hours: 8 AM to 5 PM on all days.
Entry Fee: No Entry Fee.
---
Sree Thanumalayan Temple – Suchindram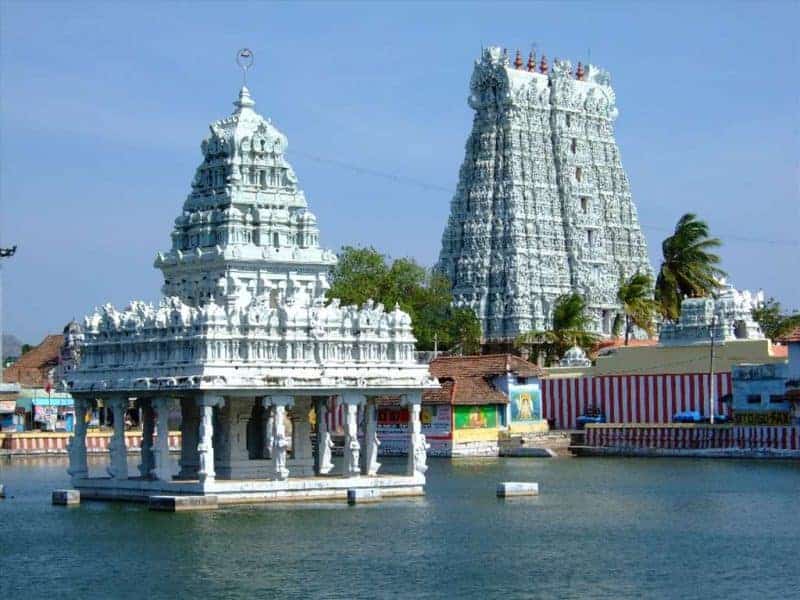 This temple is also called as Sthanumalayan having all Thrimoorthy  (Brahma, Vishnu, and Shiva ) at one place. Majestic architecture gopuram towers, stone carving, musical pillars adding more beauty to this temple. Here you can see 22 feet height Hanuman statue – one of the highest hanuman statue in the country. The 18-feet high musical posts carved out of a single granite stone constitute a significant attraction.
Dress Code: Males have to remove upper body clothes. Girls wearing short skirts denied entry.
Opening Hours: 4.30 AM to 11.30 AM, 5 PM to 8.30 PM on all days.
Entry Fee: No Entry Fee.
Book your journey through WhatsApp. Contact us now.
---
BONUS TIPS for a pleasant journey
This is a sunny place – have the best sunscreen lotion and wear socks to protect your feet from the heat.

The last boat to the Vivekananda rocks leaves at 4 PM. So plan and be there before 3 PM so that you will have sufficient time to buy the tickets and board the boat.

You cannot see the sunset and sunrise if the sky is cloudy. Choose a bright day to visit Kanyakumari. Set the alarm and wake up early. Don't miss the sunrise.

It is advisable to go to the sunrise point on the beach to get a good view of the sunrise in Kanyakumari. It is a very tiny area not much fun to bath and swims. It is very rocky also. However, the view from the beach is spectacular.

If you are a Kerala Government employee or Central Government employee, you can get a considerable discount and stay in Kerala Guest House in Kanyakumari facing the beach.
Why are you still thinking!!!  Make your holiday as the most special day with your family & friends….
Feel free to reach us over email or over WhatsApp, and we will guide you how come you efficiently utilize your entire day at a reasonable cost. Your happiness is our Pride.