Is a visit to Thrissur in your travel plans? As one of the oldest cities in Kerala, Thrissur (Trichur) originally known as Thiru Siva Peroor has a name of repute as the cultural capital of Kerala due to its rich history, cultural heritage and archeological wealth. A person visiting Thrissur has a chance to delve into the traditions, culture and colorful festivals of Kerala.  Check out the top 10 attractions in Thrissur & arrange all the small details of your Thrissur trip itinerary using our itinerary planner.
1. Vadakummnathan Temple
The 1000-year-old Vadakummnathan (Shiva) temple is a typical example of classic Kerala architecture with monumental towers on all four sides. Enclosed in an area of 9 acres, the temple with its lively colors, elaborate wooden carvings, and expansive green environs attract hordes of visitors. You can see the shrine completely covered under ghee deposited over centuries, without any incidence of melting. Mahavishnu and Shankaranarayan are the other deities in the temple. The beauty of Mural paintings dating back 400 years depicting episodes of Mahabharata enchants you.   The Nataraja Mural near the main gate of the temple is the most prominent one in the collection.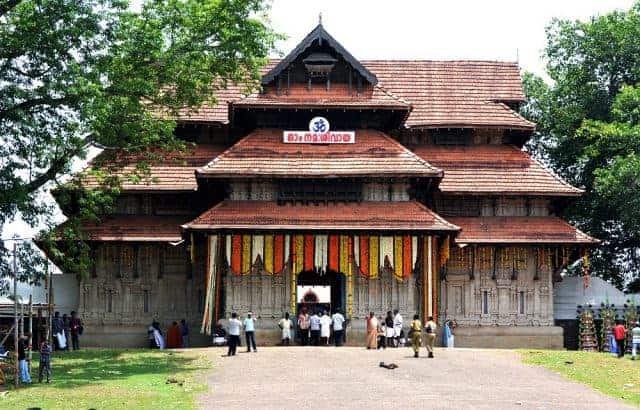 A huge Dance Hall – Koothambalam at the temple hosts traditional Nangyar Koothu performances. Thiruvambadi Krishna Temple and Paramekkavu Devi Temple are the sister temples & Thrissur Pooram is the main festival of the temple.
Timings

–

 Morning: 04:00 AM – 11:00 AM, Evening: 04:30 PM – 8.20 PM

Entry fees

– none

Distance from city center  

– Located right at the City center

Special notes

Entry for Children below 1 year is not allowed inside the temple.
Dress codes include:

Male – Mundu, Dhoti
Female – Saree with Blouse, Half Saree, Full skirt,  Punjabi dress with Dupatta
Keep reading: Vadakkunnathan Temple – A Legacy in Heritage, Culture & History!
2. Shakthan Thampuran Palace
Take time out to visit the Shakthan Thampuran Palace, a famous tourist attraction in Thrissur which was once the royal residence of the King of Cochin.  The Vadakkekara Palace dates back to Rama Varma Shakthan Thampuran, whose reign was the 'Golden Age of Kochi'. You can see a beautiful blend of Kerala and Dutch architecture here. Certainly not to be missed out on a trip to Thrissur!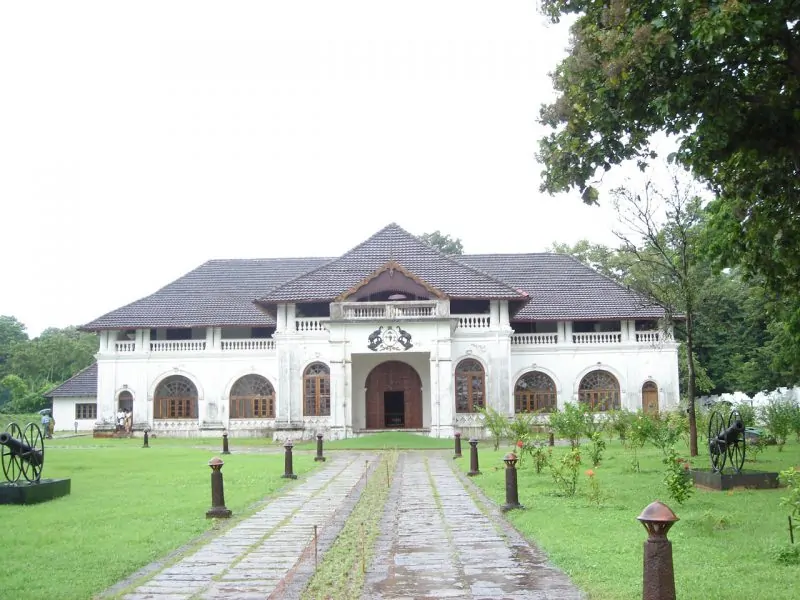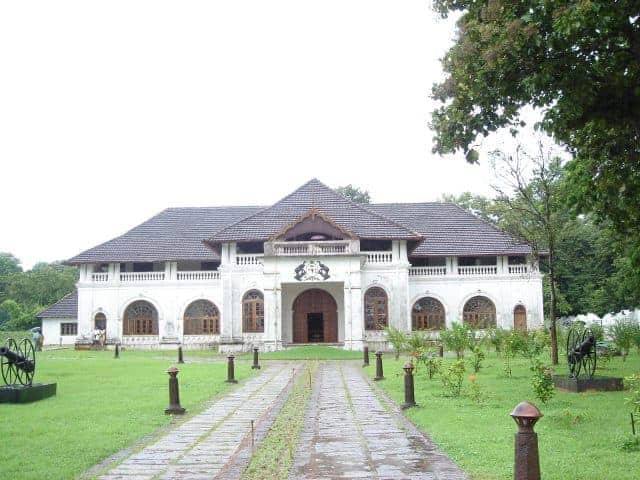 The Palace, now a museum has unique bronze, granite sculptures, coins, inscription plates, utensils &  currency used during the Kochi dynasty rule. Stone age antiques are also on display. There is a Sarpakaavu, an Archaeological garden, and a Heritage garden also enclosed in the palace grounds.
Timings

–

 10 AM – 4 PM

Entrance Fee

: None

Visit Duration:

3 hrs – 4 hrs

Location:

Heart of Thrissur

Special notes:

A plastic-free zone.
With prior permission, you can plan a picnic in the palace grounds
3. Thrissur Zoo
For the children, a visit to the Zoo is a treat! Trichur Zoo which opened in 1885 in the heart of Thrissur is one of the oldest zoos in the country. Spread over 13.5 hectares,  it is home to a wide variety of animals, reptiles, and birds like Tigers, Lions, Deer, Sloth bears, Monkeys, Hippopotamus, Camels, Pink Flamingos, lion-tailed macaques, diverse variety of snakes etc. Apart from the Zoo, Zoological Garden, Botanical Garden, Natural History Museum & an Art Museum also exist in the same area.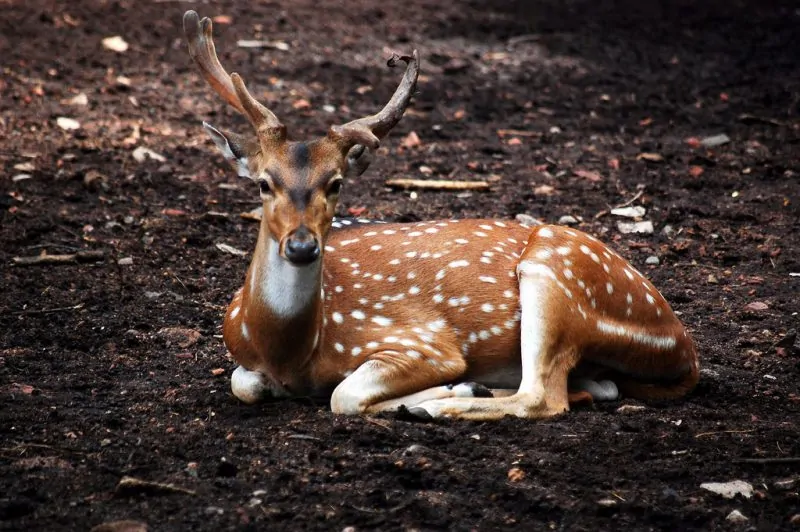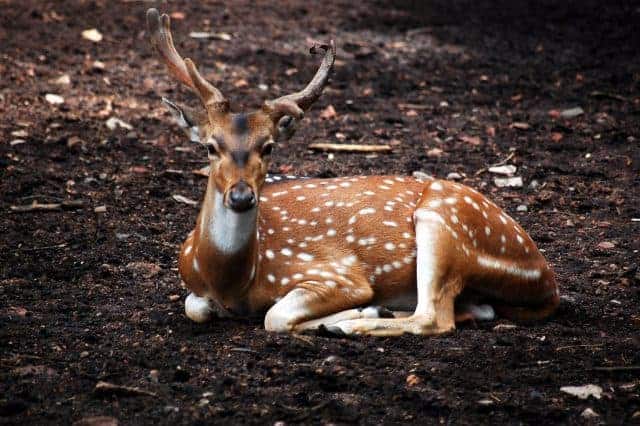 The Art Museum has an exquisite collection of wood-carvings, metal sculptures, Kathakali figures, ancient jewelry and a wonderful collection of traditional Kerala lamps, historical items like swords, jewelry, rocks, stuffed butterflies, etc. A visit to the Thrissur Zoo provides an opportunity for an educational yet exciting trip with your family.
Timings

–

 Sunday – Saturday 9 AM – 5.15 PM Monday – Holiday

Entrance Fee

: Adult Pass – Rs. 10, Child Pass – Rs. 5

Visit Duration:

1.5 hrs – 2 hrs

Location

: Chembukavu

Special notes:

A plastic-free zone.
Visitors are advised not to feed the animals & adhere to the rules and regulations for their own safety.
4. Athirapally Falls
If you need to be one with nature, Athirapally Falls should be a must see in your itinerary! Often referred to as the "Niagara Falls of India" this marvelous cascade of frothy waters is located 60 km from Thrissur & originates from the Anamudi mountains of the Western Ghats. Treating you to a spectacular vista of scintillating water, emerald jungles, and azure sky, this 80 ft high and 330 ft wide wonder starting from the entrance of the Sholayar ranges then flows through the dense foliage of Vazhachal Forest toward the Arabian Sea.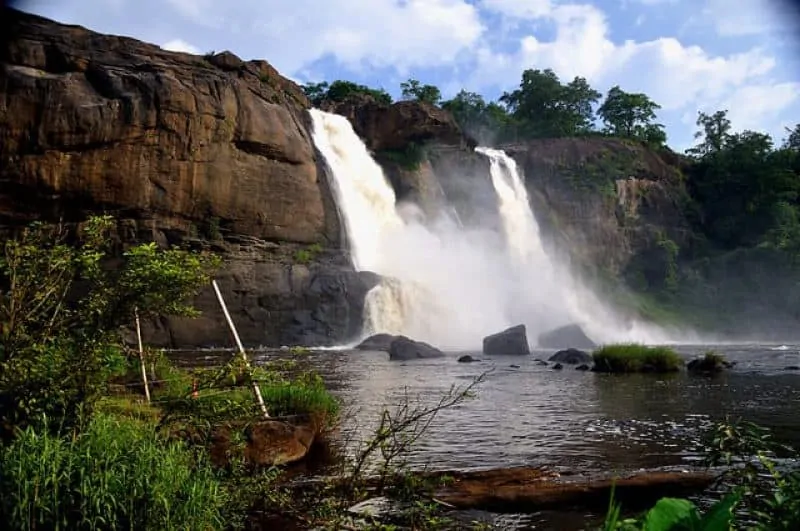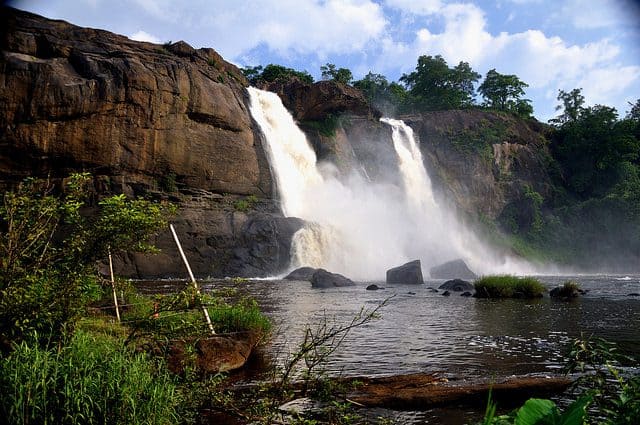 Certainly a Bird lovers paradise,  it's the only place in the Western Ghats where you can see four endangered species of Hornbill. Adventure sports like Trekking & Wild water rafting is available. Silver Storm and Dream World water theme parks are also located nearby. Really an out of the world experience for you!
Timings:

 

8 AM to 6 PM

Entrance Fee

: Entry pass from Kerala Forest & Wildlife Department

Visit Duration:

1.5 hrs – 2 hrs

Location

: 60 km from Thrissur

Special notes: A plastic-free zone.
Keep reading: Athirappilly Vazhachal Waterfalls
5. Our Lady of Dolours Basilica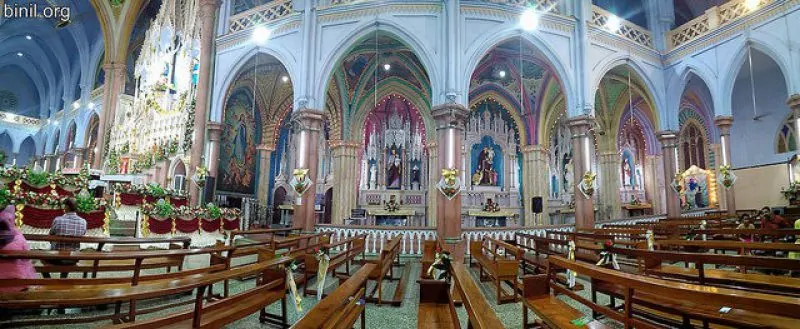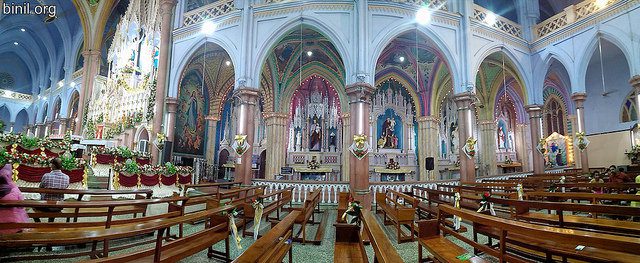 Our Lady of Dolours Basilica – The Puthen Pally, is reputed as the biggest church in India (area of 25,000 sq. ft.) with a tower, said to be third tallest (261' ) in Asia.  The church stands proud adjacent to the Martha Marian Church & can accommodate 30,000 people at a time. The construction of the church began in 1929 & was completed after 11 years. A classic example of Gothic style architecture, the Basilica has five small altars other than the main altar. The Bible Tower with murals that depict various phases of Christ's life is a distinctive feature.  The Feast of St. Mary, which falls in September, is the main festival of the church. It is the most famous Marian pilgrim center in Thrissur.
Timings

–

10 AM to 5 PM. 

Entrance Fee

: None

Visit Duration:

2 – 3 Hrs

Location

: Heart of Thrissur.

Special notes:

A plastic-free zone.

On Mondays, Bible Tower remains closed for maintenance.
6. Elephant Sanctuary at Punnathur Kotta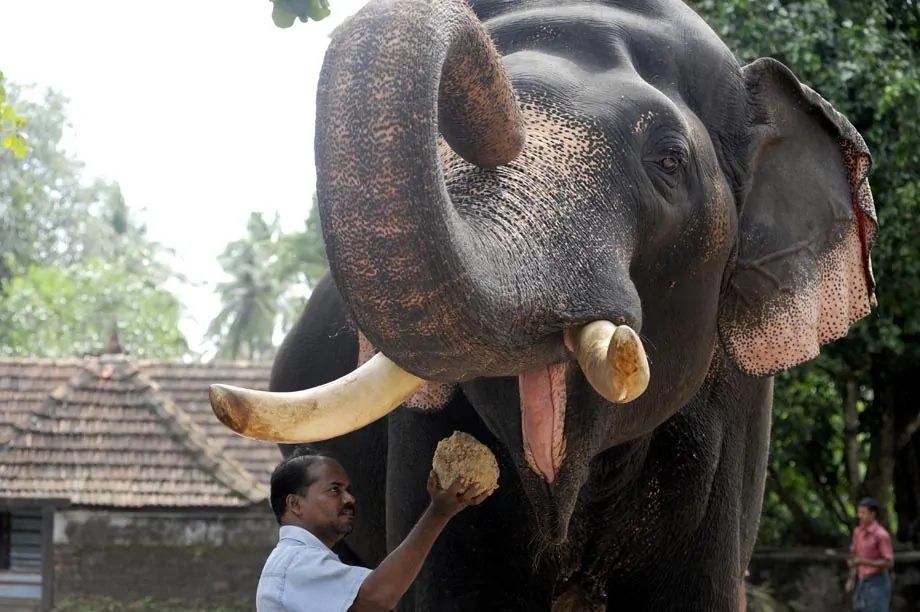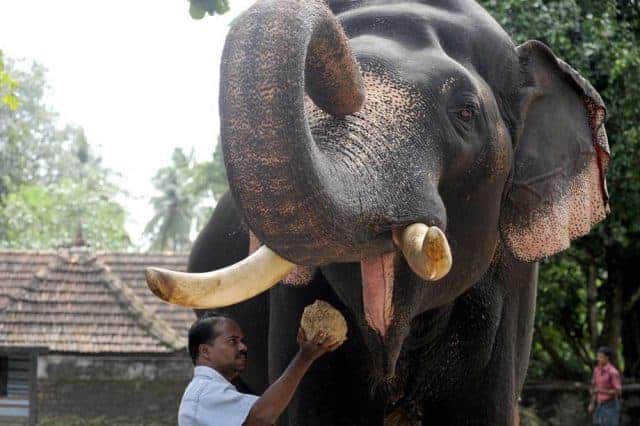 Here's a chance to get some close encounters with Jumbos! The elephant sanctuary of the Guruvayoor Temple Devaswom is the only one of its kind in the world housing more than 56 elephants, offered to Lord Guruvayurappan by the devotees. Punnathur Kotta now named Anakkotta was the home of the Punnathur Rajas & today, the 10-acre compound is also used to train the elephants to serve Lord Krishna as well as participate in many festivals. Gajapooja (Elephant worship) and Anayoottu (Elephant feeding) are two rituals observed here. The legendary elephant "Guruvayur Keshavan" was an inmate here. A large number of pilgrims and tourists visit this spot every day to watch the majestic pachyderms in action like having food, taking bath etc. Really a worthwhile trip for the kiddos!
Timings

:  9 AM to 5 PM.

Entry fees:

Adult -Rs.  20, Children Rs. 10, Photography – Rs 100.

Location

: 28 km from Thrissur.

Special notes:

A plastic-free zone.
Visitors are advised not to feed the animals or provoke them for their own safety.
7. Marottichal Waterfalls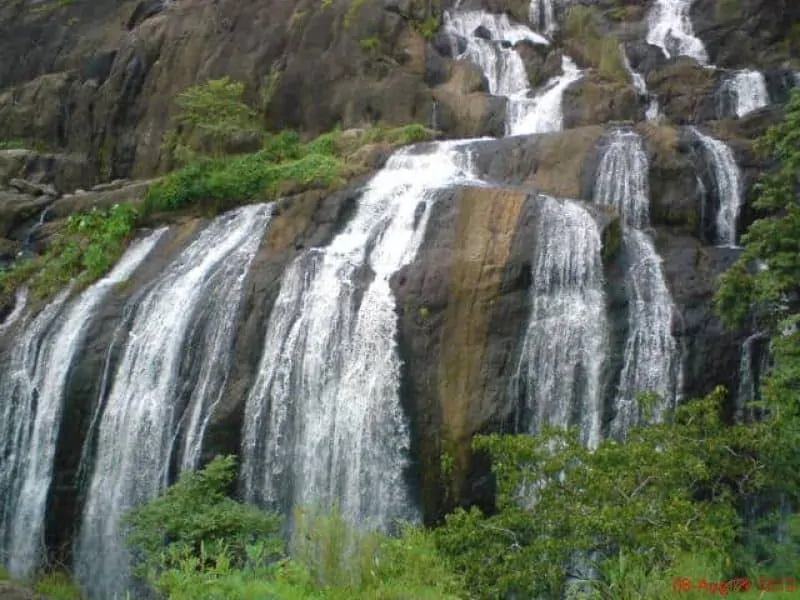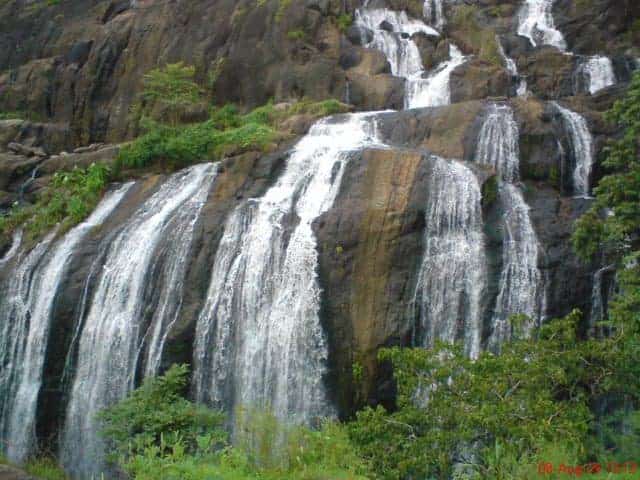 A must-visit for every nature lover! The magnificent Marottichal Waterfalls is a stunning place to be with two beautiful waterfalls – Olakkayam and Ilanjippara. Located 22 km away from Thrissur these waterfalls are one of the finest spots for spending some time alone surrounded by nature away from the hustle & bustle of the city life. You can swim and bathe in the midst of greenery after an adventurous trek. After walking for about 4 km from Olakkayam Waterfall, one comes across the Ilanjippara Waterfall in all its virgin beauty. At both these waterfalls, witness the beauty of nature as the gurgling waters fall down to a cluster of rocks into the gorge below.  Truly a green paradise!
Timings

–

8 AM to 6 PM

Entrance Fee

: None

Visit Duration:

1.5 hrs – 2 hrs

Location

: 22 km from Thrissur

Special notes:

 A plastic-free zone.
Advisable only to visit in groups as in Summer herds of elephants come down for water to the falls.
8. Peechi Dam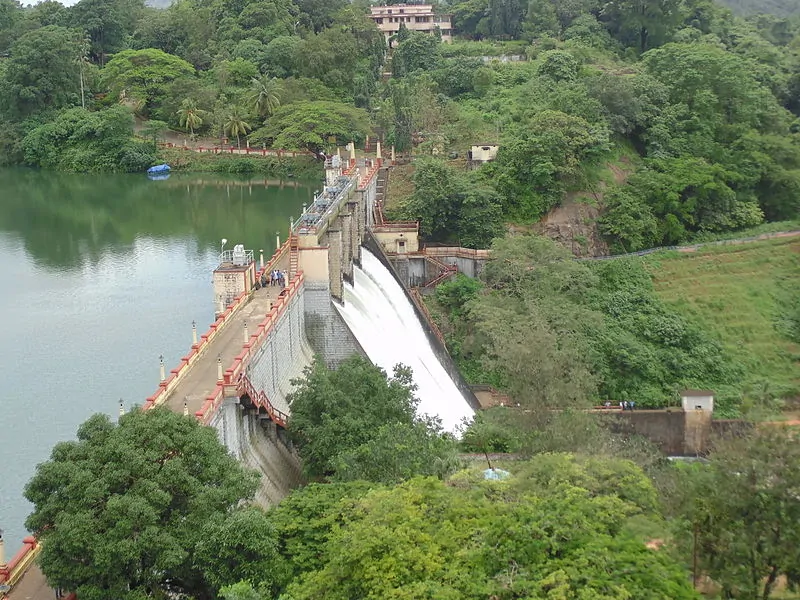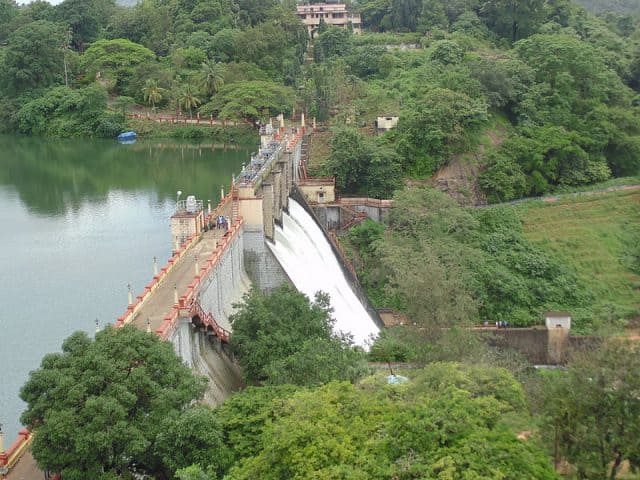 Peechi Dam constructed across the Manali River is the main irrigation project of Thrissur. The dam, completed in 1957 & is spread across an area of 3200 acres. Located 23 km from Thrissur it's a fantastic picnic spot with Boating facilities available at the reservoir for visitors.  Peechi-Vazhani Wildlife Sanctuary here is a must-visit place for the nature-lovers. Covering an area of 125 square km it's home to a variety of flora and fauna. Ponmudi with a height of about 923 m is the highest peak in the sanctuary and experiences an average rainfall of about 3000 mm. Get all set for a lovely picnic with family & friends!
Timings

–

8 AM to 6.30 PM

Entrance Fee

: None

Visit Duration:

1 hrs – 2 hrs

Location

: 23 km from Thrissur

Special notes:

A plastic-free zone.
Advisable to carry food & water bottles with you.
9. Kerala Kalamandalam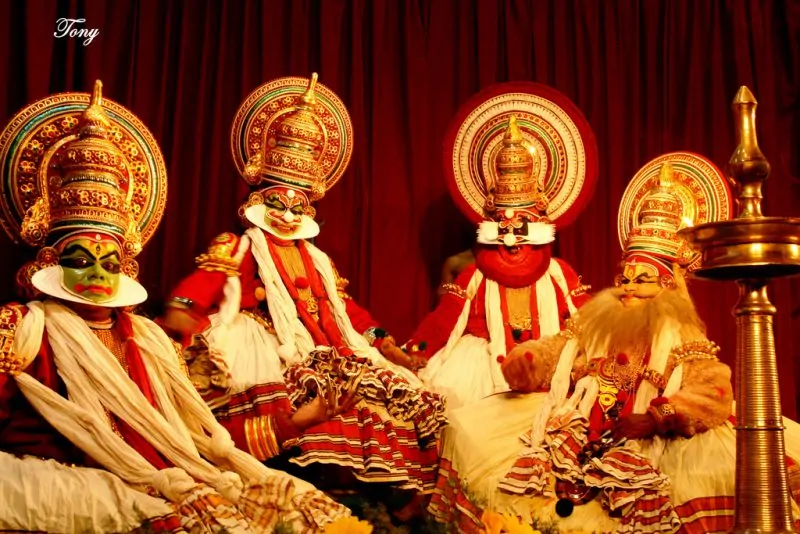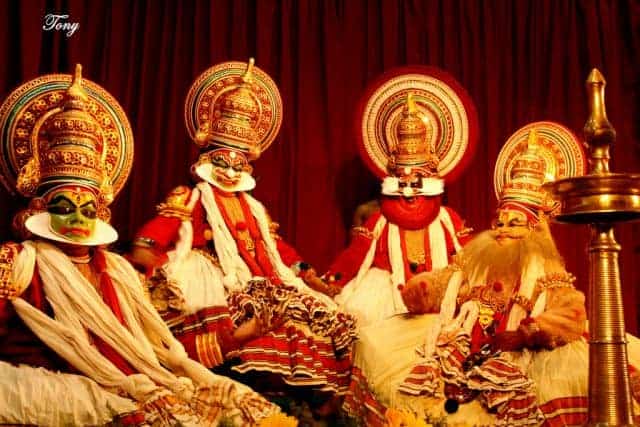 Kerala Kalamandalam, situated in Cheruthuruthy on the banks of the River Bharathapuzha is a Deemed University of Arts and Culture in Kerala. Established for revival and uplifting of traditional performing art forms like Kathakali, Mohiniyattam, Koodiyattam, Thullal, Kuchipudi, Bharatanatyam, and Nangiar Koothu, Kerala Kalamandalam is also a center of learning for traditional orchestra called Panchavadyam and instruments like Chenda, Maddalam, Mridangam, and Mizhavu. Apart from sightseeing taking in the ethereal beauty of the place, visitors can also converse with the masters and students and take snapshots to take back fond memories. Visitors can witness an enriching experience of authentic Indian classical art forms of music and dance. Tourists can also visit the Vallathol Samadhi and the art gallery to see the different gears and costumes that have been used in the dance forms over the years.
Timings:

9 AM to 1 PM.

Entrance Fee

: None.

Visit Duration:

1 hrs – 2 hrs.

Location

: 29 km from Thrissur.

Special notes: 

Only 3 batches of 10 people each

are allowed inside to visit per day.
10. Thrissur Pooram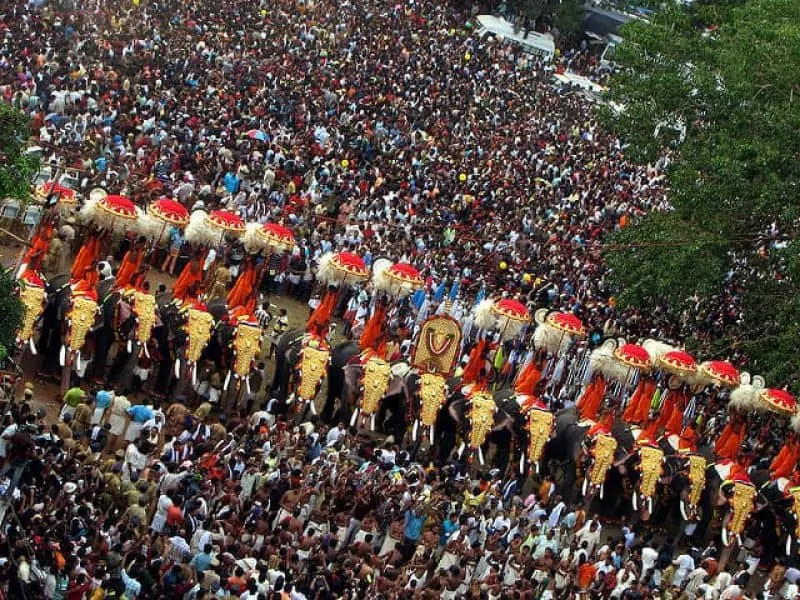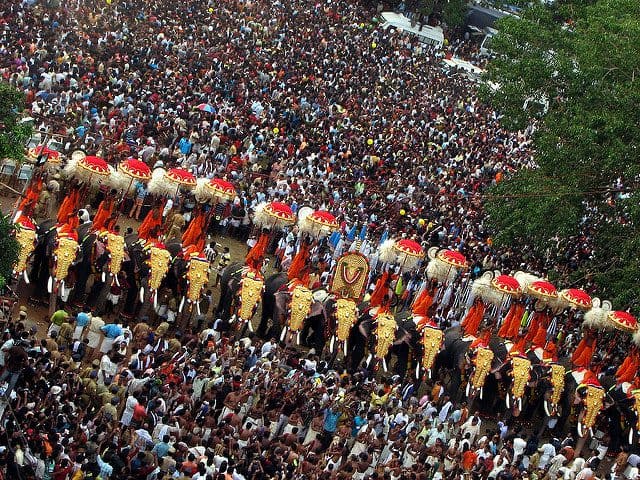 The cultural hub of Kerala is famous for its Thrissur Pooram initiated by  Raja Ram Verma, whose rule saw a fresh awakening of the region. Thrissur Pooram, the biggest Pooram, is a festival in which people of all castes and backgrounds could participate. The pooram is held at the Thekkinkadu Maidanam in Thrissur in the April-May months. Trichur Pooram is the mother of all poorams with the participation of  10 temples (Paramekkavu, Thiruvambadi Kanimangalam, Karamucku, Laloor, Choorakottukara, Panamukkampally, Ayyanthole, Chembukkavu, Neythilakavu). The Pooram features a line-up of beautifully decked up elephants and the Kudamattom ceremony with its brilliant display & swift, rhythmic changing of brightly colored and sequined parasols. It is a most avidly watched event. Another highlight of the Pooram is the Ilanjithara melam of traditional instruments like Chenda, Kurumkuzhal, Kombu, and Elathalam where 250 odd artistes participate. Led by the Chenda artistes, the melam lifts the thousands gathered to a state of euphoria and bliss. The finale is marked by a grand fireworks show.
Location

: Heart of Thrissur.

Special notes: Take care of your belongings while mingling with the crowd.
Keep reading: Thrissur Pooram
Now you've had a run in through the top 10 attractions in Thrissur, why not plan your next trip to Thrissur? We at Blue Bird Travels would be more than happy to help you make all the travel arrangements right from planning to execution.