India is acclaimed for its glorious temples with marvelous architecture or intriguing history. Kerala, is home to the ancient Guruvayur temple, one of the richest temples in the world, at Thrissur in Kerala, God's own country.
National Geographic Magazine marks the green paradise, Kerala, as one of the must-see destinations in the world. Kerala is blessed to have Guruvayur – The abode of Lord Sree Guruvayurappan, Sree Krishna. If you are a true devotee of Sree Krishna, you just can't ignore this wonderful temple!
This article takes you through the nuances of visiting Guruvayur & gives you an insight on the Temple, its significance and more. You can jump straight to these sections to touch on the specifics:
Lord Guruvayurappan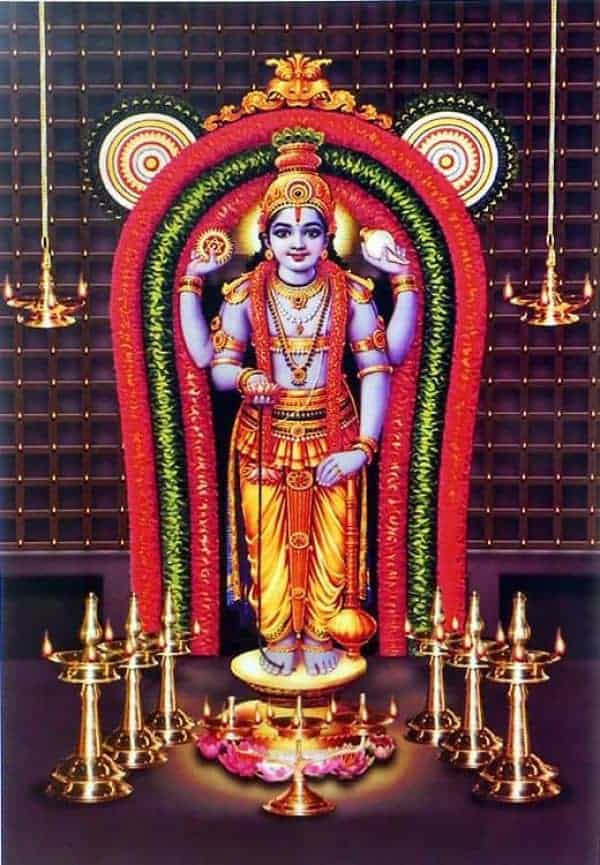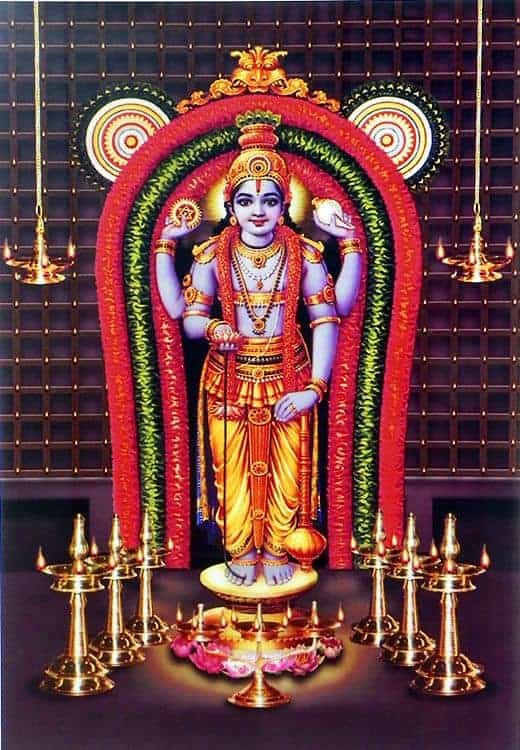 The presiding deity of Guruvayur temple is Krishna in the form of Chathur Bahu Vishnu Vigraha (Krishna with four arms holding the Chakra, Conch, Lotus & the Gadha). Legend says Krishna appeared in this particular form to his parents, Vasudeva and Devaki at the time of his birth and to Arjuna during the Kurukshetra battle.  It therefore makes sense that Guruvayur is known as the Dwaraka of South India!
Myths & Legends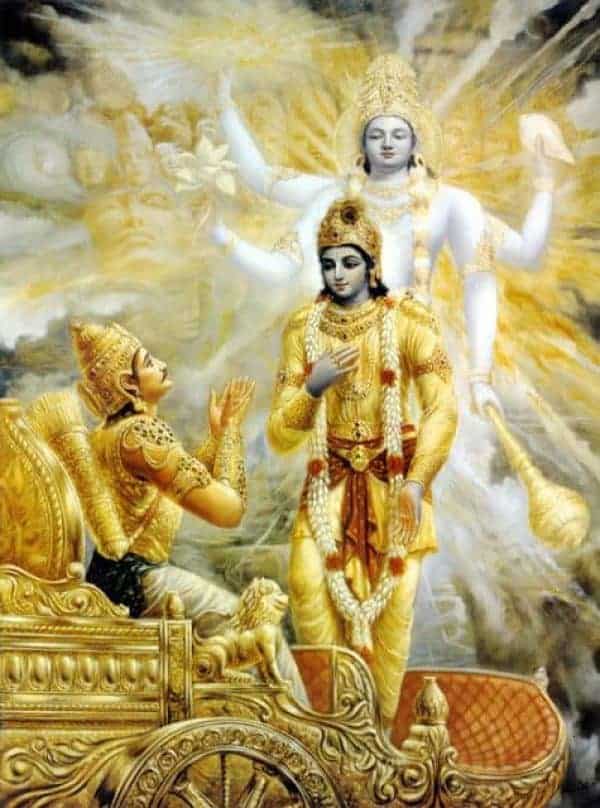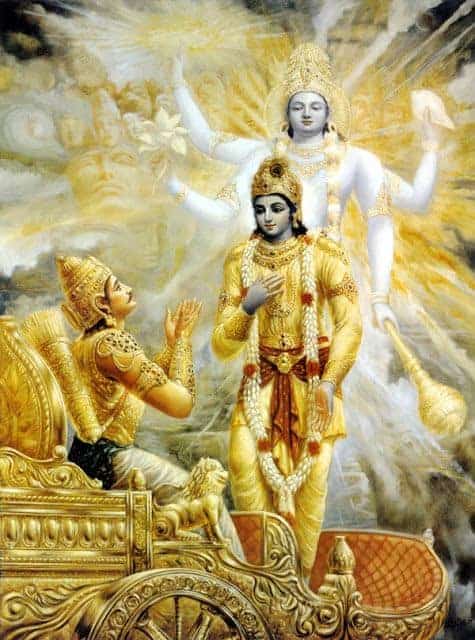 Krishna is the eighth incarnation of god Vishnu in Hindu mythology. It says that Lord Krishna used to worship an idol of Lord Vishnu, at the legendary Dwaraka island. However, Krishna was aware that, as soon as he leaves this material world, Dwaraka would become submerged in the seas. On his instructions the Deva Guru (Heavenly Saint) Brihaspati and Vayu Deva (Wind God) was to transfer his favourite idol to another place.
As soon as Dwaraka started sinking, Guru and Vayu took away the idol and found out a sacred place to install it. But already there existed a Shiva temple and it was difficult to place the idol nearby. The Guru invoked Lord Shiva who agreed to move his temple to another place. Guru and Vayu placed the idol and built a temple which is today known as Guruvayoor.
The Significance
Guruvayur lies 29 kms north west to the Thrissur town. It's the Bhooloka Vaikunda or the earthly abode of Lord Vishnu. Guruvayur was the main royal temple of the Zamorins of Kozhikode & has temple records dating back to the 17th century.. Today, the temple is managed under Guruvayur Devaswom trust.
Architecture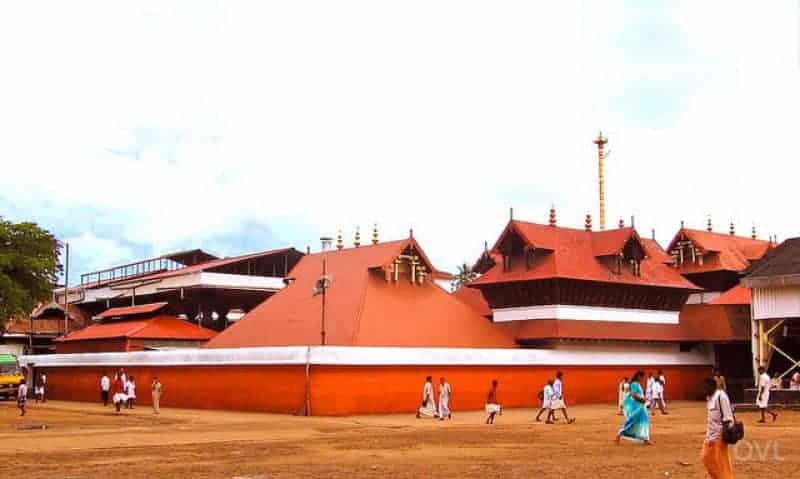 The square shaped inner sanctum, the Sreekovil, designed according to Vastu Sasthra has Gold-plated roofing. Shrines for Maha Ganapathi, Dharma Shastha and Durga also exist in the temple. East Nada is the temple's main entrance.
The devotees first worship the gold-plated 108' high Dwajasthambha (flag mast) in the Chuttambalam (outer corridor). Koothambalam is the spacious courtyard of the temple where dances used to take place in ancient times.
Temple Timings
| | |
| --- | --- |
| 3.00am to 1.00pm | 4.30pm to 10.00pm |
| Nirmalya darshanam | Sheeveli |
| Thylabhishekam, Vaakacharthu, Shankhabhishekam | Deeparadhana |
| Malar Nivedyam, Alankaram | Athazhapooja Nivedyam |
| Ushas Nivedyam | Athazha Pooja |
| Ethirettupooja and Usha pooja | Athazha Sheeveli |
| Sheeveli | Chuttuvilakku and Thrippuka |
| Palabhishekam, Navakabhishakam, Pantheeradi Nivedyam, Pooja | |
| Uchapooja | |
NB: There will be variations in the mentioned pooja timings on the days of Udayasthamana pooja.
Festivals of Guruvayur
Ekadashi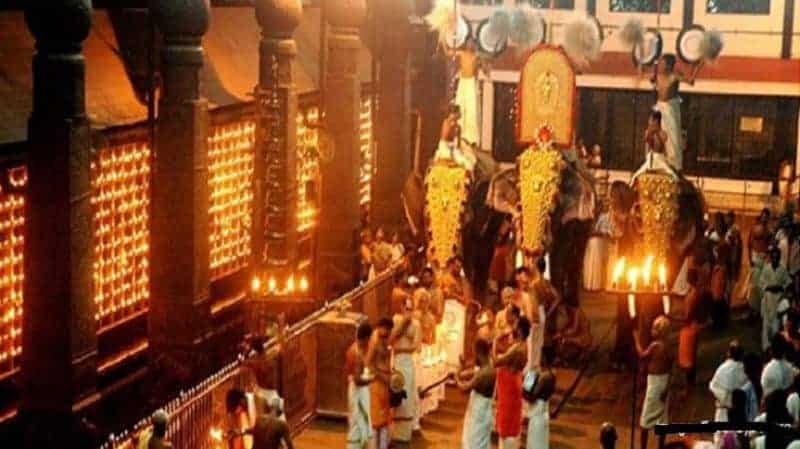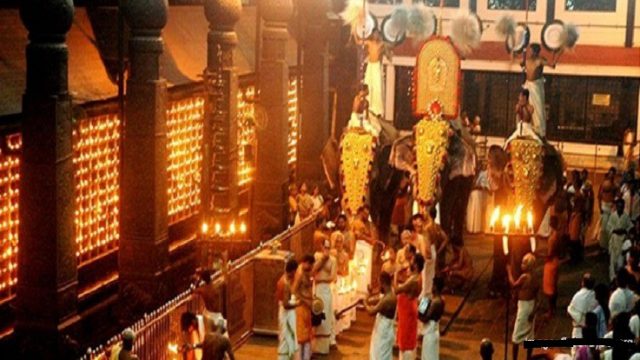 Legend says that Lord Krishna rendered Bhagavad Geeta to Arjuna on the auspicious day of Guruvayur Ekadashi. On Ekadashi day, the temple elephant Gajarajan Guruvayur Kesavan is honoured  and it is quite a treat to watch the huge procession of elephants coming from Punnathur Kotta to pay obeisance at the statue of Guruvayur Keshavan!
Utsavam (Festival)
Guruvayur temple festival falls in the month of Kumbha (Feb-March) and lasts for 10 days. Elephant race, Elephant processions & various cultural programs like dance, music, religious discussions mark the festival.
Chembai Sangeetholsavam
A real treat for the music lovers! The great doyen of Carnatic music, Chembai Vaidyanatha Bhagavathar initiated the festival. It attracts more than 2000 Carnatic artists of all types – young, old, novices, experts, vocalists and instrumentalists.
Vishu
Celebrate your Vishu at Guruvayur & get a glimpse of the Kani there! Millions of devotees flock to Guruvayoor on Vishu day.
Ashtami Rohini
A very special day in Guruvayur temple – Lord Krishna's birthday!  Devotees take part in Pujas & rituals. Appam & Palpayasam (Krishna's favourite) are offered to Krishna on this day.
Special offerings
Udayasthamana Pooja
One of the most popular offerings to Lord Guruvayoorappan! Udayasthamana Pooja has 18 Poojas with Tantric Rituals conducted from sunrise to sunset.
Bookings for this Pooja is done years in advance.
Annadanam (Prasada Oottu)
A chance to satiate yourself with free Prasadam of Lord Guruvayurappa! Thousands of pilgrims eat at the dining hall of the temple.
Any devotee can contribute any amount for this free feeding.
Timings:10 am and 7.30 pm.
Gajapooja and Aanayoottu
Worship of elephants or Gajapooja is auspicious for devotees of Krishna! Now devotees can participate in Aanayoottu or feeding elephants.
Charges per day – Rs. 10000/-.
Feeding time – 3pm
Location – Devaswom Elephant Sanctuary at Punnathur Kotta.
Chuttuvilakku
A magnificent sight to behold! Lighted oil lamps around the temple.  Chuttuvilakku booking for the year 2025 has started. Advance amount – 50000/-.
Ahassu
A combination of Prasadams of a day (Appam, Ada, Avil, Kalabham etc.) at the Guruvayur temple. Tickets to be booked in advance at the advance booking counter.
Prasada Kit
Get ready Prasadam kit with Plantain, Sugar, Butter, Malar (puffed rice) & Thirumudi Mala at the Prasadam counter on cash payment.
Thulabharam
Symbolic to offering self to the Lord with a representative thing equivalent to a person's weight – Water, Coconut, Butter, Sugar, Fruits, Copper, Silver, Gold or any other materials.
The Devoswam supplies most materials
No advance booking
Special materials like flowers, etc., inform at least a day in advance or the devotee should bring them.
Timings – 5 am to 1.30 pm, 5 pm to 8. 30 pm
Bhagavathi Azhal
A special offering to the Upadevatha (subordinate deity) of the temple, Edatharikathu Bhagavathi! Azhal is performed by a permanent oracle (Velichappad). A Thalapoli is also held here.
Krishnanattam
A spiritual experience not to be missed! Krishnanattam, a performing art form held at Guruvayur temple based on the Sanskrit work "Krishnageethi" written by the Manavedan Raja, a Zamorin king of Kozhikode (Calicut) 350 years ago. It includes 8 phases of the life of Lord Krishna & features a rhythmic and beautiful dance.
Only one performance a day.
No performance on Tuesdays & off-season (June – September)
Bookings in advance at the advance booking counter.
Devotees who book Krishnanattam can watch the performance inside the temple on that day.
Prasadam is not issued to devotees who book Krishnanattam.
Those who wish to book 'Swargaarohanam' Krishnanattam should also book 'Avatharam'.
Annaprasanam or Choroonu
A treat for the babies from Lord Krishna! The first feeding of cooked rice to babies (Ekadashi & every Vavu night excluded) is done with the blessings of Lord Krishna at Guruvayur temple.
Timings: 5 am – 1 pm
Location – Chorun Hall
Dress code and entry rules
Guruvayur entry is for Hindus only. A very strict dress code exists for entering the temple.
Men can only wear Mundu & Veshti, boys can wear shorts.
Women can wear Saris, skirts & Salwar Kameez
How to reach
Air: The nearest airport – Kochi International Airport 80 kilometers from Guruvayur, Calicut airport, 100 kilometers away.
Rail: The nearest railway station is Guruvayur, connected to the Madras-Mangalore main line in Thrissur.
Road: KSRTC runs buses to Guruvayur from the places like Madras, Madurai, Palani, Salem, Coimbatore, Thiruchendur, Mysore, Mangalore, Udupi, Mookambika etc.
Where to stay
The Guruvayur Devaswom provides a comfortable stay in Guruvayur! You can reserve the rooms well in advance.
Kousthubham Rest House (Phone No: 0487 2556537, Fax: 04872554844)
Panchajanyam Rest House (Phone no: 0487 2556535, Fax: 04872554844)
Sreevalsam Guest House (Phone no: 0487 2556539)
Sreevalsam Annexe (Phone no: 0487 2556535)
Apart from this many more hotels and homestays are available for the devotees of Guruvayurappan.
Nearby temples
A visit to Guruvayur is not complete without a visit to the nearby temples like:
Mammiyoor Temple – A famous Shiva temple near Guruvayur where Lord Shiva agreed to relocate, to build the Guruvayur temple.
Narayanamkulangara Temple – Dedicated to Goddess Narayani, also known as Vishnumaya.
Parthasarathy Temple – Dedicated to Lord Krishna.
Recommended
A visit to Punnathur Kotta is not to be missed in Guruvayur! The Elephant sanctuary of the Guruvayur Temple houses 60 elephants gifted to Guruvayurappan & you can watch the elephants live eating, bathing etc. Gajapooja (Elephant worship) and Anayoottu (Elephant feeding) are two rituals conducted here.
Timings:  9.00AM to 5.00PM.
Entry fees: Adult -Rs.  20, Children Rs. 10 Photography – Rs 100
Location – 2 km from Guruvayur temple
A visit to Guruvayur is a dream come true for every devotee of Lord Krishna. If you are planning a trip to Guruvayur, we at Blue Bird Travels can make all the arrangements and make it a trip to remember. Hope this article on Guruvayur has been very informative to you all