Miles & miles of greenery, misty mountains, glittering lakes & sparkling waterfalls welcome you to Munnar – a serene hill station nestling amidst the Western Ghats! When you need to escape from the hustle and bustle of everyday life, why not plan an unforgettable vacation for the weekend. Bask in the luxury of nature and check out some of the best places to visit in Munnar in just 2 days.
Munnar acclaimed for its verdant tea estates, and natural beauty was once the summer resort of the British Government officers in South India. Situated at the confluence of 3 rivers, Muthirapuzha, Nallathanni and Kundala at a height of 1,600 m above sea level, picturesque Munnar with its winding lanes and holiday facilities is a famous resort town attracting hordes of visitors each year!
Check out some of the best places to visit in Munnar in 2 days
Trekking
1. Top Station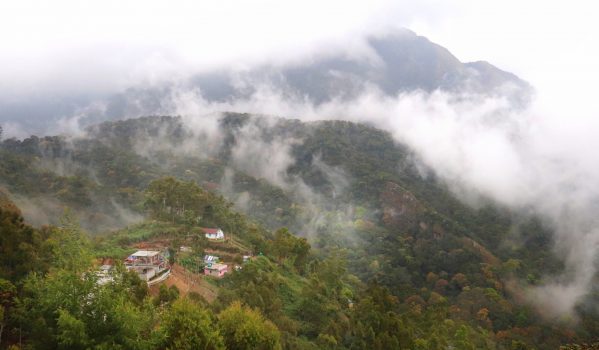 Know what it is to be at the top of the world with clouds touching your face! Top Station is the highest point in Munnar. Located on the Munnar-Kodaikanal road, Top Station offers a spectacular view of the Western Ghats & when Neelakurinji flowers bloom once in every twelve years it's a glorious sight to behold here! For the adventure lovers hiking, sightseeing, photography, etc. are the main activities to pump up the Adrenalin at Top Station, a must-visit destination in Munnar!
2. Eravikulam National Park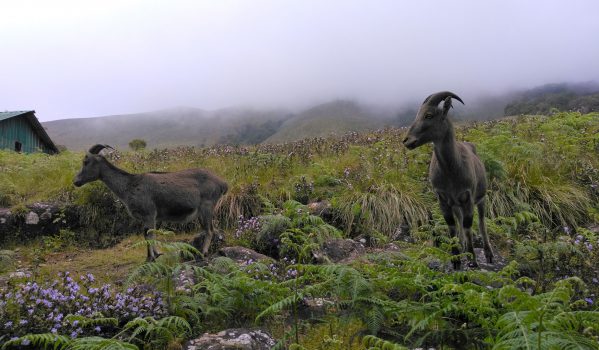 A real treat to the nature lover! Spread over an area of 97 sq. km., the Eravikulam National Park encompasses hills, grasslands, and small perennial streams. It's home to several species of rare butterflies, animals, and birds. You'll be lucky if you get to see the Nilgiri Tahr – an endangered species of the goat on the slopes of Munnar. This park is an excellent place for trekking, and it offers a breathtaking view of the tea plantations and hills embraced by blankets of mists. Once the Neelakurunji flowers are in full bloom, the slopes are covered by a carpet of blue, which is a magnificent sight for the travelers!
Book your journey through WhatsApp. Contact us now.
Sights & Landmarks
1. Munnar Tea Garden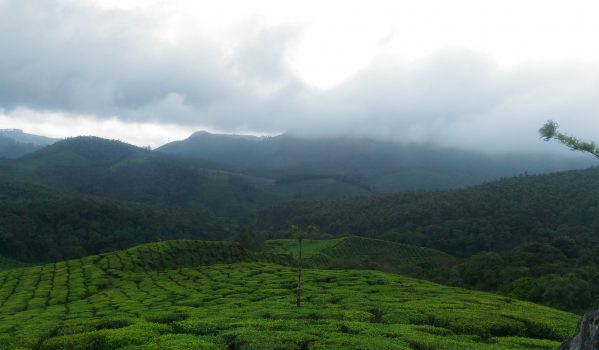 Get lost in the lush greenery of the Tea gardens of Munnar! A thick carpet of green color envelops the hill station by some of the most scenic flourishing tea plantations in India. Established in the late 19th century, there are more than 50 tea gardens, including the Tea gardens of Harrison Malayalam, Michael's Tea, Brooke Bond, and AVT Tea. A visit to the Tea gardens and a Tea factory should be a must-have in your Munnar holiday of 2 days!
2. Mattupetty Dam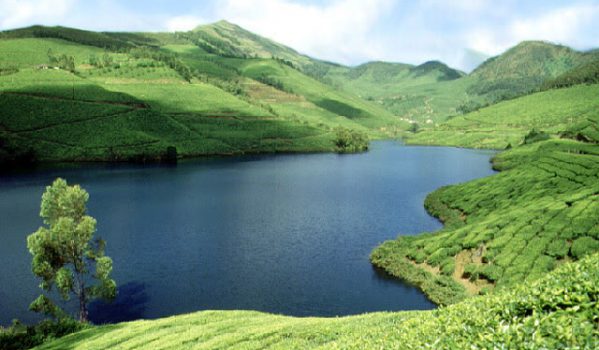 A great place to relax and rejuvenate in Munnar! The Mattupetty Dam site is located about 13 km from Munnar Town at the height of 1700 m above sea level is a top tourist place to visit in Munnar. It is famed for its storage masonry dam and the beautiful shimmering lake. Enjoy great views of the surrounding hills and beautiful landscape in a boat ride at the lake. A dairy farm run by the Indo-Swiss Livestock Project, with different high yielding breeds of cows, only adds to Mattupetty's fame.
3. Chithirapuram View Point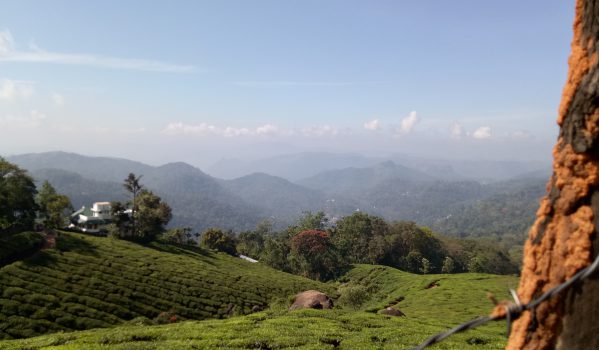 Chithirapuram is a haven for those seeking peace and tranquility! It exudes an old-world charm with its sleepy little cottages, old playgrounds and courts, bungalows and tea plantations. The spellbinding views of the sunset, lush green plantations & waterfalls makes the Chithirapuram View Point one of the top attractions of Munnar. The winding roads here are just perfect for the cycling enthusiasts.
4. Echo Point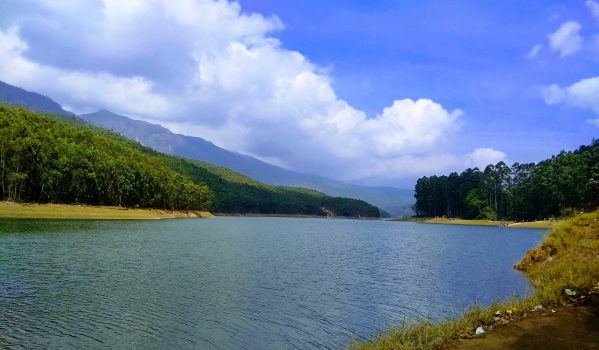 Have fun screaming your lungs out and hear the mountains talk back to you! At the height of 600 ft above sea level 15 kilometers from Munnar, Echo Point is one of the beautiful most famous attractions in Munnar. Situated at the confluence of three mountain ranges near a quaint lake, the Echo point derives its name from the natural echo phenomenon witnessed here. It's amusing to hear your voice reverberate around again and again. The breathtaking natural beauty of the place will leave you spellbound as you enjoy the gorgeous vistas, fresh mountain air & the misty hills. An absolute delight for birdwatchers, nature enthusiasts, and adventure lovers. The Echo Point is just high for photography, boating, trekking, nature walks, birdwatching, etc.
5. Photo Point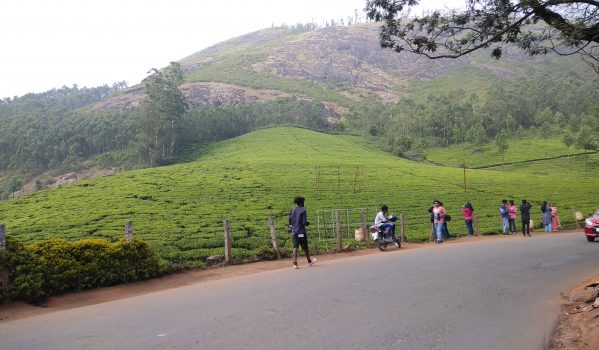 Click that perfect photo to memorize your Munnar holiday! The Photo Point, with its scenic backdrop of the stretches of tea gardens atop the gently rolling hills, glistening silver oaks and undulating meadows is a panoramic site which is one of the top attractions in Munnar. The turquoise sky makes a sharp contrast against the emerald tea gardens and the lake nearby only adds to the charm! A top picnic spot and a filming destination! When in Munnar, make sure that you do not miss this stunning beauty!
6. Attukad Waterfalls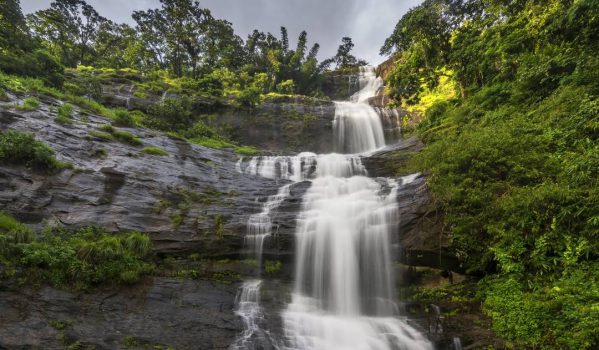 Be ready to enjoy the Attukad waterfalls at Munnar! A real feast for sore eyes is the ever beautiful Attukad waterfall, one amongst the most popular tourist attractions in Munnar! A great spot for trekking and picnics the waterfall lies in between Munnar and Pallivasal in Idukki District and attracts a large number of tourists from around the world. The thick jungle and lush green environs, reachable only through a wooden bridge make it just awesome! An excellent place for trekking, picnic &  sightseeing, the gorgeous sight of the picturesque waterfall amazes you with its sheer beauty.
7. Nyayamakad Waterfalls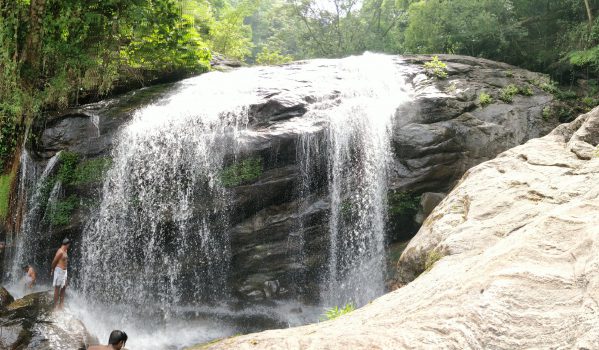 The breathtaking Nyayamakad waterfalls are one of the top tourist places to visit in Munnar! Located between Munnar and Rajamala the waterfalls is surrounded by enchanting valleys, lush green tea plantations, and sandalwood forests. Nyayamakad waterfall cascades down a height of 1600 meters into a shallow pool. The scenic location 10 km from the Munnar Town offers the most exciting trekking opportunities to the visitors.
Book your journey through WhatsApp. Contact us now.
Museums
Lockhart Tea museum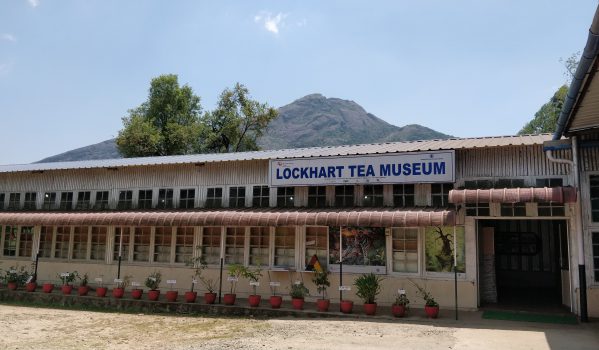 Embark on a historic voyage on the origins and evolution of tea plantations at the Lockhart Museum!  Munnar has a rich legacy of tea plantations which were started during 1879. The museum established in 1936, preserves and showcases some of the most exciting aspects of the evolution and growth of tea plantations in the high ranges of Kerala. The Tea Museum houses artifacts, photographs, and machinery related to tea manufacturing; indeed, a must have in your itinerary for 2 days!
Tourist Attractions
1. Dreamland Fun & Adventure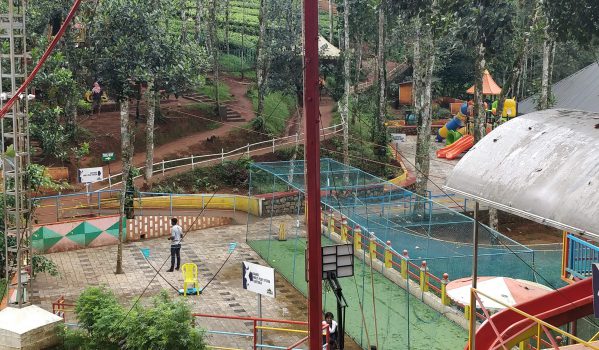 The perfect way to relax and de-stress in Munnar! Dreamland Fun & Adventure Park welcomes you to experience the joy and unforgettable moments at an altitude of 6000 ft. The adventure park with more than 40 + activities for individual and group adventure activities elevates your excitement to the next level.  Polaris ATVs, Rope Way, Sky Walk, Belt Swing, Mechanical Bull ride, Human Slingshot, Burma Bridge, Bungee Trampoline, Suspension Bridge, Horror House, 7D Theater – you can have your choice of fun & adventure!
2. The Blossom International Park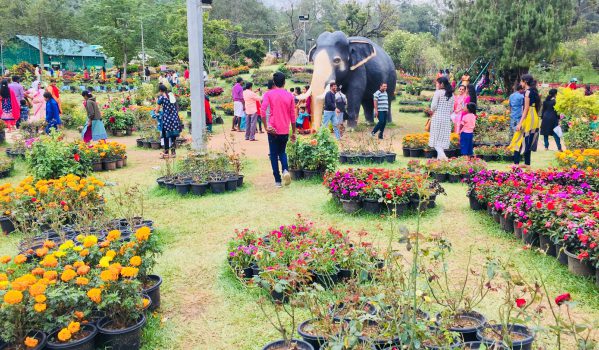 Rejuvenate your mind and emerge feeling fresh from the gorgeous Blossom Hyde Park, one of the top attractions of Munnar! Situated just 3 km from Munnar nestled in the lap of nature at the banks of river Muthirapuzha, the park is surrounded by unrivaled natural beauty. The Blossom International Park delights nature and wildlife lovers as it is home to a large variety of flora and fauna like a variety of migratory waterbirds & mountain butterflies.
Gardens, fountains, artificial waterfalls and lawns make the green environs of the park all the more interesting for the tourists & make them feel like they are amongst exotic birds and animals. Adventure trails, boating, nature walks, bird watching, roller skating, badminton, campfires can be done here. A must-have in your list of the best places to visit in Munnar in 2 days.
Read on: Kochi to Munnar Taxi Package
Book your journey through WhatsApp. Contact us now.
Places to see near Munnar
1. Thekkady
An idyllic location to enjoy a jungle vacation! Thekkady carpeted in lush green Coffee, Tea, Pepper, Cardamom and Rubber plantations along the precise contours of the hills makes for a lovely sight. The Periyar Wildlife Sanctuary is in the list of less traversed tourist places near Munnar. The early morning ride in the boat within the sanctuary is a fantastic experience, and if you are lucky, you might be able to spot wild Elephants, Bisons, Wild boars, various kinds of Birds, etc. For the adventure seekers, bamboo rafting in the Mullaperiyar Dam, hiking & night treks satiates your spirit.
2. Alleppey
Serene Backwaters, golden beaches, and lagoons welcome you to the Venice of the East – Alleppey! An extensive network of linked palm-fringed canals and rejuvenating Ayurvedic resorts has made Alleppey famed world over along with the houseboat cruises that pass through the serene backwaters. On this ride, you can get glimpses of green paddy fields, Coir making activities, beautiful migratory birds and witness the local village life in Kerala. Make it a point to watch the traditional Snake Boat Race here in August and September, which is a real crowd puller!
3. Kumarakom
Go off the beaten trail, if you want to be one with nature! A trip to Kumarakom, one of the best destinations in Kerala near to Munnar, is all you need to relax & rejuvenate! Kumarakom is a beautiful green paradise with swaying coconut trees everywhere! The vast stretches of paddy fields, twisted lagoons, backwaters, canals and mangroves all make Kumarakom the perfect balm for your stressed mind! The Kumarakom Bird Sanctuary is a bird lovers' haven where thousands of migratory birds come to nest. A leisurely cruise on a houseboat through the backwaters of Kumarakom can quickly calm and refresh your mind and body.
Various Kochi to Munnar packages available with us
The purpose is making your Munnar trip as a relaxing and exhilarating as possible. It would help if you choose a taxi package that will comfortably take you and your family to the profoundly resplendent hill station. The different types of taxis available with us are:
Sedan – Swift DZire or similar model – suitable for 4 travelers – fuel and driver charges included – one hour of free waiting – toll and parking charges not included.

SUV –  Innova – suitable for 6 travelers – fuel and driver charges included – one hour of free waiting – toll and parking charges not included.

Coaches – Tempo Traveler – good for 8-17 travelers.
Are you looking for something exclusive and completely tailored? Give us a call, and we are sure we can work up something.
Book your journey through WhatsApp. Contact us now.